Minimize BPA Exposure
While the benefits of placing dental sealants far outweigh the risks associated with bisphenol A, oral health professionals should employ a variety of strategies to limit this exposure.
Bisphenol A, better known as BPA, is a synthetic chemical used in the production of polycarbonate plastics and epoxy resins. The presence of BPA in consumer products, such as plastic water bottles, canned foods, medical devices, and baby bottles, has generated public concern in regard to its safety.1–4 The potential of BPA to leach from these products and adversely affect the endocrine system is strongly debated.
There is also concern among the oral health community because BPA is released from plastic resins found in some dental sealants and composites.2,3 Dental professionals need to be aware of the presence of BPA in dental pit and fissure sealants, introduce recommendations to reduce or eliminate BPA during sealant procedures, and respond to patient and parent concerns surrounding this controversial subject.
ENVIRONMENTAL EXPOSURE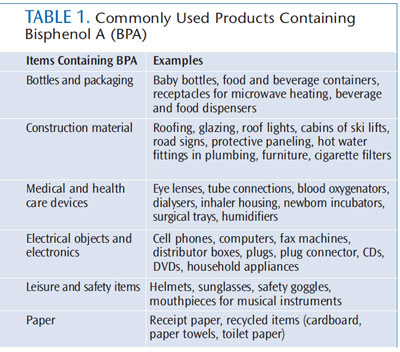 Environmental exposure to BPA in consumer products has garnered extensive media attention, and raised awareness of this issue over the past several years. The estrogenic properties and possible health concerns of BPA have sparked growing concerns about its safety in these everyday items.3,4 Reports of increasing amounts of traceable BPA found in infants, children, and adults are causing lawmakers to take note.3,5 In 2012, the United States Food and Drug Administration banned BPA from baby bottles and sippy cups. In June 2013, California Senator Dianne Feinstein introduced a bill that requires all food manufacturers to disclose BPA use in their packaging.5 Clinicians should understand that human exposure to BPA is not only through contact with food packaging, but also from its extensive presence in a wide array of day-to-day items. Disposal of these products is a source of environmental exposure.6 Table 1 outlines some of the more common applications of BPA.
RECOMMENDATIONS TO REDUCE EXPOSURE
Data gathered by the US Centers for Disease Control and Prevention showed that more than 95% of Americans have detectable levels of BPA in their urine samples.3,7 This is likely due to the fact that BPA is so ubiquitous in the environment. The nonfood absorption of BPA, however, is not well documented and is currently being researched.2,4 The following preventive recommendations are aimed at decreasing BPA contact through food sources:
Don't microwave polycarbonate plastic food containers; while polycarbonate is strong and durable, it may break down from exposure to high temperatures over time
Plastic containers have recycle codes on the bottom; some, but not all, plastics marked with recycle codes 3 or 7 may be made with BPA
Reduce the consumption of canned foods
Choose glass, porcelain, or stainless steel containers, particularly for hot food or liquids
Use only baby bottles that are BPA free
TOXICITY
Uncertainty prevails when it comes to determining a baseline for acceptable daily exposure to BPA. A report issued by the National Toxicology Program stated that there is "some concern" about BPA exposure in humans. "Some concern" addresses the possibility of developmental effects on the prostate gland and brain, and for behavioral effects on fetuses, infants, and children.1 Limited data, however, make it challenging to determine the acceptable level of BPA. Experimental studies have been conducted on animals, though it is difficult to compare the results of animal studies to humans—due to a vast difference in body size.3,7,8
BIS-DMA VS BIS-GMA
Low-level BPA exposure can occur after the placement of dental sealants.6,9 A common misconception is that BPA is a chemical found in dental sealants that is released from dental resins by exposure to saliva and mastication. BPA itself is not a common ingredient used in sealant material. Bis-DMA and bis-GMA are two derivatives of BPA used in the manufacturing of dental sealants.10–12
The use of resin-based dental materials containing bis-DMA is concerning because it can be broken down into BPA through exposure to saliva.11,12 Additionally, the forces of mastication may cause the release of low-levels of BPA, as the sealant material degrades over time.6 Bis-GMA-based sealants, on the other hand, appear to be more stable and less likely to be hydrolyzed to BPA.3 However, according to the National Institutes of Health,3 six international experts have warned that trace amounts of bis-DMA and bis-GMA pose a health risk to children.1,9 The dilemma faced by patients and clinicians alike is a lack of solid research that delivers a definitive answer.2,10,12
Exposure to BPA occurs within several hours after sealant placement. Fleisch et al conducted a literature review and found that BPA was detectable in saliva for up to 3 hours after dental work was complete.13 Past studies have found that only 10% of sealants showed trace levels of BPA in saliva (not in serum) up to 3 hours after placement.11,12 Knowledge of the ingredients in sealant resins promotes a proactive approach to patient concerns. Resins containing bis-DMA are more likely to release low levels of BPA as opposed to bis-GMA. This may be confirmed by checking the product's material safety data sheet(s) or by contacting the manufacturer—though proprietary formulas may prevent clinicians from attaining the full list of ingredients.3,6,11,12
HOW TO REDUCE EXPOSURE DURING SEALANT PLACEMENT
Levels of short-term exposure to BPA that may pose health risks have not been established by the US Environmental Protection Agency. It is prudent, however, for oral health professionals who place resin-based sealants to follow one of the evidence-based post-placement procedures designed to reduce BPA in saliva.11,12 Proper curing time, rubbing the finished sealants after placement, gargling with warm water, and using a rubber dam all reduce salivary levels of BPA.
BPA may be present in the residue of a poorly controlled chemical reaction resulting from an undercured resin.4 Curing lights are a standard tool used in dental practice. Clinicians must be aware of the power, timer, and location of the tip during use. If the curing light source is covered with a barrier, the barrier must fit tightly, so as not to reduce the light emitted. Studies show that failure to expose sealants and composite resin restorations to curing light for sufficient amounts of time leaves the material under-cured and enables the release of BPA into the saliva.4 Undercuring a restoration or sealant results in soft material at the base, allowing for leakage, shrinkage, and failure. Overcuring, however, may cause injury to the nerve and tissue.14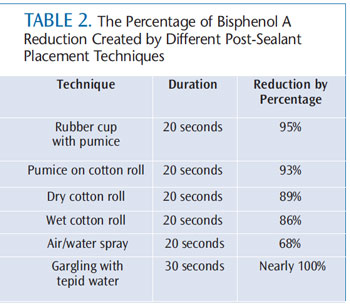 A study of dental students showed that students who did not use adequate curing time; wear orange-blue blocker protective goggles; look at the curing light during exposure; use a stable fulcrum; and, in general, did not pay close attention to the proximity of the light to the tooth during curing, routinely left the material improperly cured.14 Maintaining proper distance from the sealant, keeping the tip at a 90° angle to the surface being cured, and following sealant and curing-light manufacturer recommendations ensures proper curing of sealants. Following the recommended curing time is essential, and maximizes the strength of the sealant while reducing BPA exposure.
Once curing techniques have been mastered, there are other strategies for reducing exposure to BPA (Table 2). One method is to remove the thin layer of uncured monomer from the surface of the sealant. This residue, called the oxygen-inhibited layer, results from the exposure to oxygen on the surface of the sealant.3,8 Rubbing the new sealant surface with a mild abrasive—such as pumice with a cotton pellet, cotton roll, or rubber cup—can reduce BPA by up to 95%. Wiping the surface with a wet or dry cotton roll for 20 seconds effectively removes up to 89% of the BPA found on the finished sealant surface.
BPA can almost be completely removed by having the patient gargle with tepid water for 30 seconds post-placement.3,4,8 Other techniques for reducing salivary exposure to BPA include the use of a rubber dam to isolate the teeth from saliva, and the use of four-handed practice techniques—which employs both a dental assistant and high-volume evacuation (HVE).4,10 A study of the exposure to BPA during the application of orthodontic brackets found that the aerosol created during grinding of composite increased exposure to potentially hazardous spatter and vapors.15 Utilizing HVE when sealants need to be reduced can greatly decrease unnecessary exposure to BPA.
When choosing a sealant product, the possible exposure to BPA should be considered. Glass ionomer sealants do not produce the BPA residue. Choosing sealant material composed of bis-GMA also reduces potential exposure to BPA.3,10 The lack of knowledge about the exact ingredients contained in proprietary compositions of some sealant materials makes it difficult to ascertain the level of BPA exposure. The safe practices discussed here, both during and after sealant placement, will help minimize patient exposure to BPA.
CONCLUSION
Dental sealants have long played an instrumental role in reducing caries in children. Substantial evidence supports the use of dental sealants as an effective intervention for patients at high caries risk.3 The benefits of dental sealants far outweigh the potential short-term risk of BPA exposure, which is supported by current scientific evidence. Dental resins are less likely to cause BPA exposure than consumer products made with plastic or food cans lined with epoxy resin.2,6,7 
Minimizing exposure to BPA through precautionary application techniques and reducing elective treatment during pregnancy are options for patients concerned with BPA exposure. Adhering to manufacturer instructions and employing proper curing techniques are essential to reducing levels of BPA that may leach into the oral cavity. Awareness of the ingredients contained in the products purchased from manufacturers will motivate the industry to find alternative products.16
REFERENCES
Department of Health and Human Services'National Toxicology Program. NTP-CERHR Monograph on the Potential Human Reproductive and Development Effects ofBisphenol A. Available at: cerhr.niehs.nih.gov/evals/bisphenol/bisphenol.pdf. Accessed October 13, 2013.
Geens T, Goeyens L, Covaci A. Are potential sources of human exposure to bisphenol A overlooked? Int J Hyg Environ Health

. 

2011;214:339–347.
Fleisch AF, Sheffield PE, Chinn C, Edelstein BL,Landrigan PJ. Bisphenol A and related compounds in dental materials. Pediatrics

. 

2010;126:760–768.
Eramo S, Urbani G, Sfasciotti GL, Brugnoletti O,Bossù M, Polimeni A. Estrogenicity of bisphenol A released from sealants and composites: a reviewof the literature. Ann Stomatol (Roma). 2010;1:14–21.
United States Senator Dianne Feinstein. BPA inFood Packaging Right to Know Act. Available at: www.feinstein.senate.gov/public/index.cfm/files/serve/?File_id=c6297218-88b5-4326-bd70-49f05bd05f2c. Accessed October 13, 2013.
American Dental Association. Bisphenol A and dental materials. Available at: www.ada.org/1766.aspx. Accessed October 13, 2013.
Vandenberg LN, Hauser R, Marcus M, Olea N,Welshons WV. Human exposure to bisphenol A (BPA). Reprod Toxicol

. 2007;24:139–177.

Azarpazhooh A, Main PA. Is there a risk ofharm or toxicity in the placement of pit and fissure sealant materials? A systematic review. J Can Dent Assoc

. 2008;72:179–183.

Josephson J. Chemical exposures: No dental dilemma for BPA. Environ Health Perspect. 2006;144:A404.
Beauchamp J, Caufield PW, Crall JJ, et al.Evidence-based clinical recommendations for the use of pit-and-fissure sealants: a report of the American Dental Association Council on Scientific Affairs. J Am Dent Assoc.

2008;139:257–268.

Fung EY, Ewoldsen NO, St. Germain HA Jr, et al. Pharmacokinetics of bisphenol A released from a dental sealant. J Am Dent Assoc

. 

2000;131:51–58.
Zimmerman-Downs JM, Shuman D, Stull SC,Ratzlaff RE. Bisphenol A blood and saliva levels prior to and after dental sealant placement in adults. J Dent Hyg

. 2010;84:145–150.

Fleisch AF, Sheffield PE, Chinn C, Edelstein BL,Landrigan PJ. Bisphenol A and related compounds in dental materials. Pediatrics

. 

2010;126:760–768.
Federlin M, Price R. Improving light-curingi nstruction in dental school. J Dent Educ. 2013;77,6:764–772.
Gioka C, Eliades T, Zinelis S, et al.Characterization and in vitro estrogenicity of orthodontic adhesive particulates produced by simulated debonding. Dent Mater

. 2009;25:376–

382.
American Dental Association. Pediatric authors evaluate exposure to BPA from dental materials. Available at: www.ada.org/4795.aspx. Accessed October 13, 2013.
From Dimensions of Dental Hygiene. November 2013;11(10):25–26,28.