Marketplace
A listing of featured products.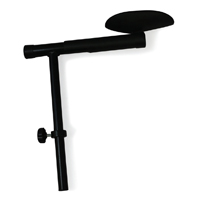 SHOULDER SUPPORT SYSTEMS
Productive Practices, Bristol, Rhode Island, makes Relax and Hydro Armrests, which offer relief to clinicians' necks and backs while providing full range of motion. The Relax Armrest is a two-dimensional armrest that swings left to right and extends in and out. It can be set at various heights, but stays level and does not bounce once in place. Ideal for stabilizing a mirror or arm to take pressure off the shoulders, neck, upper back, and arms, the Hydro Armrest offers clinicians three-dimensional telescoping support, swings left to right, extends in and out, and also has a tension-adjustable up and down spring action. 877-446-8088; productivepractices.net.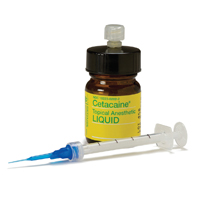 NEEDLE-FREE TOPICAL ANESTHETIC GEL
Cetylite Inc, Pennsauken, New Jersey, offers a needle-free topical anesthetic, Cetacaine Liquid (prescription only, 14% benzocaine, 2% butamben, 2% tetracaine hydrochloride). Available in spray and gel form, Cetacaine Liquid features rapid, 30-second onset, long duration up to 60 minutes, and the ability to measure and use only what is needed. Indicated for use on all accessible mucosa except the eyes, Cetacaine Liquid can be comfortably dispensed into periodontal pockets with pliable latex-free syringe tips for dental procedures such as scaling and root planing. 800-257-7740; cetacaine.com.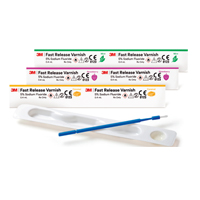 FAST-RELEASING FLUORIDE VARNISH
3M Oral Care, St. Paul, Minnesota, has launched a new fast-releasing fluoride varnish in three flavors and a unit dose tray. 3M Fast Release Varnish contains 22,600 ppm fluoride and comes in an easy all-in-one tray and brush delivery system. Available in caramel, strawberry, and mint flavors. 888-364-3577; 3m.com/preventivecare.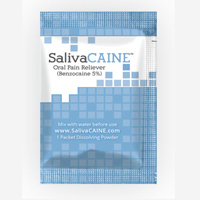 PAIN RELIEF FOR PATIENTS WITH CANCER
Forward Science, Stafford, Texas, has expanded its product portfolio with the release of SalivaCAINE. Designed to provide temporary oral pain relief for patients experiencing oral mucositis, Saliva
CAINE has many of the same ingredients as Saliva-MAX, with the added benefit of benzocaine. SalivaCAINE is used to relieve pain at the same time SalivaMAX is used to treat the root cause of xerostomia and/or mucositis. SalivaCAINE is provided free with any SalivaMAX prescription. 855-696-7254; forwardscience.com/salivacaine.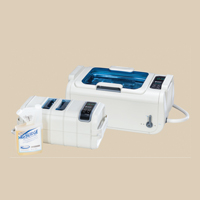 INSTRUMENT REPROCESSING UNIT
Dentsply Sirona, York, Pennsylvania, recently debuted the Resurge Ultrasonic Cleaner family—two new ultrasonic cleaners to meet the needs of offices seeking either high- or low-capacity cleaning requirements. Available in 0.8-gallon and 2.0-gallon sizes, these units feature a low-profile design so clinicians can easily insert and remove instruments. Additional features include a touch screen, a universal rack that accepts most cassettes, and a stainless steel basket for loading bundled or loose instruments. 800-637-8582; dentsplysirona.com/resurgeultrasonic.
From Dimensions of Dental Hygiene. October 2017;15(10):66.