May 2016 Marketplace
A listing of featured products.
Saliva Ejector Improves Efficiency
Zirc Dental Products Inc, Buffalo, Minnesota, now offers the Lingua-Fix® Saliva Ejector—a hands-free isolation device that holds the patient's tongue in a steady position while providing a dry, visible work area for the dental hygienist. Featuring a built-in chin lock, large suction area, and smooth edges, this device is ideal for low-volume evacuation and use during sealant placement and ultrasonic instrumentation. The Lingua-Fix provides isolation and evacuation without causing patient discomfort. This is a pre-assembled product that is designed for one-time use. 800-328-3899; zirc.com.
Disposable Prophy Angle
Pac-Dent International, Brea, California, introduces the Sterile Mini Ergo disposable prophy angle—a contra angle designed for ease of use. It uses a newly developed cup featuring outer spiral ridges for improved interproximal cleaning without having to stress the wrist to access difficult- to-reach areas. Sterile Mini Ergo's ergonomically tilted head al lows the hand and wrist to operate with less ef fort as compared with traditional right-angle disposable prophy an gles. Pac- Dent's gear and drive-shaft technology ensures quiet sustained power that will not produce excess vibration or chatter during operation— re ducing daily micro-traumas on clinicians' hand and arm muscles. 909-839-0888; pac-dent.com.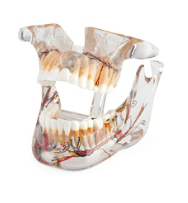 Dental Models for Patient Education
Practicon Inc, Greenville, North Carolina, is making it easy for clinicians to help their patients understand common dental conditions and treatments with the debut of its MDO Dental Models. Designed to ensure clear and easily understood patient provider com munication, these models illustrate dental disease, restorative treatments, and prosthetic applications. The models are handcrafted with great attention to detail in Italy. Practicon is the exclusive distributor of MDO Dental Models in the United States. 800-959-9505; practicon.com.
Sweet Prophy Paste
Young Dental, Earth City, Missouri, is making chairside care a little sweeter with the latest addition to its D-Lish® Prophy Paste family. The new Dessert Trio is an assortment of Strawberry Cheesecake, Sugar Cookie, and Triple Fudge Brownie flavors. D-Lish Prophy Paste has a smooth texture and pumice-based formula designed for easy application and effective stain removal. The pastes are gluten-free, contain 1.23% fluoride ion and xylitol, and are available in 200-count bags in coarse grit only. Young's D-Lish line offers more than 15 flavors targeted at all ages. 800-325-1881; youngdental.com.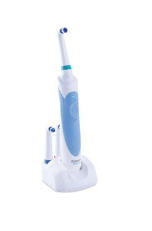 Professional Toothbrush Line Expands
DenMat Holdings LLC, Lompoc, California, introduces its latest generation of the Rotadent toothbrush: Rotadent ProCare™. For more than 25 years, the Rotadent toothbrush has established itself as an important component of an at-home periodontal maintenance regimen. Rotadent is said to remove 92% of plaque during the first minute of use, while also improving patient compliance. Rotadent is available exclusively through oral health professionals. 800-433-6628; denmat.com.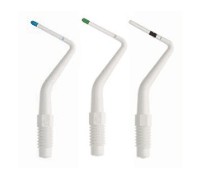 New Probe System
Hu-Friedy, Chicago, recently launched the Colorvue Biotype Probe System for evaluating patient gingival biotype. Developed in partnership with world-renowned dentists, this system is said to make it easy for clinicians—with virtually no pain for patients—to classify gingiva as thin, medium, or thick. Featuring Hu-Friedy's proprietary Satin Steel handle, the probes are designed to be used up to 30 times each. The resin tips are gentle and safe to use on all patients, including those with implants. 800-HU-FRIEDY; hu-friedy.com/biotype.
---
From Dimensions of Dental Hygiene. May 2016;14(05):71.