September 2014 Marketplace
A listing of featured products.
FACE MASK FOR SENSITIVE SKIN

Crosstex International, Hauppauge, New York, recently rolled out Isofluid® Plus Pure Face Masks—the latest addition to its Secure Fit® Technology clinical face mask line. Offering both comfort and protection, Isofluid Plus Pure Face Masks are designed for clinicians who are prone to sensitivity or allergies. To combat these sensitivities, the masks feature a soft, inner hypoallergenic cellulose layer that is latex-free, chemical-free, ink-free, and dye-free. A patent-pending design reduces gapping, and aluminum nose and under-chin strips create a custom fit that limits exposure to airborne particles. (888) 276-7783; crosstex.com.
VERSATILE ANTERIOR SCALER

PDT Inc—Paradise Dental Technologies, Missoula, Montana, introduces its Jack B. Nimble® Scaler (R130)—the perfect complement to its Montana Jack® sickle scaler. This contra-angle scaler features a continuous curved blade, enabling clinicians to easily apply extra lateral pressure while maintaining maximum surface contact. The design also improves access to narrow or crowded surfaces, as well as rotated or lingual surfaces in the anterior and premolar regions. Great for general scaling, it's also ideal for pediatric or orthodontic patients, and can even be used for cement removal. Jack B. Nimble is lightweight, well-balanced, and sharp. (800) 240-9895; pdtdental.com.
ENAMEL-PROTECTING TOOTHPASTE

Colgate Oral Pharmaceuticals, New York, offers Colgate® Enamel Health™—a toothpaste that is specially formulated to protect enamel. This dentifrice contains a unique fluoride formula that works in two ways: by replenishing natural calcium and phosphate into weakened enamel to fill in rough spots, and by gently polishing and smoothing the tooth surface to inhibit bacterial growth and accumulation. Request a free sample and see demonstrations of the science behind Colgate Enamel Health by visiting colgateprofessional.com/EnamelHealth. (800) 2COLGATE; colgateprofessional.com.
COLORFUL MOUTH MIRRORS WITH SOFT GRIP

Zirc Co, Buffalo, Minnesota, recently launched its New Neon Assorted Packs for both the Soft Grip one-piece mouth mirror and the double-sided mirror head. Both styles feature the unique lens technology of the Crystal HD® mouth mirror, which provides a 40% brighter image compared to a standard rhodium lens. This enhancement is designed to prevent eye strain and deliver clear, shadow-free images. Zirc's Crystal HD Mirror Line is available with stainless-steel or plastic mirror options, both of which are made of high-quality, autoclavable materials. (800) 328-3899; zirc.com.
CHERRY-FLAVORED NITRILE EXAM GLOVES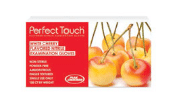 Plak Smacker, Corona, California, introduces its newest fun-flavored, latex-free examination glove—Perfect Touch® Cherry-Flavored Nitrile Exam Gloves. These one-of-a-kind nitrile exam gloves are medical-grade, powder-free, and ambidextrous, and feature a fully textured design that provides superior tactility and grip—improving handling of dental equipment and maneuverability. Available in sizes extra-small to large, Perfect Touch exam gloves come packaged in 100- and 200-count boxes. Free samples are available. (800) 558-6684; plaksmacker.com.
STRIPS STOP SENSITIVITY

Procter & Gamble, Cincinnati, is making waves with the launch of its Crest Sensi-Stop Strips—an easy-to-use and quick fix for pain related to tooth sensitivity. This small, flexible, transparent strip is designed to relief tooth sensitivity caused by cold or hot stimuli, toothbrushing, gum recession, or exposed dentin and dentin tubules. Crest Sensi-Stop Strips incorporate advanced oxalate crystal technology—which has been proven to treat sensitivity by immediately sealing tubule openings. Users simply apply the strip to the sensitive area for approximately 10 minutes. Once removed, the affected area should experience protection from sensitivity pain for up to 30 days. (800) 543-2577; dentalcare.com.
FLUORIDE-INFUSED DESENSITIZER

Healthdent'l LLC, Naperville, Illinois, manufactures Hema-GLU™ Tooth Desensitizer with fluoride. This patented formulation is designed to stop tooth sensitivity upon application. Just apply and let dry—no mixing or curing is required. Hema-GLU is indicated for many uses, including pre- and post-operative tooth whitening procedures and following scaling and root planing. Hema-GLU tooth desensitizer is available in 10 ml bottles, as well as convenient unit-dose applicators. (800) 845-5172; healthdentl.com.
PREVENTIVE TREATMENT GEL

Premier Dental Products Co, Plymouth Meeting, Pennsylvania, recently debuted its Enamelon® Preventive Treatment Gel. Designed to prevent caries and gingivitis and treat dentinal hypersensitivity, Enamelon is intended for home use. Featuring a unique nonabrasive formula composed of stannous fluoride, calcium, and phosphate, Enamelon delivers significant fluoride uptake, promotes remineralization, and inhibits demineralization. The gel's mint flavor is patient-friendly and does not contain sodium lauryl sulfate, gluten, or dyes. (888) 670-6100; premusa.com.
INSTRUMENT-FRIENDLY STERILIZATION SOLUTION
Kerr TotalCare, Orange, California, offers ProCide-D sterilant—a long-life, active 28-day, buffered glutaraldehyde solution. ProCide-D is recommended for the sterilization of heat sensitive, immersible dental equipment and instruments. This 2.5% solution does not require dilution or activation, and achieves complete sterilization after soaking items for 10 hours at 25° C. The instrument-friendly 2.5% solution is sold in quart and gallon sizes, as is its stronger 3.4% formulation, ProCide-D Plus—both of which are compatible with most dental instruments. (800) 841-1428; kerrtotalcare.com.
From Dimensions of Dental Hygiene. September 2014;12(9):83–84.