February 2018 Marketplace
A listing of featured products.
EYEWEAR TO SUPPORT BREAST CANCER RESEARCH
Demonstrating its commitment to breast cancer awareness, Palmero Healthcare, Stratford, Connecticut, has added pink safety eyewear to its line of Dynamic Disposables. Palmero will donate 5% of the proceeds for every purchase of pink safety eyewear to the National Breast Cancer Foundation. Designed to reduce eye splash contamination incidents, Dynamic Disposables are a lightweight, cost-effective alternative to traditional protective glasses. These glasses can be worn comfortably with a clinician's prescription glasses. The lenses feature self-closing holes to prevent gaps and meet federal Occupational Safety and Health Administration and United States Centers for Disease Control and Prevention guidelines for protective eyewear. 800-344-6424; palmerohealth.com.
SENSOR BITE BLOCKS
ClikTech LLC, Scottsdale, Arizona, has introduced the new Dexis Sensor Bite Blocks. These economically priced bite blocks are designed to fit all Dexis, Jazz, and Gendex Size 2 dental sensors. The anterior, posterior, vertical, and horizontal bitewing bite blocks work with major ring and rod systems including the easy-to-use ClikRay ShaRing/Litening Rod and ClikStik. Dexis sensors can now be completely integrated with Nomad, MaxRay™, and other handheld X-Ray units when combined with the single variable length rod ClikStik system. 877-251-0594; clikray.com.
PROPHY PASTE
Premier Dental Products, Plymouth Meeting, Pennsylvania, makes Glitter Prophy Paste, designed to deliver excellent polishing and stain removal performance. Gluten-free and available in popular flavors, Glitter provides a smooth, pliable, and spatter-free experience to clean and polish teeth quickly. It also rinses off easily. Available in various grits with fluoride (mint, cherry, strawberry, bubble gum) or without fluoride (mint). 888-670-6100; premusa.com.
TOOTHPASTE WITH XYLITOL
Dental Herb Co, Lancaster, New Hampshire, introduces Tooth & Gums Essentials. The dentifrice is formulated for daily brushing to promote healthy gums and teeth. With a blend of powerful essential oils and herbal extracts, the toothpaste can help reduce harmful bacteria and inflammation commonly associated with periodontal diseases. Patients can use Tooth & Gums Essential alone or in combination with the company's Tooth & Gums Tonic rinse. 800-747-4372; gotrulynatural.com.
SOAK CLEANSER
Dr. B Dental Solutions, Dallas, offers Cleanadent Crystals, a soak cleanser designed to instantly kill pathogens, including Candida, Streptococcus, and Staphylococcus aureus. Developed by a dentist, Lorin Berland, DDS, the product is said to completely eliminate odor and remove stains on dentures, partial dentures, snoring and sleep apnea devices, night guards, sports guards, and orthodontic retainers without harmful chemicals like bleach or chlorine. Cleanadent Crystals remove heavy calculus, plaque, mineral deposits and stains both at home or during a dental visit. 214-901-5514; drbdentalsolutions.com.
MOUTHRINSE WITH FLUORIDE
Prisyna, Claremont, California, has launched Synedent FLX, a fluoride-containing mouthrinse. This product provides all the benefits of original Synedent, now with fluoride to help prevent caries. With regular use, Synedent FLX is said to protect teeth against acids produced by plaque bacteria. Synedent and Synedent FLX are formulated at a neutral pH so as not to harm enamel or tissues. 855-774-7962; prisyna.com.
HIGH-CAPACITY STERILIZER
CPAC Equipment Inc, Leicester, New York, has launched its new RapidHeat Pro11 High-Capacity Table-Top Sterilizer. The Pro11 uses the company's United States Food and Drug Administration-cleared "high-velocity hot air" RapidHeat technology to perform a complete cycle in as little as 6 minutes. No water or steam is used, effectively eliminating the drying cycle. Purchase comes with a standard 3-year parts and labor warranty. 800-828-6011; cpacequipment.com.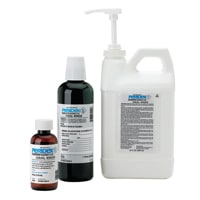 ANTIMICROBIAL MOUTHRINSE
3M Oral Care's, St. Paul, Minnesota, Peridex Chlorhexidine Gluconate 0.12% Oral Rinse provides patients with antimicrobial activity during oral rinsing. This prescription-only oral rinse can be used between dental visits as part of a professional program for the treatment of gingivitis. 3M ESPE Peridex is designed to significantly reduce certain aerobic and anaerobic bacteria over 6 months of use. The rinse is available in mint flavor. 888-364-3577; 3m.com.
DRY MOUTH RELIEF
GoGlama Inc, Lynden, Washington, has introduced GoGlama's Dry Mouth Moisturizing Spray and Oral Rinses for patients with xerostomia and oral malodor. Formulated to create a thin, invisible film on surfaces, GloGlama's Dry Mouth Spray and Oral Rinses offer patients moisturizing results for several hours. Designed to get under and push off dental debris and bacterial build-up in the oral cavity, the products' hydrophilic compounds are all food-grade. 800-663-8303;goglama.com.
PROPHY PASTE IN EASY-TO-USE CONTAINER
Dental Innovations LLC, Reading, Pennsylvania, has released a new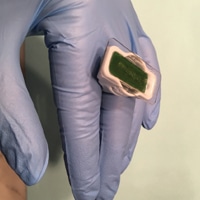 user-friendly and ergonomically designed prophy paste container, Prophy Paste in the Groove. Clinicians simply sweep the prophy cup through the disposable container's groove to collect the perfect amount of paste without the need to spin the cup. Prophy Paste in the Groove's rectangular container is said to make the product more ergonomic and efficient. It is available in six flavors: bubble gum, mint, mango, raspberry, chocolate, and wintergreen. 610-914-2555; prophypasteinthegroove.com.
TOPICAL ANESTHETIC GEL
Cetylite Inc, Pennsauken, New Jersey, has released a new cool mint flavor for its Cetacaine Topical Anesthetic Gel. Indicated for anesthesia of accessible mucous membranes, with the exception of the eyes, Ce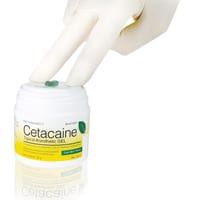 tacaine is largely used to control pain and ease discomfort at the application site. Cetacaine Gel, which is also available in strawberry flavor, is applied with a cotton swab or micro brush to the site where pain control is needed prior to injection and treatment. Cetacaine Gel reacts with body temperature to melt and absorb quickly into tissue, and distributes evenly and consistently, according to the company. 800-257-7740; cetylite.com.
LOCAL ANESTHETIC DELIVERY SYSTEM
The Anutra Local Anesthetic Delivery System by Anutra Medical, Morrisville, North Carolina, reduces patient pain and increases predictability of numbing. Utilizing buffered local anesthetic enables clinicians to provide patients with a more comfortable experience, while also offering oral health professionals efficiency and reliability during the injection. Designed to be effective on difficult-to-numb patients, it delivers profound numbing on the majority of patients in 2 minutes or less, even on blocks. A simple twist of the knob and pull of the syringe buffers anesthetic on demand, elim inating the need to premix drugs. 844-268-8721; anutramedical.com.
---
From Dimensions of Dental Hygiene. February 2018;16(2):58-59.