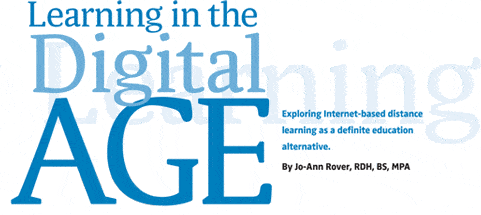 Learning in the Digital Age
Exploring internet-based distance learning as a definite education alternative.
Are you considering completing your degree in dental hygiene? Then you may encounter the same stumbling block that many dental hygienists face—the traditional college model does not fit into a busy schedule and family obligations. However, completing your bachelor's degree in dental hygiene can provide many new career opportunities. Degree completion allows students to develop expertise in a particular area of dental hygiene, including dental hygiene education, administration, politics, health/patient advocation, insurance review, community dental health program planning, and scientific research.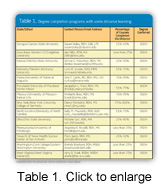 Due to rapid changes in technology, some universities are now offering baccalaureate dental hygiene courses or the entire baccalaureate curriculum online. This method of delivering education, known as distance learning, is accepted in many disciplines such as liberal arts, humanities, social and political sciences, nursing, business, medical technology, and mathematics.1 Distance learning for health care students has taken longer to evolve and dental hygiene is still behind in utilization when compared to nursing.2 Fortunately, distance learning is growing within the field of dental hygiene as it provides a viable educational alternative for the nontraditional health care student.
Distance learning has been evolving since the 1890s when the first generation of noninteractive distance learning included correspondence and home study courses.1 Learning was accomplished through one-way communication with little or no student-faculty interaction. Interactive distance learning became possible in the late 1950s.1 This new generation used teleconferencing and two-way audio and video applications to enhance learning.1 A third generation of distance learning is now available that uses virtual learning environments, offering audio visual interaction, synchronous and asynchronous text discussions, online libraries, and the ability to share files and documents.1 Many institutions around the world use the Blackboard Learning System, which has the capability to enhance three key areas: instruction, communication, and assessment. Instructions are enhanced by using a variety of media resources such as video clips of lectures and Power Point presentations. Students have unlimited access to these resources at any time or place. Announcements, emails, and messaging provide a quick and convenient communication with one student or an entire class. Students can test their knowledge and receive instant feedback with automatically scored test questions.
DISTANCE LEARNING IN DENTAL HYGIENE
Distance learning allows students to balance both family and employment commitments while satisfying their educational goals. According to the American Dental Hygienists' Association (ADHA), there are 60 degree completion dental hygiene programs available, 14 of which offer 2% to 99% of courses via distance learning (See Table 1).3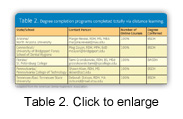 Five programs offer the entire degree completion program through distance learning without any required campus visits, including Northern Arizona University, Flagstaff, Ariz; University of Bridgeport, Bridgeport, Conn; St. Petersburg College, St. Petersburg, Fla; Pennsylvania College of Technology, Williamsport, Pa; East Tennessee State University, Johnson City, Tenn, which does require one campus visit (see Table 2). Some of the classes offered via distance learning at Northern Arizona University include: dental hygiene teaching internship, career management, periodontics, independent study, and oral pathology.4
When entering a degree completion program, students are typically treated as transfers, meaning that a certain number of transfer credits from their associate degree are applied to their baccalaureate degree. Some colleges will accept a minimum of 60 semester credits from a 2-year college. However, transfer credits may vary according to the individual college; anything below a "C" does not transfer. Depending on the number of transfer credits accepted, students can earn their Bachelor's degree in 2 years.
Some basic requirements and credentials needed for admission to a degree completion program, such as St. Petersburg College, include:
Application with $35 fee.
Baccalaureate application supplement.
Official transcripts from high school or proof of General Educational Development (GED) credential. Students with transcripts that document a fully accredited associate's, bachelor's, or higher degree are not required to submit a high school transcript unless it documents completion of 2 consecutive years of one foreign language.
Official transcripts from college(s) currently or previously attended.
Official transcript showing a dental hygiene degree from an institution accredited by the Commission on Dental Accreditation.
Copy of a valid, unrestricted, unencumbered dental hygiene license from the state in which the applicant is practicing to be kept current throughout the duration of the required course of study.
Completion of all college preparatory coursework and a minimum of 15 semester hours of transferable general education course work.
Cumulative grade point average of 2.00 on a 4.00 scale in all post-secondary coursework.5
RESULTS
Research indicates that distance learning is an effective way to educate dental professionals1 and that no significant difference exists between learning outcomes of dental hygiene students taught through distance learning and those taught in the traditional classroom setting.6 Studies pertaining to online learning were conducted in nursing and medicine. Results revealed that students were very satisfied using distance learning and ranked it as effective a learning tool as any other teaching and learning resource.7
Some advantages do exist in distance learning with convenience as the most important. The Blackboard Learning System provides many conveniences including the completion of course work and accessing course materials any time of the day or night via the web. All of the course documents, lecture notes, assignments, quizzes, examinations, interactive learning modules, and the schools' library databases are available to students. With this unlimited access to course resources, students have the ability to continuously study and review all the materials. This continuous repetition and interaction of materials enhances the retention of didactic information. Moreover, the shy student who is usually uncomfortable asking questions in class can communicate comfortably with faculty through emails and discussion boards.
Challenges
Disadvantages include the necessity of computer skills, technical issues, and a sense of not belonging. The student who is not computer literate may find the computer applications confusing and complicated. Technical issues may also arise depending on the students' mode of Internet connection. For example, dial-up connections are much slower than broadband, especially when downloading files with sound, graphics, or video. Technical issues can lead to frustration, which can hamper the distance learning experience. Some students prefer a learning environment where there is face-to-face contact with the instructor and other classmates. This lack of contact may make the learner feel isolated.2
Another factor involved is the cost of distance learning. Distance learning courses are often more expensive than traditional programs. The cost varies among different colleges. Students need to decide how much their time is worth. A cost should be associated with time away from family, income lost while attending classes, and the commute back and forth to the campus. If students attend a college out of their state of residence, the cost is often much higher. However, at some colleges this can be avoided by enrolling as a part-time student (taking no more than six credit hours per semester). Financial aid and scholarships are also available for distance learning. Each college has financial information available on its respective website. Scholarship information is also available for degree completion at the ADHA Institute for Oral Health.
Although distance learning may not be suited for everyone. The distance learning environment and the characteristics of the distance learning student are substantially different. Visual learners tend to be more adaptable to online learning, while auditory learners may find it difficult to maintain their focus and commitment during distance learning.8 A distance learning student must be highly self-disciplined, self-directed, self-motivated, and work well independently to be successful in distance learning.9 Critical thinking and intensive writing skills are necessary for students taking online courses.10
In conclusion, distance learning is a promising answer to many of the current problems and challenges faced in dental hygiene education. Distance learning meets the educational needs of certain categories of professionals and students who would not otherwise be able to pursue their educational goals. Flexible education allows today's student to effectively combine work, family, location, and education.
REFERENCES
Mattheos N, Schittek M, Attstrom R. Lyon HC. Distance learning in academic health education. Eur J Dent Educ . 2001;5:67-76.
Grimes EB. Use of distance education in dental hygiene programs. J Dent Educ

. 2002;66:1136-1145.

ADHA Education and Careers. Available at: www.adha.org/careerinfo/degree.htm. Accessed September 6, 2006.
Northern Arizona University-Distance Learning Distance Learning Completion Program Highlights. Available at: http://distance.nau.edu/programs/degreemoreinfo.aspx?degreeID=30. Accessed September 6, 2006.
St. Petersburg College/Bachelors of Applied Science Dental Hygiene Program Admission Requirements. Available at: www.spcollege.edu/bachelors/PDFs/dental_check.pdf. Accessed September 6, 2006.
Olmsted JL. Longitudinal analysis of student performance in dental hygiene distance education program. J Dent Educ

. 2002;66:1012-1020.

 Runser JA, Smith SB. Second Year Dental Hygiene Students' Experiences Using a Web-based Instructional Module In Local Anesthesia. Available at: http://thedigitalclassroom.com/download/SecondYear.pdf

. Accessed September 6, 2006.

Grimes EB. Student perceptions of an online dental terminology course. J Dent Educ

. 2002;66:100-107.

Penn College Distance Learning: What is Distance Learning? Available at: www.pct.edu/disteduc/

. Accessed September 11, 2006.

Bearden EB, Robinson K, Deis MH. A statistical analysis of dental hygiene students' grades in online and on-campus courses and performance on the National Board Dental Hygiene examinations. J Dent Hyg

. 2002;76:213-217.
From Dimensions of Dental Hygiene. October 2006;4(10): 18, 20, 22.