July/August 2020 Marketplace for Dental Hygienists
A listing of featured products.
STERILIZATION MONITOR
3M, St. Paul, Minnesota, has unveiled its 24-minute in-house sterilization monitoring solution, 3M™ Attest™ Mini Auto Reader 490M. This compact, easy-to-use sterilization monitoring unit makes in-office monitoring practical for dental offices. The new unit assures dental teams that their sterilizer cycle parameters have been met. The four-well, dual auto-reader is designed to incubate and automatically read 3M Attest Biological Indicators 1295, 1491, and 1492V at 60°C for a final negative fluorescence reading at 24 minutes. Its extra-large display features a time-to-result countdown that can be seen from a distance for easy monitoring, and its small footprint makes it an ideal size for dental clinics. 888-364-3577; go.3m.com/490m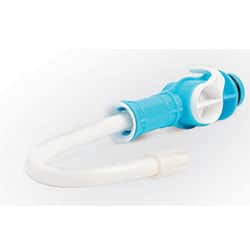 HIGH-VOLUME EVACUATION
Dove Dental Products, Chesterfield, Missouri, now offers the new DOVE® AERO HVE, which provides high-volume evacuation (HVE) power with saliva ejector comfort. This product enables the use of traditional instrumentation, preventing complicated working positions and eliminating the use of large vacuums or patient-gagging devices. The new DOVE AERO HVE is also easy to connect and reduces discomfort for both patients and clinicians. This unit also features a patent-pending external aerosol chamber that uses the airflow from the HVE to effectively manage aerosol evacuation, and the DOVE SE's standard valve one-way flap design eliminates backflow for every patient. This single-use HVE helps increase safety by preventing cross-contamination through use of a new, disposable valve for every patient. 855-800-3683; dovedentalproducts.com
EXPANDING FLOSS

BURST Oral Care, Walnut, California, has added Expanding Black Juniper Berry Floss to its existing line. Juniper Berry contains proprietary technology that expands on contact with saliva, giving users more surface area for a deeper clean. The floss is coated with charcoal nanoparticles that are adsorptive and antimicrobial. Users will appreciate the pleasant scent of the Juniper Berry Floss as well as the crisp berry taste. burstoralcare.com/product/floss
INTRAORAL SCANNER
Carestream Dental, Atlanta, offers the CS 3700 scanner. The new design  includes smart-shade matching that detects the enamel color of the scan area to identify the ideal match; high-speed scanning and processing; and touchscreen capabilities. The scanner's new software, CS ScanFlow, lets clinicians select any workflow from a single screen. Using bidirectional reflectance distribution function patented technology, CS 3700 captures actual shade values from several views. With one click, smart-shade matching compiles a shade report with multilayer shade information for the selected area and allows clinicians to easily share the outcome with the dental lab or referral for optimal restorative outcomes. Clinicians will also appreciate the device's ergonomic design, which includes a grip channel that provides users with a balanced sense of scanner control. 800-944-6365; carestreamdental.com
ORAL RINSE
DenMat, Lompoc, California, has added a new Hydrogen Peroxide Oral Rinse to its infection control category of products. DenMat's Hydrogen Peroxide Oral Rinse is formulated with 1.5% hydrogen peroxide and xylitol to significantly reduce bacteria in the mouth, features a fresh mint flavor, and is alcohol free. The foaming action created by the release of oxygen also helps to inhibit bacteria growth and aids in the removal of oral debris and healing of minor mouth irritations, according to the company. DenMat's Hydrogen Peroxide Oral Rinse is available in half-gallon and gallon bottles with dispensing pumps for chairside application for dental office use, and a 16 oz size for at-home care. 800-433-6628; denmat.com/stayhealthy
FACE SHIELD LINERS
NoSweat Co, Minnetonka, Minnesota, now offers NoSweat face shield liners. The liners help keep the shield fog-free and cleaner for a long periods, as they are designed to help clinicians deal with sweat and fogging issues while wearing face shields. NoSweat thin liners stick to the forehead band of any shield and wick away sweat, dirt, and oil, and prevent sweat from running down the clinician's face. The company described the thin liners as providing more padding for the forehead area to prevent the area from becoming sore or raw. 615-697-9328; nosweatco.com/products/face-shield-liner
AMALGAM SEPARATOR FOR DENTAL OFFICES
Air Techniques, Melville, New York, has released the new amalgam separator, Acadia Plus. Available in a single, conveniently sized model, Acadia supports up to 10 operatories and works in-line with any dental evacuation system. Acadia Plus has the capability of capturing a year's worth of amalgam before it needs to be replaced, and has been designed to meet the requirements of ISO 11143. 800-AIR-TECH; airtechniques.com
AEROSOL SCAVENGER
OCTOdent, Marshall, Arkansas, has released its extraoral aerosol scavenger. This unit is designed specifically to remove and filter viruses, bacteria, and potentially toxic vapors away from the immediate area of the oral health professional and patient. It captures harmful aerosols at the source and cleans the air with a six-stage filtration system while performing ultrasonic scaling, high-speed drilling, and other procedures where an oral aerosol vacuum system is recommended or required. The OCTOdent unit is a mobile, standalone, hands-free air cleaning device with a flexible source suction duct, and is extremely portable and quiet while in use. 870-224-0966; octodent.com
CARIES DIAGNOSTIC TOOL
Quantum Dental Technologies, Toronto, Ontario, Canada, offers the Canary System, a laser-based device that can diagnose, measure, and record tooth decay at the earliest stages without producing dental aerosols. The system can detect decay between teeth and under fillings, sealants, braces, and crowns, as well as measure, monitor, and record changes in a tooth. Oral health professionals can detect the presence of cracks and caries before they are large enough to appear on X-rays. The Canary System has a camera that allows patients to see the tooth surface, and a voice system that reports on the findings of each examination. The system works by using photothermal and luminescence technology, which involves using low-powered, pulsating light at a frequency of 2Hz. 866-993-9910; thecanarysystem.com
DISINFECTANT SPRAY
GTech Protection, Sherman Oaks, California, now offers the disinfecting spray, GTech Clean. Formulated to safely and quickly sterilize medical offices and equipment, GTech Clean is a United States Environmental Protection Agency approved long-lasting disinfecting spray that kills bacteria and viruses including human coronavirus, influenza, mildew, mold, and more according to GTech Protection. The spray is described as leaving a microscopic protective barrier on hard and soft surfaces that continues to kill bacteria and viruses for up to 5 days. The nontoxic and nonflammable formula is safe to use in most environments, is skin-friendly, and does not contain ammonia, bleach, or alcohol. 310-909-7795 ext 2; gtechprotection.com
NEW VARNISH FLAVOR
VOCO, Indian Land, South Carolina, has added a new cola lime flavor to its Profluorid® Varnish product offering. This light, white transparent 5% sodium fluoride varnish is now available in cola lime to complement the current flavor lineup of caramel, mint, cherry, bubblegum, and melon. Packaged in an easy–to–use SingleDose delivery system, Profluorid Varnish provides the product's same quick uptake formalization. 888-658-2584; voco.dental.com
MULTI-JET FLOSSER
Instafloss, Miami, offers the 10-second, multi-jet flosser. This flosser uses an ergonomic mouthpiece that fits over the top and bottom teeth and uses multiple pulsing water jets to floss both rows of teeth at once (360° around each tooth) making flossing quick and easy. Users can set the intensity of the pulsing water jets to ensure comfortability on their gums. Instafloss jets are aimed at the correct 90° angle to the gumline to offer a deeper clean while removing more plaque. Instafloss raised funding on Kickstarter, setting a first-day record for oral hygiene products. 10secondfloss.com
From Dimensions of Dental Hygiene. July/August 2020;18(7):44-45.