Industry Info
Supplement sighlights importance of informed dental patients .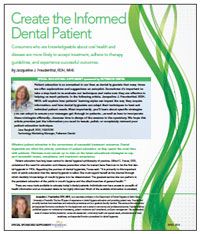 Supplement Highlights Importance of Informed Dental Patients
Research shows that patients  who are well informed about oral health and disease are more likely to accept proposed treatment, adhere to therapy guidelines, and experience successful outcomes. But how do clinicians make certain their message resonates with patients? A special supplement, "Create the Informed Patient," sponsored by Patterson Dental, provides strategies for improving the patient education techniques used in clinical practice. Written by Jacqueline J. Freudenthal, RDH, MHE, an associate professor in the Department of Dental Hygiene at Idaho State University in Pocatello, the supplement discusses different learning styles and how clinicians can tailor their message for individual patients.
Pattison Institute  Launches New Website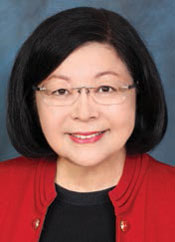 The Pattison Institute, a  company dedicated to providing quality education in periodontics, launched its new website in late February. The site, which provides online video instruction on hand instrumentation, now includes: short previews of the extensive online video library; 22 additional videos for left-handed clinicians; and new advanced periodontal instrumentation videos.
The Pattison Institute was founded by former Dimensions of Dental Hygiene Editor in Chief Anna M. Pattison, RDH, MS, and her husband and periodontist Gordon L. Pattison, DDS, in 2001. Visit pattisoninstitute.com to watch the videos and access information regarding Pattison's upcoming lectures and hands-on courses, as well as her monthly blog.
Study Validates Benefits of Triclosan/Copolymer Fluoride Dentifrice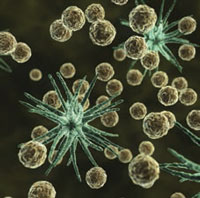 The highly respected Cochrane Collaboration conducted a systematic review that examined the benefits of triclosan/copolymer-containing fluoride toothpaste vs traditional fluoride toothpaste. Triclosan/copolymer—an antibacterial active system designed for preventing plaque and gingivitis in all age groups—is found in Colgate® Total® toothpaste, made by Colgate Oral Pharmaceuticals. The review, "Triclosan/Copolymer Containing Toothpastes for Oral Health" was published online in December. It examined 30 studies conducted between 1990 and 2012. A total of 14,835 participants were randomly assigned fluoride toothpaste, half of which contained the antibacterial active system. Results of the review revealed that the use of the triclosan/copolymer toothpaste provided a 22% reduction in plaque after 6 months of use, and a 41% reduction in plaque severity. Furthermore, gingivitis was reduced by 22%, while gum bleeding was cut by nearly half. The review also led researchers to conclude there is no evidence of harmful effects associated with the use of triclosan/copolymer toothpaste.
From Dimensions of Dental Hygiene. April 2014;12(4):14.