April 2014 Marketplace
A listing of featured products.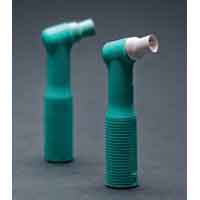 DISPOSABLE PROPHY ANGLE
Preventech, Indian Trail, NC, introduces Pivot®NL Contra Disposable Prophy Angles, which combine the ergonomic and cleaning benefits of a 15° contra bend with high performance. Thanks to their ergonomically advanced design, PivotNL Contras offer improved access and interproximal reach. The American-made cups are available in firm or soft and fit all slow-speed, straight-nose cone-style handpieces. PivotNL Contra Disposable Prophy Angles run smooth and operate free of chatter. Contact Preventech for a free sample.
(800) 474-8681; preventech.com.
ERGONOMIC SEATING OPTION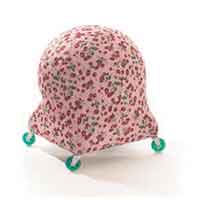 Posture Perfect Solutions Ltd, Vancouver, British Columbia, offers the Evolution Chair™—the original ball chair designed to improve posture and core strength and promote overall health. This seating option features a sturdy design that rolls easily in the operatory and eases the pain associated with repetitive motion. The premium edition of the Evolution Chair offers clinicians a choice of stylish Cozy slipcovers and colorful EVO casters. (800) 964-8566; evolutionchair.com.
BIODEGRADABLE AIR/WATER SYRINGE TIP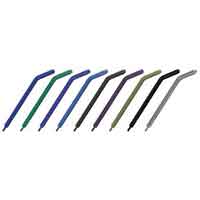 Westside Resources, Irvine, Calif, unveils Natures Tip™, its environmentally friendly, biodegradable air/water syringe tip. Manufactured using biopolymers made from renewable sources, these tips break down naturally, making them ideal for practices that wish to reduce their environmental footprint. Natures Tip, designed after the Crystal Tip formula, features two-piece constructions, four air channels, and a metal-tip shape that fits into traditional syringes. The tips are made of 100% compostable plastic resin and are available in three sizes and nine colors.  (800) 944-3939; naturestip.com.
ANTERIOR/UNIVERSAL SCALER
American Eagle Instruments, Missoula, Mont, manufactures the N1 Scaler (AESN1XP) with SHARPEN-FREE XP Technology. Designed for oral health professionals who desire speed and perfection in difficult anterior areas, the super thin N1 Scaler easily removes lower anterior lingual layers of calculus without the worry of snagging the thin lingual tissue. The spoon is ideal for maxillary anterior cingulums with difficult stain and calculus. Two handles are available, including EagleLite stainless steel or EagleLite resin in orange. (800) 551-5172; am-eagle.com.
GRIT-FREE FLUORIDE VARNISH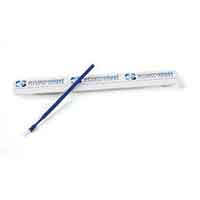 Ultradent Products, South Jordan, Utah, has launched its newest fluoride varnish, Enamelast™ 5% sodium fluoride—which offers a clean, smooth, silky texture and virtual invisibility upon application. Featuring a patented adhesion-promoting agent that enhances retention, the natural feel of Enamelast improves patient comfort and enables maximum fluoride uptake. Offered in two delivery options, including unit-dose blister packs or Ultradent's signature syringe and tip application, Enamelast can also be expressed onto the back of clinician gloves prior to painting on teeth. (800) 552-5512; ultradent.com.
WATER FLOSSER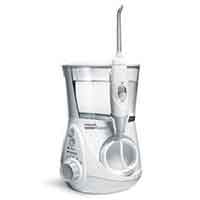 Water Pik Inc, Fort Collins, Colo, presents its Waterpik® Aquarius™ Professional Water Flosser. Available to patients exclusively through dental offices or online, this water flosser features a new compact and contemporary design; on/off water control on the handle; an LED information panel; seven water flosser tips; and a 1-minute timer. New pulse-modulation technology provides maximum plaque removal in Floss Mode, and enhanced gingival stimulation and improved circulation in Hydro-Pulse Massage Mode. Ideal for patients with braces, implants, crowns, bridges, or periodontal pockets, Waterpik Aquarius effectively removes plaque, inhibits gingivitis, and reduces gingival bleeding. (800) 525-2020; waterpik.com.
CARIES DETECTION DEVICE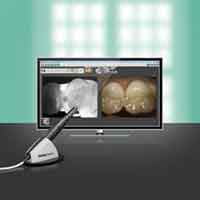 Dexis, Hatfield, Pa, has released the DEXIS CariVu™, a compact, portable caries detection device. This product uses patented transillumination technology to support the identification of occlusal, interproximal, and recurrent caries lesions and cracks in their earliest stages. DEXIS CariVu works by making enamel appear transparent while porous lesions absorb light, allowing clinicians to see through the tooth. When paired with a radiograph and intraoral photo, transilluminated images provide a complete picture of tooth health. (888) 883-3947; dexis.com.
EASY-TO-MIX FLUORIDE VARNISH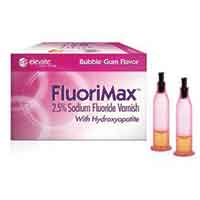 Elevate Oral Care, West Palm Beach, Fla, introduces FluoriMax™, the only fluoride varnish containing 2.5% sodium fluoride. FluoriMax's patent-pending technology releases fluoride more efficiently, so that a lower total fluoride concentration can be used while sustaining high fluoride uptake into enamel. Nanohydroxyapatite strengthens enamel, while the colophony-free formula is safe to use on patients with pine or tree nut allergies. The nonsticky varnish enhances patient compliance and product performance. An all-in-one, flow-through unit-dose dispenser and brush makes mixing easy and facilitates quick application. FluoriMax comes in a fun bubble gum flavor. (877) 866-9113; elevateoralcare.com.
PIT AND FISSURE SEALANT SYSTEM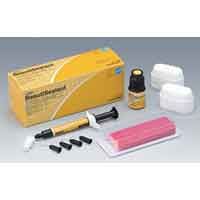 Shofu Dental Corp, San Marcos, Calif, offers BeautiSealant—a pit and fissure sealant system that eliminates the need for phosphoric acid etch and rinse procedures while maintaining impressive bond strength. Chemical and mechanical retention is achieved with a powerful yet gentle primer that yields less enamel product waste. Offering ideal handling and viscosity, BeautiSealant features radiopacity equal to dentin; fluoride rechargeability; acid neutralization; and plaque inhibition. Its bisphenol A- and HEMA-free formula can be applied in four easy steps totaling less than 30 seconds and delivers a smooth, bubble-free consistency. (800) 827-4638; shofu.com.
MICROBE-REDUCING ORAL CLEANSER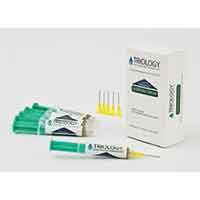 NOWsystem Inc, Kansas City, Kan, delivers its TRIOLOGY™ Debriding Serum Syringe—a breakthrough cleansing product powered by a proprietary blend of biologic ingredients. The patent-pending product works by delivering an advanced microfoaming cleanser that integrates with saliva and crevicular fluid to eliminate bacteria, fungi, debris, and irritants from the mouth. Once cleansed, pH levels in the oral cavity regain balance—increasing the ability of patients to heal while reducing pain and inflammation. TRILOGY Debriding Serum Syringe reduces exposure to airborne pathogens and inhibits growth of microbes implicated in the oral-systemic link. (800) 306-3041; triologycare.com.
EXPANDED HANDPIECE LINE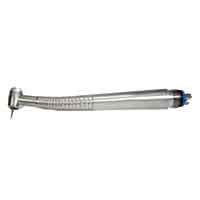 Ritter Dental USA, San Antonio, Texas, now offers an expanded line of handpieces, including an air-driven high-speed handpiece, low-speed handpiece, and fiber optic-equipped options. Accessories, such as replacement motors, prophy heads, quickconnect couples, nose cones, and contra angles, are also available. Promising performance and reliability, Ritter's complete line of handpieces is backed by a 1-year warranty, while attachments are covered for 90 days. (855) 807-8111; ritterdentalusa.com.
ERGONOMIC TONGUE CLEANER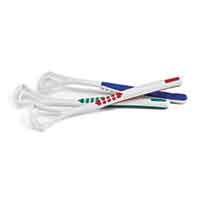 Practicon, Greenville, NC, offers its SmileGoods® Tongue Cleaner. This oral hygiene adjunct safely removes plaque, bacteria, and debris from tongue surfaces better than brushing alone. Its ergonomic, nonslip grip handle and smooth, flexible neck with curved edge enhance patient compliance. SmileGoods Tongue Cleaners are blister packaged in a 72-count box and come in red, green, and blue. (800) 959-9505; practicon.com.
From Dimensions of Dental Hygiene. April 2014;12(4):70–71.