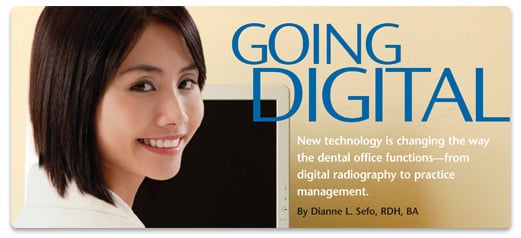 Going Digital
New technology is changing the way the dental office functions—from digital radiography to practice management.
The digital dental office has experienced numerous advances over the past decade. When digital dentistry is used properly, it can increase productivity by providing the ability to store and retrieve files more adequately, to examine and treat patients more efficiently, and to create better conditions for infection control methods. Technology has also contributed to patient retention by allowing clinicians and administrators to spend more time interacting with patients and projecting an innovative office environment.
PRACTICE MANAGEMENT
The initial use of computer software in dentistry during the 1980s was limited to administrative functions such as preparing patient statements, processing insurance claims, and managing practice finances.1 Today, clinical applications are readily available that can be easily implemented in the dental office with proper training. Many leading dental software programs include the following features:
scheduling
call lists
treatment logs
treatment planning
insurance claims and predeterminations
prescriptions
charting (general, periodontal, restorative, endodontic)
clinical images (capturing, storing, retrieving, enhancing)
professional letters
measurement tools
intra-office messaging
patient education
Electronic records help the organization of the office, allowing the administrative and clinical staff to spend more time with patients. A tedious task such as tracking overdue maintenance visits can now be accomplished with a push of a button that then creates friendly reminder letters or emails. Insurance claims with electronic patient signatures can be sent directly to insurance companies with a copy kept in the patient's digital file. Appointment scheduling and documentation are completed with ease and without the problem of illegible handwriting.1 See Table 1 for a list of manufacturers of software for the dental practice.
PATIENT EDUCATION
Another significant benefit of computer dental software is the ability to easily educate patients during case presentations. The patient's digital record contains charting and various radiographic and clinical images that can be used as visual aids when discussing the treatment plan. The complete copy of the treatment plan, its cost, and pertinent images can be quickly printed and given to the patient as a professional representation of the dental practice and as an additional educational tool to ensure the patient is well informed.2
Software programs made specifically for patient education purposes are also available. These programs offer features like presentations on a variety of dental treatments and self-care instruction that can be broadcast on work stations throughout the office and in the waiting room, video and animation, the ability to provide patients with a CD on a specific topic for home use, before and after case presentations, and the ability to integrate with existing patient management software.
DIGITAL RADIOGRAPHY
The use of digital radiography in dentistry is increasing.3,4 Intraoral and extraoral digital radiographic images can be produced in three different ways: charge-coupled device (CCD) technology, metal-oxide semiconductor (CMOS) technology, and photo-stimulable phosphor (PSP) system.3,4 The distinction between systems is determined by the differences in the receptor devices.
CCD sensors contain an electronic chip that converts the energy of x-ray photons that hit the sensor into an electronic signal with the help of a scintillation layer. The signal is then sent to the computer through a cord between the sensor and computer. CMOS differs from CCD only in terms of the chip microarchitecture. The electronic components controlling the energy conversion are in the chip itself. Both CCD- and CMOS-based imaging systems display the captured image instantaneously and have rigid sensors that cannot
be bent.3
PCP uses a thin polyester base covered with phosphor crystals that store the x-ray photon energy. The phosphor plates are wireless and must be scanned with a helium-neon laser to convert the information to a digital image. After the sensors are scanned, they are exposed to bright light to erase all remaining energy in the phosphor layer in order to be reused. Although the system requires a processing time, the time needed is still less than for traditional film. The phosphor plates have the same dimensions as traditional film as opposed to the bulkier sensors of the CCD or CMOS systems. If bending or twisting of the PCP plates occur, defects will appear on the image and the plate will no longer be usable.3,4
Digital radiography has the following advantages:5
Instant image availability with CCD or CMOS,
Enhancements and measurements on interactive image display,
Interaction with practice management software,
Available backup and off-site archiving for security,
Ability for note attachment to radiographic images, and
Interoperability with different types of radiographic computer software to allow different practitioners to view and enhance the same image.
Digital x-ray sensors and sensor holders have also undergone innovation thus making digital radiography positioning much simpler and ensuring quality images the first time around.
Although digital radiography holds numerous advantages over film, there are limitations. The ability to alter digital radiographic images raises concerns about possible fraudulent uses of digital images.6 Most clinical imaging software stores a copy of the original image in the electronic file that cannot be deleted. Some companies have developed a watermark feature that appears when an image is altered. This feature allows for easy detection of tampered radiographic images.3
One of the much lauded benefits of digital radiography is a reduction in exposure to radiation in comparison to film use, with some companies noting a 90% dose reduction rate.6 However, with today's standard F speed film, the difference is actually 0% to 50%.6 The PSP system carries the risk of more radiation exposure due to the wide exposure latitude.3 A Dutch study also showed an increase in the number of radiographs taken when using digital radiography due to the nominal amount of time required to make a digital radiograph and many practitioners' lack of experience positioning the sensor inside the patient's mouth.6
Many studies have looked at the use of digital radiography in caries assessment and endodontics. These studies have concluded that digital radiography provides adequate image quality.3 Results from a study done at the New Jersey Dental School disputed the direct digital technique's ability in detection of alveolar bone loss. Its findings cited measurements of the alveolar bone level that varied significantly between traditional film radiographs and digital images in various areas in the mouth. The digital radiographs illustrated more areas of early-to-moderate bone loss when compared to traditional film.7
DOCUMENTATION/CHARTING
Developments in digital technology are also integral to proper documentation of periodontal charting and thorough clinical notes. The Dental R.A.T. (Remote Access Terminal) is a foot-operated mouse used to record probe readings and operate intraoral cameras and digital x-rays. It allows the dental clinician to operate dental software without the need of an assistant or the risk of cross-contamination. The Dental R.A.T. (Beckmer Products, Nampa, Idaho) functions wired or wireless without additional computer software. Voice activation modules are now available for most clinical software applications using a microphone headset in place of a keyboard or mouse.
Most voice activated systems are command driven, using abbreviated commands to record the patient data.8 Programs such as Patterson EagleSoft (Patterson Dental, St Paul, Minn) have incorporated a voice feature for hands-free clinical practice applying the command driven technique. The command driven software PerioPal (PerioPal, Beaumont, Tex) is specifically a periodontal program, but can be interfaced with many other dental software prorgrams.
Voice dictation technology is used less frequently in voice activated systems but Dentrix Dental (American Fork, Utah) does offer it in its software. Voice dictation technology translates spoken words into written text and attaches the clinical notes to the appropriate patient record. Significant advancements have been made in speech recognition technology, making it easier for the dental clinician to dictate the patient's information into an electronic file while avoiding the risk of cross-contamination.9 Mistakes can be caught and corrected rapidly through the use of feedback options. Patient electronic files can be accessed by navigating through a menu rather than speaking the patient's name. This complies with the privacy regulations of the Health Insurance Portability and Accountability Act (HIPAA).
The following guidelines should be adhered to when using a voice-activated system to ensure optimal function:8
Train under normal conditions (wear mask, eyewear/face-shield).
Train longer than the manufacturer's recommendations.
Speak clearly.
Use a high quality microphone to reduce the reading of background noise by the operating system.
Accurate probing depths are important in determining a patient's periodontal disease status. Constant-force electronic probes are increasingly used in research because studies show their use reduces errors.10 The Florida Probe (Florida Probe Corp, Gainesville, Fla) is a complete periodontal system that takes computerized measurements using a constantforce probe. The computer voice calls out the numbers while it is being operated and a full color charting form and record are created. The reliability of electronic probes versus a manual probe may be due to errors in manual recording or the lack of standardization of manual probing forces.10
ANESTHESIA
The control of flow rate and pressure when administering anesthesia has a direct relationship with patient comfort.11,13 CompuDent™ (Milestone Scientific, Livingston, NJ) is a microprocessor-controlled delivery system that uses the Wand® handpiece to provide precise flow and pressure during anesthetic injections, which may improve patient comfort, thus reducing fear and anxiety. The Wand is held like a pen, which may be less cumbersome than a traditional syringe. A foot pedal connected to the computer tower controls the injection of the anesthetic. Injections may take more time because of the reduced anesthetic flow rate.
In order to provide efficient dental care for patients, awareness and understanding of the available technology in the field are the responsibility of the practicing clinician. Digital dentistry has revolutionized the industry by increasing productivity and reliability. The American Dental Association (ADA) has recognized the growing significance of computers to the dental practice and developed guidelines for clinical systems in acquisition, storage, retrieval, presentation, and communication of digitized patient data.2 Visit www.ada.org/prof/resources/standards/informatics_reports.asp for more information.
REFERENCES
Snyder T. Integrating technology into dental practices. J Am Dent Assoc. 1995;126:171-178.
Delrose D, Steinberg R. The clinical significance of the digital patient record. J Am Dent Assoc. 2000;131:57S-60S.
Van der Stelt P. Filmless imaging: the uses of digital radiography in dental practice. J Am Dent Assoc. 2005;136:1379-1387.
Parks E. Digital radiographic imaging. J Am Dent Assoc. 2008;139:477-481.
Farman A, Levato C, Scarfe W. In practice: how going digital will affect the dental office. J Am Dent Assoc. 2008;139;14S-19S.
Van der Stelt P. Better imaging: the advantages of digital radiography. J Am Dent Assoc. 2008; 139:7S-13S.
Khocht A, Janal M, Chang KM. Comparison of direct digital and conventional intraoral radiographs in detecting alveolar bone loss. J Am Dent Assoc. 2003;134:1468-1475.
Drevenstedt G, McDonald J, Drevenstedt L. The role of voice-activated technology in today's dental practice. J Am Dent Assoc. 2005;136:157-161.
Umar H. Capabilities of computerized clinical decision support systems: the implications for the practicing dental professional. J Contemp Dent Pract. 2002;3:1-17.
Araujo M, Hovey K, Benedek J, Grossi S, et al. Reproducibility of probing depth measurements using a constant-force electronic probe: analysis of inter- and intraexaminer variability. Periodontol. 2003;74:1736-1740.
ADA Division of Science. Local anesthetic delivery system. J Am Dent Assoc. 2002;133:106-107.
Hochman M, Chiarello D, Hochman CB, Lopatkin R, Pergola S. Computerized Local anesthetic delivery vs. traditional syringe technique. NY State Dent J. 1997;63:24-29.
Goodell G, Gallagher F, Nicoll B. Comparison of a controlled injection pressure system with a conventional technique. Oral Surg Oral Med Oral Pathol Oral Radiol Endod. 2000;90:88-94.
From Dimensions of Dental Hygiene. September 2008; 6(9):18, 20, 22.