EverSmile PreOp Pre-Treatment Rinse
Preprocedural Mouthrinse Reduces Viral Load.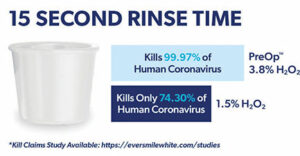 Dental practices are using preprocedural mouthrinses to mitigate the transmission of viruses and bacteria during treatment. But not all pre-treatment rinses are equally effective. To demonstrate the effectiveness of EverSmile PreOp 3.8% Pre-Treatment Rinse, the company, based in Inglewood, California, commissioned an independent comparative test. The test compared EverSmile PreOp 3.8% Pre-Treatment Rinse with a rinse containing 1.5% hydrogen peroxide.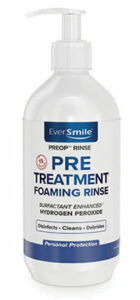 The results showed that whether at 15 seconds, 30 seconds, or 60 seconds, EverSmile PreOp's surfactant-enhanced, 3.8% hydrogen peroxide-based rinse was more effective at eliminating human coronavirus than the 1.5% hydrogen peroxide rinse. The company­-commissioned test also found that EverSmile PreOp provided a 99.968% reduction of human coronavirus in 15 seconds while the 1.5% hydrogen peroxide rinse reduced the viral load by 74.3%. At 30 seconds, the 1.5% hydrogen peroxide rinse showed a reduction of 87.98% and at 60 seconds, 91.3%. According to EverSmile, rinsing with EverSmile PreOp for 15 seconds is more effective than rinsing with a 1.5% hydrogen peroxide mouthrinse for 60 seconds. To read the complete study, visit: eversmilewhite.com/​studies.
Ensuring that patients rinse for a full 60 seconds can be difficult, so full efficacy at 15 seconds may offer peace of mind for clinicians and a more comfortable patient experience. EverSmile PreOp comes in mint and bubblegum flavors, to ensure that patients of all ages enjoy the rinsing experience and are able to fully comply with directions. A shorter rinse time also saves chairside time with each patient.
In addition, EverSmile PreOp expands into foam while rinsing, so less product is dispensed while still achieving full coverage. One dose of PreOp is 5 ml. Each 500 ml bottle treats 100 patients.

From Dimensions of Dental Hygiene. January 2021;19(1):45.