Establish a Dental Home
A collaborative approach is needed when encouraging parents/caregivers to seek professional oral health care for their children before age 1.
Early childhood caries (ECC) is the most prevalent chronic disease among children;1 it is five times more common than asthma and seven times more common than hay fever.2 Dental caries affects children's growth, learning abilities, cognitive development, and quality of life.3 Preschool-age children are at the greatest risk of ECC.2,3
The prognosis of children's oral health is markedly better when a dental home is established by age 1. The dental home is where all facets of oral health care are delivered in a patient-centered, comprehensive continuum. Through the establishment of a dental home, patients will receive both preventive care and treatment, with the hopes of encouraging good oral health for a lifetime.
EARLY CHILDHOOD CARIES
The current definition of ECC adopted by the American Academy of Pediatric Dentistry is the presence of one or more decayed lesions (noncavitated or cavitated), missing teeth due to caries, or filled tooth surfaces in a primary tooth in a child younger than 6.4,5 The pathophysiological progression of ECC stems from the child's high intake of sugar and starches, which produce an acidic environment in the oral cavity. Frequent bottle-feedings of milk or juice and persistent snacking throughout the day cause a decrease in pH levels, which leads to destructive dental plaque formation and an increase in acidity.4–6 This results in mineral loss from the tooth surface.6 Prolonged drops of pH levels in the oral cavity, combined with limited opportunities for remineralization, result in breakdown of the enamel and dental caries formation.6
The presence of dental caries is multifactorial, and the driving force depends on the existence of cariogenic bacteria in the oral cavity, such as Streptococcus mutans and Lactobacillus. These species of bacteria are acidogenic (able to produce organic acids during the metabolism of fermentable carbohydrates).3,6 Caries lesions typically affect the facial maxillary anterior teeth and appear as demineralized cervical bands that rapidly progress.3,6 The mandibular teeth are generally unaffected by dental caries because the teeth are covered by the tongue during the acid attack.3 If detected early through preventive dental care, further progression of caries can be arrested.
Demineralization and remineralization have significant roles in the breakdown and restoration of enamel.3 Demineralization begins at the atomic level, on the crystal surface inside the enamel or dentin.6 Cariogenic bacteria metabolize fermentable carbohydrates and then produce organic acids that diffuse into the tooth surface through saliva. Once the acid reaches a susceptible site on a crystal surface, calcium and phosphate are dissolved. Remineralization is a natural repair process for noncavitated lesions.6 The saliva neutralizes the acidic environment and replaces the minerals lost during demineralization by using calcium and phosphate ions assisted by fluoride to rebuild the tooth surface.2,6 The progression, or reversal, of dental caries depends on the balance between demineralization and remineralization in the oral cavity.6,7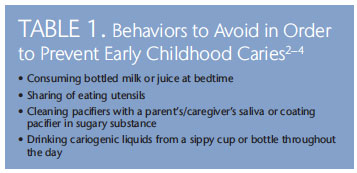 FAMILIAL FACTORS
Familial characteristics and dynamics influence children's susceptibility to ECC. The oral health and habits of the mother or primary caregiver are particularly important.3,8 Research suggests that despite the father's oral hygiene behaviors, it is the mother's habits that significantly influence the child's oral health.8 Mothers with poor oral health and high levels of cariogenic oral bacteria are more likely to infect their child.7 At birth, the oral environment is sterile. Exposure to the mother's saliva, however, changes the infant's oral environment. For example, high levels of S. mutans in the mother's saliva increases the risk of the infant being colonized.3 The overall goal is to delay bacteria colonization through educating parents, family members, and caregivers on the high risk and negative effects of bacteria transmission.
The two types of transmission associated with ECC are vertical and horizontal. Vertical transmission of ECC is the passing of bacteria from the parent/caregiver to the child.5,8 Dental hygienists should educate parents/caregivers on the importance of using separate eating utensils, as well as how to clean the child's pacifier (warm water and a sterile cloth, not with the parent's/caregiver's mouth).1 Horizontal transmission is the passing of microbes from family members or groups of people, such as in a day care setting, to the child.3,8 Educating expectant mothers about the risks associated with bacteria transmission in the prenatal and infancy stages significantly decreases the incidence of transmission.
POLICY ON THE DENTAL HOME
The dental home is a comprehensive model that includes preventive dental services (dental prophylaxis, fluoride application, and dental sealants, as needed); nutritional counseling; comprehensive assessment for oral diseases (dental caries and periodontal diseases); education related to anticipatory growth and development; information regarding effective self-care (proper brushing and flossing techniques); guidance for treating acute dental trauma; and referrals to dental specialists when applicable.2,3,9 The establishment of a dental home as defined, developed, and recommended by the American Academy of Pediatric Dentistry is derived from the American Academy of Pediatrics' medical home model.3 Both continuums provide guidelines for maintaining infant/child medical and dental health during periods of pivotal growth and development. Establishing a dental home ensures the child receives adequate oral health care, thereby reducing the incidence of ECC.3 The dental home encompasses a team approach to oral health and includes oral health professionals (dentists and dental hygienists), parents/caregivers, and the child.
The American Academy of Pediatric Dentistry recommends that parents/caregivers establish a dental home within 6 months of eruption of the first primary tooth or by age 1.2,3,9 The presence of ECC is significantly decreased when a dental home is established.2,3,9 An interprofessional, collaborative approach between oral health professionals and primary care providers is most effective in educating parents/caregivers about the importance of a dental home. Mothers likely visit their obstetrician/gynecologist many times during pregnancy and parents make frequent post-natal trips to the pediatrician for well-baby checkups. Therefore, both primary care providers and oral health professionals must fulfill their role in educating expectant mothers on the importance of maintaining oral health, establishing a dental home for their child, and addressing the oral-systemic link—including the association between periodontal diseases and preterm low birthweight.
COMPREHENSIVE APPROACH
Educating parents/caregivers on strategies to prevent the risk of ECC requires a comprehensive approach. Oral health professionals should discuss the key factors that influence oral health with parents/caregivers, including evaluation of fluoride content in the community water supply, fluoride supplementation if the child resides in an area with nonfluoridated or inadequately fluoridated water, and education on cleaning the infant's gingiva with a water-soaked washcloth until the eruption of the first primary tooth.4
Once the baby's teeth begin to erupt, encourage parents/caregivers to clean the teeth with a small, soft toothbrush.4 Parents/caregivers should be discouraged from cariogenic behaviors—from sharing utensils to drinking sweetened beverages (Table 1).2–4
ROLE OF PRIMARY MEDICAL PROVIDERS
A policy statement from the American Academy of Pediatrics, issued in 2003 and reaffirmed in 2009, acknowledges the important role pediatricians play in promoting children's oral health.13 Pediatricians establish their own relationship with the child and parent/caregiver from birth through adolescence.9 Therefore, pediatricians, as part of an interprofessional preventive care team, are responsible for educating parents/caregivers on the risk of unmet dental needs, good oral hygiene, and the importance of establishing a dental home.
When parents/caregivers have negative oral health behaviors or rarely receive professional dental care, the likelihood that their child will have a dental home by age 1 decreases.7 As most children visit a primary medical provider within the first year of life, these health professionals should emphasize the importance of seeking professional dental care. Pediatricians can also promote the value of a dental home, assess caries risk, and provide a referral to an oral health professional.9
ROLE OF THE DENTAL HYGIENIST
During the initial dental visit, the dental hygienist and dentist perform a comprehensive oral exam and deliver preventive measures, as needed. In addition, education regarding oral hygiene behaviors, nutrition, and growth and development is provided. Dental hygienists should offer positive reinforcement, and encourage both the child and parent/caregiver during the visit. As some children are fearful during their first dental appointment, dental hygienists should not feel discouraged if only patient education is achieved during this visit. Parents/caregivers and their children should also receive information on the importance and proper use of fluoride.
INTERPROFESSIONAL APPROACH
Oral health professionals and pediatricians who utilize an interprofessional approach to encourage the establishment of a dental home are helping to decrease the incidence of ECC.1 Both oral health professionals and pediatricians should be familiar with the American Academy of Pediatric Dentistry's recommendations on establishing a dental home.9 Collab­oration between dental and health professionals increases the efficacy of prevention interventions.
Establishing a dental home before age 1 is a key factor in addressing the ECC epidemic. Educating parents/caregivers about the benefits of a dental home is imperative. Pediatricians, dentists, and dental hygienists should work collaboratively to ensure the goals of caries education and prevention are met.
REFERENCES
Smith GA, Riedford K. Epidemiology of early childhood caries: clinical application. J Pediatr Nurs. 2013;28:369–373.
Hale KJ, American Academy of Pediatrics Section on Pediatric Dentistry. Oral health risk assessment timing and establishment of the dental home. Pediatrics. 2003;111:1113–1116.
Dental Trade Alliance Foundation. The Dental Home: It's Never Too Early to Start. Available at: aapd.org/assets/1/7/DentalHomeNeverTooEarly.pdf. Accessed January 22, 2014.
Darby M, Walsh M. Dental Hygiene Theory and Practice. 3rd ed. St. Louis: Saunders Elsevier; 2010.
American Academy of Pediatric Dentistry. Guideline on Perinatal Oral Health Care. Available at: aapd.org/media/Policies_Guidelines/G_Perinatal OralHealthCare.pdf. Accessed January 22, 2014.
Featherstone JD. Dental caries: a dynamic disease process. Aust Dent J. 2008;53:286–291.
Isong IA, Zuckerman KE, Rao SR, Kuhlthau KA, Winickoff JP, Perrin JM. Association between parents' and children's use of oral health services. Pediatrics. 2010;125:502–508.
INTECH. Oral health knowledge, attitude and practices of parents/caregivers. Available at: intechopen.com/books/oral-health-care-prosthodontics-periodontology-biology-research-and-systemic-conditions/oral-health-knowledge-attitude-and-practices-of-parents-caregivers. Accessed January 22, 2014.
American Academy of Pediatric Dentistry. Policy on the Dental Home. Available at: aapd.org/assets/1/7/P_DentalHome.pdf. Accessed January 22, 2014.
From Dimensions of Dental Hygiene. February 2014;12(2):26,28–29.