Embracing Innovation
Technological advancements have much to offer the practice of dentistry from patient education to the provision of treatment.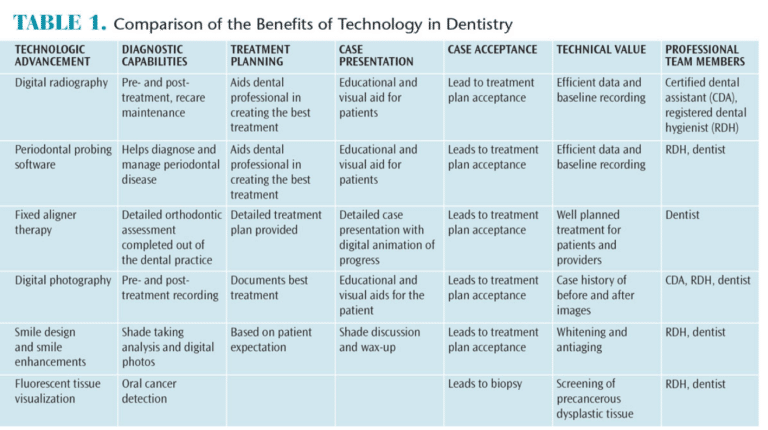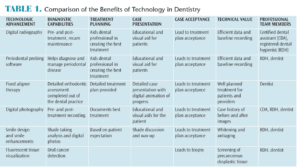 Embracing change is an important part of providing the highest standard of care to patients. Dental hygienists need to remain up to date on the latest techniques and materials in order to constantly challenge the status quo of oral health care. Responsibility for oral health education, treatment planning, and case presentation of oral disease are shared by the dentist and the dental hygienist. Dental hygienists must work closely with the dental team to help patients understand the risks and benefits of treatment. This article provides a discussion of some of the most important technological advancements to impact the provision of dental care (Table 1).1
DIGITAL RADIOGRAPHY AND PROBING SOFTWARE
Digital radiography is a noteworthy, although not new, technological advancement in dentistry.2 It has provided significant advantages for both patients and clinicians. Patients face less exposure to radiation, while clinicians are better equipped to make accurate and quick diagnoses and communicate treatment plans to patients.3 If possible, large screens should be used in the operatory to show images in real-time and enhance patient understanding of the diagnosis.
One of the most significant technological advancements in the diagnosis of periodontal diseases is the use of digital probing software. This product offers dental hygienists an easy and more accurate solution for measuring periodontal pockets—reducing charting time and improving communication with the dental team and patients. In 2009, the United States Centers for Disease Control and Prevention reported that 47.2% of American adults older than 35 have periodontitis, a shocking statistic that increases to 70.1% in adults age 65 and older.4 Knowing oral health is linked to overall health, and bacteria that originate in the mouth have been found elsewhere in the body, this diagnostic tool is of key importance. Digital probing software enables clinicians to visually discuss the data and offer effective solutions for treating inflammation and mitigating ­disease progression. Creating a comprehensive probing protocol ­utilizing digital probing software can help clinicians discover periodontal problems that have been previously missed.
SUBGINGIVAL SCALING AND ROOT PLANING WITH THE DENTAL ENDOSCOPE
Treatment for periodontal therapy has improved significantly with the advent of new technology. Subgingival calculus removal with the dental endoscope has proven to be more effective in reducing inflammation compared to blind scaling and root planing. The dental endoscope gives the clinician a clear view inside periodontal pockets, allowing for the complete removal of subgingival plaque. A study in which an experienced clinician performed subgingival scaling and root planing with the dental endoscope on 12 teeth found no histologic signs of chronic inflammation 6 months after treatment in addition to evidence of bone repair.5
ORAL CANCER DETECTION
Oral cancer screening should be a standard part of every dental appointment. Unfortunately, studies show that only 15% of US dental offices perform regular oral cancer screenings.6 According to the Oral Cancer Foundation, roughly 45,750 individuals will be diagnosed with oral cancer in 2015. As with all cancers, early detection is critical. Individuals diagnosed in the early stages of oral-cancer have a 5-year survival rate of 81%, but those with advanced stage cancer have only a 22% 5-year survival rate.7 Routine oral cancer screenings are key to early detection and should be part of patients' biannual dental visits. Diagnostic technologies can help seamlessly screen patients during regular prophylaxis appointments. Light-based diagnostic technologies may someday assist in helping delineate potentially problematic sites, but the evidence on the efficacy of such tools is mixed.8
ORTHODONTICS AND ALIGNER THERAPY
Another important technological advancement in esthetic dentistry is in orthodontics. Clear aligner therapy is a noninvasive way of realigning teeth, normalizing gingival margins, and increasing plaque control without metal brackets and wires. While fixed appliance therapy is still considered the optimal treatment for teeth realignment, significant advancements in clear aligner therapy technology have resulted in comparable outcomes with a much greater patient acceptance rate.9 Clear aligner therapy provides a real advantage for patients on many fronts. Perhaps most important, clear aligner therapy is less invasive than the traditional mounted brackets and wires, rendering them virtually unnoticeable in social settings. Gone are the days when orthodontic patients were victim to the "metal mouth" nickname. Rather than mounting bulky hardware to the teeth, treatment happens via a series of sleek and discreet removable appliances that are configured via computer renditions. All of the diagnostic work is conducted prior to starting treatment, which results in fewer office visits for maintenance or emergencies (eg, broken brackets, obtrusive wires, etc). This also means significantly reduced chair time and overhead expense.
Patients frequently report that clear aligner therapy is more comfortable than fixed appliances due to their less obtrusive nature and the fact that the appliance can be removed while eating and drinking. Patients also can floss and brush without having to navigate around fixed hardware. Dental hygienists are well positioned to recommend orthodontic treatment to patients who express interest in enhancing their smiles and those who experience reduced function due to malocclusion.
WHITENING AND SMILE ENHANCEMENTS
Dental hygienists are ideal to screen patients for esthetic enhancements and tooth whitening procedures. Tooth whitening has became an increasingly popular cosmetic procedure, with more than 100 million Americans having bleached their teeth.10 Since the introduction of whitening, significant improvements have been made in technology and efficacy. A variety of tooth whitening procedures are available today, however, understanding the factors that help create effective whitening results without causing sensitivity is necessary. The two primary factors that affect whitening are contact time and the product's concentration of hydrogen peroxide. The effect of the whitening gel is directly related to the amount of exposure time. The longer the teeth are exposed to the solution and the higher the concentration of the whitening gel, the greater the change in color of the tooth. Of course, this is a double-edged sword: Too high a concentration of hydrogen peroxide, along with too much exposure under high heat will cause extreme sensitivity, as the intrapulpal pressure inside the tooth increases. Patients who experience "zinger" type pain due to professional lights and sensitivity caused by messy trays and gels that bathe the soft gum tissue in hydrogen peroxide may find the whitening process unpleasant. Advancements have been made to whitening materials that reduce the risk of dentinal hypersensitivity, improve efficacy, and provide a positive patient experience. A whitening system where the temperature is controlled and the environment is closed to prevent whitening oxygens from escaping the tooth's surface may provide the best results.
DIGITAL PHOTOGRAPHY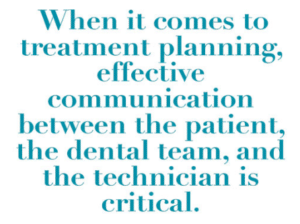 Digital photography is often underutilized in dental practices. It is the simplest way to visually show patients their oral health status. Digital photography has not only improved communication between clinicians and patients but also between clinicians and dental technicians. When it comes to treatment planning, effective communication between the patient, the dental team, and the technician is critical. All members of the dental team, including dental hygienists, need to know how to take effective digital images.
There are two options for photography in the dental setting: digital single lens reflex (SLR) cameras with high-quality macro lens (90 mm to 105 mm) and ring flash or dual flash and intraoral wand cameras. The SLR option provides appropriate and necessary control over the aperture, shutter speed of the camera, and illumination of the teeth.11 Intraoral wand cameras necessitate the use of infection control barriers as they are used inside the mouth. They also provide excellent visualization of the oral cavity.
Implementing quality digital photography is not only important when it comes to case presentations, but also for helping patients to visualize results. Digital photographs can be used in dental practice marketing as a visual representation of the practice's abilities. Dental hygienists can use these marketing materials as a tool to improve patient communication and case acceptance when explaining procedures or treatment options to patients.
PRACTICE MANAGEMENT SOLUTIONS
Technological advancements in the world of communication have enhanced patient retention and case acceptance. Email communication solutions specific to the dental practice have improved significantly, streamlining communication between the office and patients. Software improves scheduling, the sending of appointment reminders and follow-up, and email marketing. These benefits can help practices ensure a high-volume of patients.
CONCLUSION
Dental hygienists armed with information on some of the latest technologies available in the dental office can effectively educate patients and provide treatment in a codiagnostic manner. This will help the dental team create individualized care plans designed to improve patients' oral health and address their esthetic concerns. Dental hygienists are the heart of communication in the dental office and play an important role in helping patients remain disease-free and maintain beautiful smiles that will last a lifetime.
ACKNOWLEDGEMENT
The authors would like to thank Julie Terreson for her assistance with this manuscript.
REFERENCES
Levine JB. Esthetic diagnosis. Curr Opin Cosmet Dent. 1995:9–17.
Mouyen F, Benz C, Sonnabend E, Lodter JP. Presentation and physical evaluation of RadioVisioGraphy. Oral Surg Oral Med Oral Pathol. 1989;68:238–242.
Christensen GJ. Why switch to digital radiography? J Am Dent Assoc. 2004;135:1437–1439.
Eke PI, Dye BA, Wei L, et al. Prevalence of periodontitis in adults in the United States: 2009 and 2010. J Dent Res. 2012;91:914–20.
Wilson TG, Carnio J. Absence of histologic signs of chronic inflammation following closed subgingival scaling and root planing using the dental endoscope: human biopsies—a pilot study. J Periodontol. 2008;79:2036–2041.
Oral Cancer Foundation. Dental. Available at: oralcancerfoundation. org/dental. Accessed September 8, 2015.
Centers for Disease Control and Prevention. Chronic Disease Notes and Reports: Improving Diagnoses of Oral Cancer. Available at: cdc.gov/OralHealth/pdfs/oral_cancer.pdf. Accessed September 8, 2015.
Rethman MP, Carpenter W, Cohen EE, et al. Evidence-based clinical recommendations regarding screening for oral squamous cell carcinomas. J Am Dent Assoc. 2010;141:509–520.
Celenza F. Clear Aligner Therapy Essentials in Esthetic Dentistry: Smile Design Integrating Aesthetics and Function. Atlanta: Elsevier Inc; 2015:202–230.
Krupp C. How Not To Look Old. New York: Springboard Press; 2008:95.
Hodson NA. Clinical photography in esthetic dentistry. In: Essentials in Esthetic Dentistry: Smile Design Integrating Aesthetics and Function. Levine J, ed. Atlanta: Elsevier Inc: 2015;108–126.
---
From Dimensions of Dental Hygiene. October 2015;13(10):24,26,28.