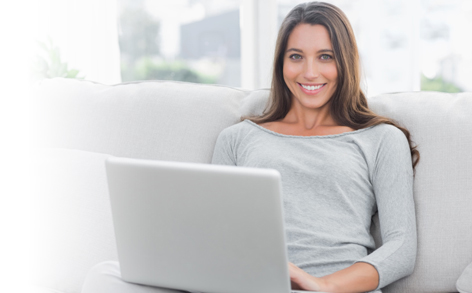 Dimensions of Dental Hygiene's 10th Annual Six Dental Hygienists You Want to Know: Celebrating Excellence
Dimensions of Dental Hygiene, with the support of Hu-Friedy, honors the accomplishments of dental hygienists and supports mentorship through an online platform.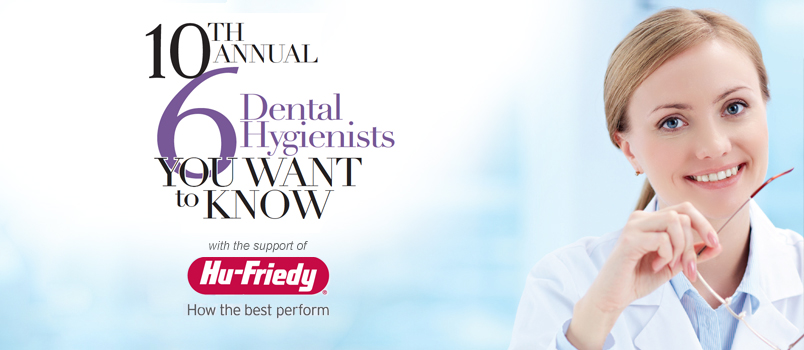 Dimensions of Dental Hygiene, with the support of Hu-Friedy, honors the accomplishments of dental hygienists and supports mentorship through an online platform.
Dental hygiene is a challenging and rewarding profession that offers practitioners the chance to make a difference in people's lives. Every year, many dental hygienists raise the bar and set an example for others in the profession of dental hygiene. The ability to positively impact patients and aspiring practitioners is the mark of a skilled and dedicated clinician. Hu-Friedy is proud to partner with Dimensions of Dental Hygiene to recognize outstanding dental hygienists. The 2017 "Six Dental Hygienists You Want to Know" are inspirational and their accomplishments help advance their specialties.
This year's honorees are:
Academia: Rachel C. Kearney, RDH, MS
Clinical Practice: Melissa A. Obrotka, RDH, BBAOM
Industry: Leann Keefer, RDH, MSM
"Mover and Shaker": Deborah Bailey Astroth, RDH, BSDH
Public Health: Matt Crespin, MPH, RDH
Research: Jane L. Forrest, RDH, EdD
---
To encourage mentorship in the profession of dental hygiene, Hu-Friedy is proud to support an online mentoring component to the "Six Dental Hygienists You Want to Know." Oral health professionals can visit dimensionsofdentalhygiene.com and click on "Access a Mentor" to ask questions of the past and present honorees of the "Six Dental Hygienists You Want to Know."

Stacie Barth
The passion that the 2017 "Six Dental Hygienists You Want to Know" have for excellence, motivation, hard work, and education has enabled them to achieve success. At Hu-Friedy, we celebrate performing at your best and are dedicated to supporting the dental hygiene community. Whether you are a student embarking on your career, a faculty member designing curriculum, or a clinician improving patient health, Hu-Friedy is there with you on your path as you learn, share, and grow as oral health professionals.
Stacie Barth
Director, Global Strategic Business Unit
Hu-Friedy
---
ACADEMIA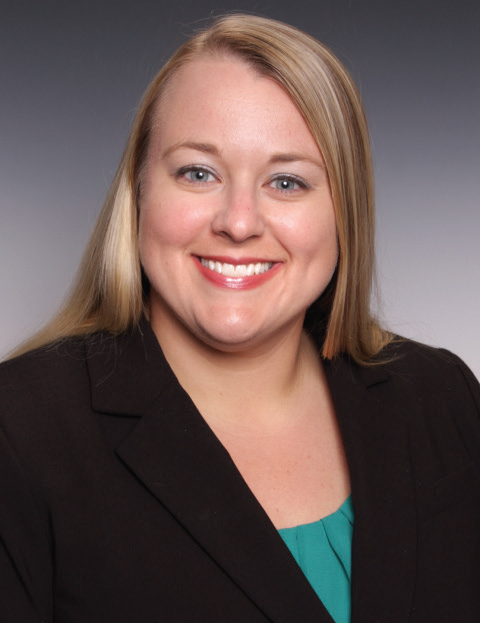 Rachel C. Kearney, RDH, MS, is an associate professor and chair of the Division of Dental Hygiene at The Ohio State University (OSU) College of Dentistry in Columbus. She teaches ethics, professionalism, education, and research courses to undergraduate and graduate dental hygiene students. A lifelong learner, Kearney is currently a doctoral student in OSU's College of Education and Human Ecology where she is studying learning technologies. She also practices as a dental hygienist at OSU's Dental Faculty Practice.
Highly regarded in academia, Kearney was the 2009 Recipient of the American Dental Hygienists' Association Future Leader Award, as well as the recipient of the Colgate Palmolive Allied Dental Educator Fellowship to the American Dental Education Association (ADEA) Leadership Institute in 2014. She also serves as secretary of the ADEA Council of Allied Program Directors.
Kearney presents nationally on social media, educational methodology, professionalism, and ethics, and is published nationally and internationally. Her research focus is on social media and learning technologies. A prolific author, Kearney is also a reviewer for the Journal of Dental Education, Journal of Dental Hygiene, and the International Journal of Dental Hygiene.
What inspired you to enter a doctoral program and what will earning it mean for you professionally?
While working on my master's degree, I had thought about continuing to earn my doctoral degree, but I decided that it might not be necessary for my career goals, so I did not pursue it. I was fortunate enough to then get a position as a tenure-track faculty at OSU after I completed my master's degree. As I began to develop my own research agenda, it became clear that a doctoral degree would have better prepared me to conduct research in dental hygiene. I am also fortunate to have mentors to discuss this with and a mentor who pushed me to start a doctoral program. Earning a PhD will allow me to better contribute to the dental hygiene literature and will also help me to mentor others in doing the same.
What would you say is the most significant issue facing dental hygiene education today?
I feel that one of the most important topics in academia is how educators prepare students for what the profession will look like in the near future—during the students' careers. While we cannot predict exactly how the profession will look over the next 30 years, we can, as educators, encourage students to develop skills that will help them with a profession that is changing. But this can be challenging to accomplish in addition to covering the required clinical and didactic dental hygiene curriculum.
What do you find most fulfilling about working in academia?
I love to witness the successes of our students, whether that is graduating from our program, earning awards and scholarships, delivering successful presentations, participating in impactful community events, or publishing papers. Helping students to accomplish their goals is such a privilege, and one of my favorite parts of my work.
What do you wish practicing clinicians knew about today's dental hygiene students?
Students today are coming into dental hygiene programs well prepared and with a desire to serve the public. Dental hygiene students truly embrace serving the needs of their communities while they are in school, and they have a strong desire to continue this in their professional careers. Students today are creative, efficient, and diverse. As educators, we try to capitalize on the characteristics and talents that our students already have when they enter the program.
Where do you see the profession of dental hygiene in the next 50 years?
I think dental hygienists will have clearly defined their own profession and their roles more globally. I envision that the body of evidence specific to dental hygiene will continue to increase.
Clinical Practice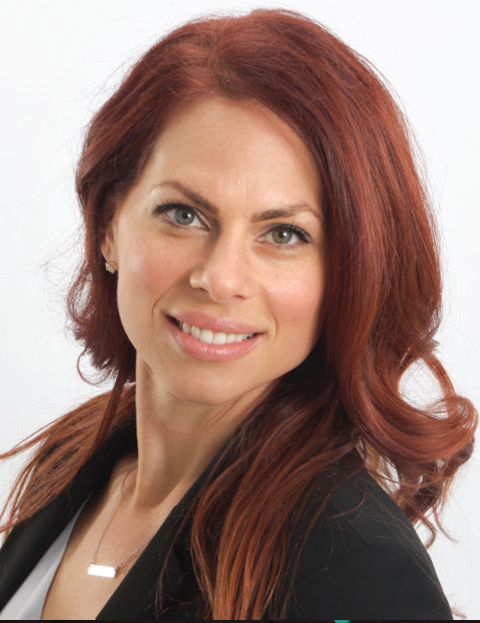 Melissa A Obrotka, RDH, BBAOM, has more than 20 years of experience in the dental field, as her journey began in dental assisting while attending dental hygiene school. She practices as an implant care practitioner at the North Jersey Design Center for Implant and Cosmetic Dentistry in Denville, New Jersey, where the maintenance and health of patients with implants are her daily clinical objectives. Obrotka is a clinical adjunct professor at her alma mater, Bergen Community College in Paramus, New Jersey. She is the co-founder of RDH Innovations LLC and Dental Implants Uncovered with Shavonne Healy, RDH, BSDH. Obrotka is a member of the American Dental Hygienists' Association (ADHA), New Jersey Dental Hygienists' Association, and Association of Dental Implant Auxiliaries. A Hu-Friedy key opinion leader, she was nationally recognized in June 2016 with the Hu-Friedy/ADHA Master Clinician Award for her outstanding clinical expertise in relating interdependence of clinical practice and patient education for the improvement of patient compliance.
What drew you to the clinical practice of dental hygiene as a career?
I was exposed to dentistry at an early age. My mother was a dental assistant who transitioned to an office manager. When I was finishing high school, I began working in her office filing charts, cleaning operatories, and pouring models. I loved learning from the office team members about their role in patient care and how that worked within the office dynamic. I was encouraged by the practice's dentists and dental hygienists to go to dental hygiene school. It was rewarding to learn something in school and then understand it clinically in the office.
Being a people person, I love to motivate and help people. When someone wants to make a change in his or her life, it can be challenging to find the right path. I love to help people find the steps to incite positive changes and integrate new habits into their lifestyles in an understanding and compassionate manner. Therefore, my motivational side coupled with my love of dentistry make being a dental hygienist a perfect fit.
You are an implant care practitioner. What sparked this interest and how did you develop expertise in this area?
In 2012, I started working in a prosthodontic practice. I was 13 years into my clinical career, loving patient care, education, and serving people, but I was ready for the next challenge. Prosthodontics showed me a level of dentistry that I had not seen before. I was exposed to implant dentistry early on in my career, but I had not experienced the advanced full-mouth implant rehabilitation cases that were now common in my daily schedule. I quickly realized that to better serve this patient population I had to increase my dental implant knowledge base. I fostered intraprofessional relationships within our dental implant community, as well as invested in additional education. Once I started learning more and was exposed to more peri-implant diseases, I began to think more critically about the long-term success of these cases. We need an educated team member who can aid in the detection, prevention, and intervention of peri-implant disease, and who better to do this than the dental hygienist? Dental hygienists are an integral member of the implant care team and we are being underutilized.
What do you find to be the most challenging aspects of clinical care?
Time! Our standards of care continue to increase every year; however, the time we have to work with our patients either stays the same or decreases. I have more to share with my patients than will fit into the traditional appointment time. I am blessed to work with a dentist who respects my professional judgement and treats me as a co-therapist. I schedule my appointment times according to patients' individual needs. This allows me the time to perform comprehensive medical history interviews and provide adjunctive therapies and extensive patient education; ultimately, creating an individualized care plan. When we aren't given enough time, mistakes are made, things get over looked, and a patient's health may be put at risk. We all have a harried day in the office from time to time; however, I make a conscious choice not to compromise my integrity or patient care.
Please share about your co-founding RDH Innovations and its goals.
RDH Innovations came to fruition from a chance meeting when Shavonne Healy, RDH, BSDH, and I attended the same course at the American Dental Hygienists' Association Annual Session in 2016. During the course, we learned of our shared passion for implant dentistry as well as other aspects of dentistry. The basis of RDH Innovations lies in our belief that dentistry will recognize the dental implant process of care as a separate entity from what is standard for natural teeth. Research demonstrates that the prevalence of peri-implant diseases is rising. Dental hygienists are often the first responders in the detection of these diseases. Furthermore, dental implant maintenance requires a clinician with advanced education in implant dentistry. RDH Innovations will expand the dental hygiene clinical setting into oral surgery through the implementation of a new dental hygiene workforce model: the implant care practitioner (ICP). The ICP is a dental hygienist who has furthered his or her knowledge of implant dentistry and understands not only the maintenance aspects but also the surgical and restorative components of dental implants.
Shavonne and I currently practice clinically as ICPs and we have met many others through our Facebook forum, "Dental Implants Uncovered Study Group." We created this group as an avenue for dental hygienists to engage, collaborate, and ask questions, as well as to grow their dental implant knowledge base through studying cases together. We have many expert dental hygienist moderators active within our forum, as well as an oral surgeon, periodontist, prosthodontist, and general practitioner dental implant specialist to shed light onto the complex world of implant dentistry. These exceptional dentists support our mission and understand that the role of the ICP supports their surgical and restorative dental implant cases.
RDH Innovations is currently presenting "Dental Implant Basics: An Overview for Beginners" to enhance the dental implant education provided in dental hygiene schools. The number of dental implants being placed in the United States continues to grow and new clinicians are going to be treating patients with dental implants. RDH Innovations wants to support these new clinicians through education so they are better prepared to treat this exponentially growing patient population. The sky's the limit for the future as we continue to expand our knowledge base and grow!
What advice would you give to newly graduated dental hygienists just entering the field?
Set goals—both long- and short-term—for yourself early on in your career and take small steps of action everyday toward those goals. Don't be afraid to ask someone to mentor you. What is the worst thing he or she will say—no? That's fine, just find someone else. You will find a colleague who wants to help you and our profession advance and grow. You are the next generation and we want you to be successful! Go to at least one conference per year to learn and network. Continue to be a part of your professional association. Get involved. Don't ask what is the ADHA going to do for me. Rather, ask the ADHA, what you can do to help. Know that the first office you work in will probably not be your last. It takes time to find the right fit. Practice from your heart and cultivate relationships so that your time in the office will feel like spending time with friends. Practice with integrity. When you are in doubt, think to yourself, what did I learn about this in hygiene school? If you are ever put in an ethically questionable situation by an oral health professional, remember hygiene school, your boards, and how hard you worked to become a dental hygienist. Is it worth losing that all? Then listen to your inner voice, it won't steer you wrong.
Ask lots of questions. Take note of how your dentist and other dental hygienists explain dentistry to your patients. What can you learn from them? Remember that many people are fearful of what we do—work hard to make them comfortable. Study communication skills, it will serve you well personally and professionally. Be transparent and educate your patients. Help them own their dental disease and then empower them to help you restore to them to health. When you make a mistake, and you will, don't let it stop you from moving forward: learn, grow, and adjust. Be passionate and kind, work hard, help around the office, take out the trash, leave your ego at the door, take up yoga, and stretch often. Most importantly, NEVER stop learning!
INDUSTRY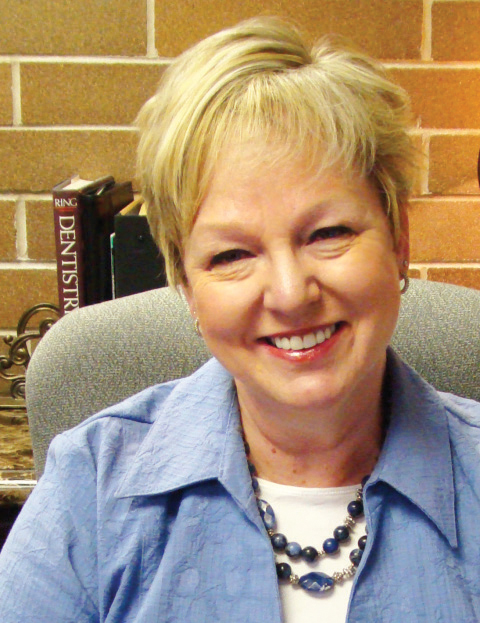 Leann Keefer, RDH, MSM, is director of corporate education and professional relations for Crosstex International, based in Hauppauge, New York. Her work focuses on advancing Crosstex's thought leadership among influential oral health professionals. An identifier of trends in the fields of oral care and infection prevention, Keefer develops and implements the corporation's longterm strategies relating to education and professional relations.
With more than 20 years of experience in academia, she is also an educational strategist who develops diverse educational initiatives for industry professionals, as well as procedural curricula that have been implemented in hundreds of accredited dental hygiene programs. She began her career in education at her alma mater, Indiana University (IU), where she spent 16 years as a dental hygiene faculty member. She also served as the director of the Dental Hygiene Program at the Community College of Denver and as an education strategist for Dentsply Professional, before joining the Crosstex team in 2011.
What inspired your movement from clinical practice to education
to industry?
My career journey has been a series of building steps; each new opportunity is based on the previous foundation of knowledge, experience, and skills sets. I like to compare it to a 30+ year LEGO creation. Starting my career in dental hygiene, I had a pile of LEGO bricks with unlimited potential. I was fortunate to have a number of amazing mentors in my life helping to guide and shape my evolution. Lloyd Hagedorn, DDS, my periodontics instructor at IU, encouraged me to think outside the box. I became a dental hygienist on his team, completed my Bachelor of Science in Education degree, and joined him in team teaching periodontics at IU for 12 years.
As an educator, my transition to industry allowed me to combine my
clinical knowledge and passion for teaching with business. I was fortunate
to complete my graduate studies while working with Water Pik.
Whenever I hear the term "burnout" related to dental hygiene, I am perplexed. Dental hygiene provides a solid, but complex base from which to explore new opportunities. We need to have a vision, remain open to new possibilities, and apply what we know to boost creative imagination and lead to a unique journey. In Danish, LEGO means to play well. You can do the same by finding the intersection of doing what you are passionate about and where you excel professionally.
What are the first steps for dental hygienists who are interested in beginning a career in industry?
Commit time and energy to become the best dental hygienist you can be. Invest in yourself with education. Most corporations require a minimum of a bachelor's degree along with a number of years of clinical experience. Earning my master's degree in business opened a multitude of doors for me and moved my career internationally. Read voraciously—dentistry is continually evolving. Expand your reach by reading outside of the realm of dentistry. Finally, leading-edge networking is essential—develop the skills necessary to create, cultivate, and capitalize on relationships to make things happen and impact the bottom-line. Be willing to do the work to move the needle. Take calculated risks!
What qualities do you find most important in an effective leader?
My graduate program curriculum was based on the work of Robert Greenleaf from his essay The Servant as Leader. This philosophy recommends making serving a priority, with the intent of ensuring "that other people's highest priority needs are being served." Greenleaf stated, "Caring for persons, the more able and the less able serving each other, is the rock upon which a good society is built." I would sum up the "servant leader" in one word: integrity.
What makes you jump out of bed in the morning? What makes you want to hit the snooze button?
An attitude of gratitude—each day I open two gifts, my eyes, and feel fortunate I have new opportunities to discover. Some weeks can be a challenge with schedules and travel. I've learned to celebrate the ordinary days! I have a wonderful family with whom I'll never have enough time; my husband, Steve, has been the biggest champion in my career for the past 37 years. Our children, now adults with their own successful careers (not in dentistry), have been two of the brightest building blocks for me.
The jarring sound of my alarm once a day is enough of a shock to my system … I stopped using the snooze button years ago—both at the beginning of the day and in my life. I am ready to face the day—opportunity or challenge—and get on with it!
What stokes your passion for infection control?
My passion is building a safer practice environment for patients and oral health professionals through education, innovation, prevention, and collaboration. Continuously emerging diseases, the challenges posed by antibiotic resistance, and increasing demands for compliance with infection control best practices, combined with an elevated awareness of patients and news media created by multiple infection control breaches, have put infection prevention and control at the forefront of the dental profession and industry.
For the past 7 years, I have been honored to be part of Crosstex (subsidiary of Cantel Medical Corp), a recognized global leader and trusted partner in infection prevention and control products and services. Our focus on safer patient care is through innovative, high-quality solutions to ensure maximum compliance in addition to offering an outstanding patient experience. Also, the active community of professionals committed to infection prevention and control is one of the most unique and dedicated. I am honored and inspired to work with global leaders in the Organization for Safety, Asepsis and Prevention (OSAP). OSAP is a growing community of clinicians, educators, researchers, and industry representatives who advocate for safe and infection-free delivery of oral health care. Infection prevention and control—it truly takes a village to succeed!
"MOVER and SHAKER"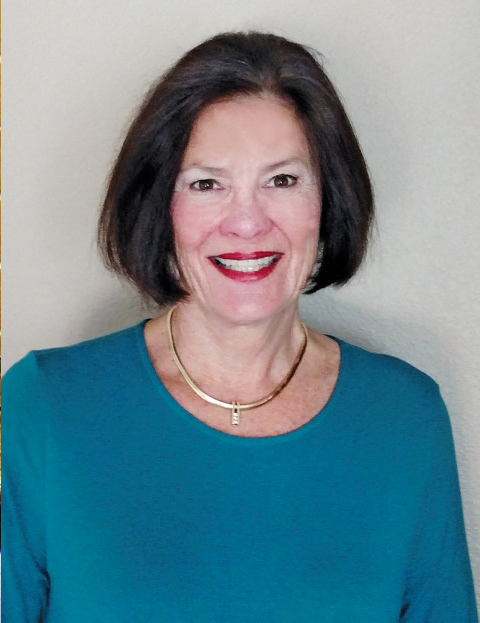 Deborah Bailey Astroth, RDH, BSDH, has been active in dental hygiene in Colorado for more than 40 years. Involved in organized dental hygiene, she has served as president of the Colorado Dental Hygienists' Association, speaker of the house and chair of the Council on Regulation and Practice; and president of the American Dental Hygienists' Association (ADHA). Astroth received the ADHA Distinguished Service Award and the ADHA/Warner Lambert Award for Excellence in Dental Hygiene for her experience as a clinician, educator, administrator, consumer advocate, and researcher. Astroth was appointed to the Colorado State Board of Dental Examiners, served as chair, and continues to act as a consultant. Dedicated to increasing access to care, Astroth works with Caring for Colorado Foundation's SMILES Dental Home Project, a community-based initiative to expand access to oral health care for Colorado's most vulnerable populations.
What was the catalyst that initiated your efforts to help underserved populations in Colorado access oral health care?
When I was working in clinical practice, several long-time patients moved into nursing care facilities. Their families asked if I could continue to provide oral care and my employer agreed. During each visit, I was asked by the director of nursing if I would look at other residents who were having oral issues. I was amazed at the amount of need. Trying to transport many of these patients to a dental office was not feasible. I saw how the lack of oral care was impacting their nutrition and quality of life. At the same time, my niece, who has a daughter with special needs, was not able to find a dental office that would treat her daughter. When legislation was passed in Colorado to allow dental hygienists to practice unsupervised and to own dental hygiene practices, I established Special Delivery Smiles Inc.
What is Special Delivery Smiles Inc and how did you get it started?
Special Delivery Smiles Inc was the mobile dental hygiene practice that I started to treat nursing care facility, homebound, hospice, and specialneeds patients. I knew the populations I was focused on serving were not those receiving treatment in most traditional dental offices. When the dental hygiene practice legislation was passed, it was controversial. I thought that if I could be successful, perhaps this new model of improving access to oral health care would be accepted throughout the dental community. I purchased mobile equipment, a sterilizer, chair, light, instruments, and a cart to transport everything from my car into the facilities. I met with several dentists who were willing to take referrals from me. In time, I had 32 dentists who were willing to receive referrals and many who were willing to come to the facility, use my equipment, and treat patients. In 1991, as I was preparing to assume the presidency of the ADHA, I knew I could not continue the practice. I met with Gina Jianette, RDH, BSDH, who had been one of my students at the University of Colorado School of Dentistry. She was willing to take over the practice and it continues today.
What do you think are the biggest barriers to ensuring vulnerable Americans can access oral health care?
Vulnerable populations in the United States usually have other health and economic issues that compete with the need for oral health care. In Colorado we have counties that are "dental deserts," where there are no dentists in the entire county. About half of all Coloradans do not receive routine, preventive oral health care. Since 2015, I have been working with the Caring for Colorado Foundation on the SMILES Dental Home Project. This initiative deploys dental hygienists to community settings to provide routine oral health services. The dental hygienists communicate with an offsite dentist via telehealth technology for patient assessment, treatment planning, and to facilitate treatment for patients with more complex oral health needs. This project seeks to ensure that underserved and high-risk Colorado children, pregnant women, people with disabilities, and vulnerable seniors have access to preventive and therapeutic services by expanding the oral health infrastructure in the most appropriate community setting. In the initial phase, legislation was passed to expand the scope of practice for dental hygienists and to allow for Medicaid reimbursement regarding telehealth technology.
What do you think is the biggest issue facing the profession of dental hygiene? 
The disconnect between the evolving health care system and the trends in some of the educational programs. Our society is becoming more medically complex. The oral-systemic link has been well documented. The roles and responsibilities of dental hygienists are expanding, as our health care system evolves. Dental hygienists do not "just clean teeth." Our education must prepare us to be able to function in a variety of roles beyond clinical practice, to utilize critical thinking skills, to interact and communicate with a variety of other health care professionals, to utilize evidence-based practices, and to stay current on research. I believe that to fully prepare students to best serve our patients, a baccalaureate program should be the minimum entry degree. The trend to compact our education into 18-month programs is a disservice to our students and to the public.
What advice would you give dental hygienists who want to make a difference in their communities? 
Be an active member of the American Dental Hygienists' Association. Your state and component organizations provide opportunities to volunteer in your community. If they don't, perhaps you are the one to lead the way. Assess your community. Do you have a passion for a population or a project? Start small, get your feet wet, build your confidence, and ask others to join you. There are articles in dental hygiene journals about community projects that have been done around the country. If one sparks your interest, connect with the author and learn whether it might be feasible to recreate in your area. You will enhance your community and you will grow both professionally and personally.
PUBLIC HEALTH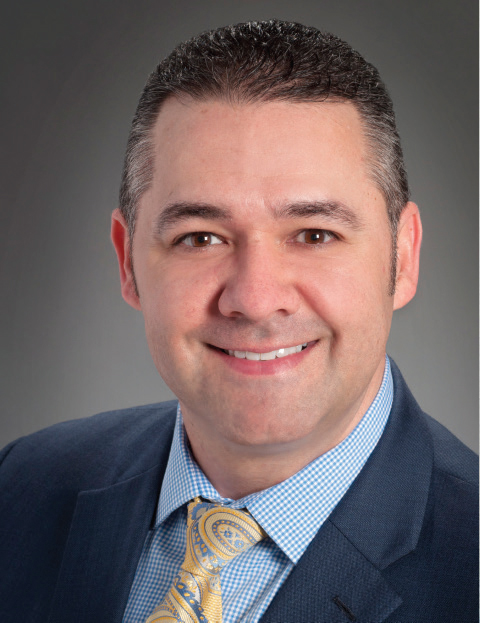 As the associate director of Children's Health Alliance of Wisconsin, Matt Crespin, MPH, RDH, directs both the oral health and early childhood literacy programs along with providing operational support to the organization. The oral health program includes Wisconsin Seal-A-Smile, Healthy Smiles for Mom and Baby, and Wisconsin Oral Health Coalition. Under Crespin's direction, Wisconsin Seal-A-Smile has grown to serve nearly 850 schools across Wisconsin. He has increased funding at the alliance through local, state, and federal grants and coordinated efforts to keep the city of Milwaukee fluoridated, which impacts nearly 1 million residents.
In 2015, Crespin was elected as the American Dental Hygienists' Association (ADHA) District VII trustee and, in 2017, he was elected ADHA vice president.
A dedicated public health advocate, Crespin received the Wisconsin Public Health Association's Distinguished Service to Public Health Award and the Wisconsin Dental Hygienists' Association Carol B. Benson Award for Outstanding Service to Dental Hygiene in 2016.
What drew you to public health as a career?
I have always been interested in public health, but it wasn't until I was working in the field that I really fell in love with it. The concept of working at the 30,000-foot level on issues like policy change is what really drives me. To see the changes implemented and programs developed as a result of collaborative work to improve health policy is so exciting. While I'm not a "wet fingered" dental hygienist anymore, I continue to learn about the evolving nature of our work and use that knowledge and my previous experiences to improve oral health on a systems level to ensure more people have access to important services. When I started down this path 12 years ago as a project manager with our organization, I fell in love. I've never looked back and enjoy what I do more and more every day. I have found something that feels nothing like work to me and I love making a difference at the local, state, and national levels.
Explain what a typical work day looks like for you.
There really isn't a typical day in my world, which is one of the reasons I love what I do so much. On any given day, I could be working with my oral health team at our offices in Milwaukee; driving across Wisconsin to visit with one of our nearly 40 school-based sealant programs and their providers, assisting them in a variety of ways; or meeting with legislators and decision makers on issues that range from oral health access to Medicaid payment reform to community water fluoridation. I also attend state and national meetings to expand my knowledge base on various topics or to speak and share the best practices and learnings that I've obtained in Wisconsin.
One lesser known fact about me is that the organization I work for— Children's Health Alliance of Wisconsin, which is affiliated with Children's Hospital of Wisconsin—has six other initiatives outside of oral health. I oversee all of our early childhood literacy programming, which includes the Reach Out and Read program, the state affiliate of the national evidence- based model that uses books at pediatric well-child visits to assess development. We also do work in asthma, injury prevention, and emergency medical services for children. Some of my time is dedicated to working with staff in those areas, as well providing operational support and assisting with personal and professional development.
What advice would you give men who are considering dental hygiene as a career?
Stop considering it and jump right in. Dental hygiene is a great profession that can lead to many different careers both clinically and outside the four walls of a clinic. There are so many opportunities evolving right now that—male or female—I think it's a very exciting time to be a dental hygienist. I recently led a coalition of partners in Wisconsin in changing a state statute that allows dental hygienists to directly access patients in new settings, such as nursing homes, daycare settings, and physician offices. Integration and providing care in new and unique ways are so very galvanizing to me and that's why I think it is such an exciting time to be a dental hygienist.
You are very involved in the American Dental Hygienists' Association (ADHA). Explain your involvement and why it is important to you. 
I'm currently the ADHA vice president and I intend to run for president elect this coming year at the ADHA Annual Conference in Columbus, Ohio. Many, if not most of the opportunities I have had are a direct result of my involvement with ADHA and happened well before I became a national leader. One example was my appointment by then President Denise Bowers to the American Dental Association's Council on Scientific Affairs Expert Panel to review and make new and updated recommendations on the clinical application of sealants. Being able to participate in this systematic review and serve as a contributing author to this great body of sealant literature was an immense honor and learning experience. I've since been appointed to serve in a similar capacity to the American Academy of Pediatric Dentistry panel that just released guidelines on the use of silver diamine fluoride. Both of these opportunities and many others have allowed me to meet, work alongside, and network with experts from around the world , leading to other opportunities—from speaking to reaching out experts when questions arise in my day-to-day work. Involvement in my professional association is not something I've ever given a second thought to, and I wish more dental hygienists would find a way to ignite their own passion for their profession through membership.
What trait do you think is integral for every dental hygienist to have when beginning his or her career? 
Never stop learning! Eliminate the phrase "Well, that's not what I learned in school" from our vocabulary because our profession is evolving faster than ever. Being able to adapt to the shifts in evidence and continually learn is critical and something that I share with every student and recent graduate I encounter.
RESEARCH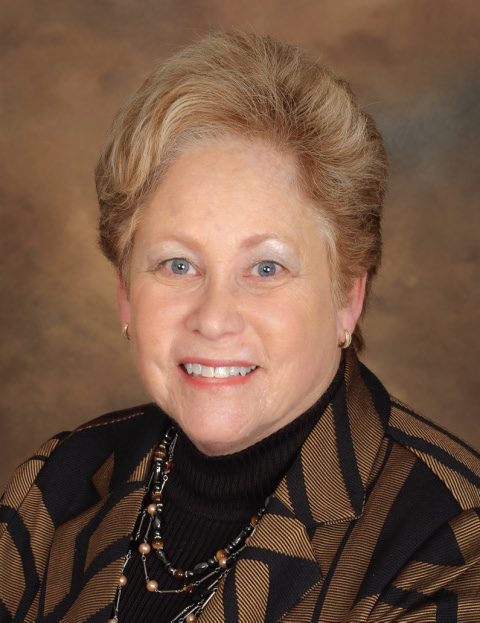 Jane L. Forrest, RDH, EdD, is a professor of clinical dentistry and section chair of behavioral science at the Ostrow School of Dentistry of the University of Southern California in Los Angeles, and director of the National Center for Dental Hygiene Research & Practice (NCDHRP). She has received several federal training grants, one of which included developing the NCDHRP and another on integrating evidence-based decision making (EBDM) into curricula. Forrest is an internationally recognized author and presenter on EBDM and is the lead co-author of two textbooks: Evidence-Based Decision Making: Developing Competence in EB Practice and its companion, The Faculty Toolkit.
A grant reviewer for the National Institutes of Health-National Institute of Dental and Craniofacial Research, Health Resources and Services Administration, and American Dental Hygienists' Association (ADHA), Forrest also has served as a reviewer and task force liaison member for the Cochrane Oral Health Group and the United States Centers for Disease Control and Prevention. Among her honors, Forrest is one of the first recipients of the ADHA/Warner Lambert Award for Professional Excellence in Dental Hygiene, the Oral/Dental Hygiene Researcher Award presented by the Oral Health Research Group of the International Association of Dental Research, and the first dental hygienist recipient of the American Dental Association/ American Association of Dental Research Evidence-Based Dentistry Award. She is also a member of Dimensions of Dental Hygiene's Editorial Advisory Board.
Why is research important to the profession of dental hygiene?
All true professions have a distinct knowledge base and dental hygiene is developing its own. Dental hygiene practice must be based on sound research and scientific information, and we need to develop our scholars at the graduate level to develop discipline-specific research that will grow our knowledge base. At an entry level, dental hygienists must be good consumers of research evidence, which means knowing what constitutes the evidence and how it is reported. Understanding research and levels of evidence allows us to better judge the validity and relevance of reported findings. By valuing and integrating good science with clinical judgment and patient preferences, we enhance our decision-making ability and maximize the potential for successful patient care outcomes.
Describe one of the most memorable research projects you have worked on.
I was part of the team that obtained and implemented the grant, "A Model to Link Dental Hygiene Practice and Education Through a Collaborative Research Center." This included establishing the National Center for Dental Hygiene Research and a summer research institute training program. Through this grant, we gained consensus on the ADHA national dental hygiene research agenda, which then was used to guide research projects by dental hygienists from universities throughout the US who attended our summer program. The networking and pleasure of working with those who attended have continued for more than two decades. Many of those team members have since earned their master's and doctoral degrees, advanced their careers into leadership positions, and, as scholars, contributed to our dental hygiene body of knowledge. This grant also served as a model for three additional grants, one of which was "Integrating an EBDM Approach Into Curricula," the current focus of my work.
What advice would you give dental hygienists who are interested in working in research?
Go to graduate school—do not wait as long as I did. Each level of education will open many more opportunities for you in the research arena, as well as in other career areas. If possible, find a person already conducting research in an area that interests you and volunteer to help out—get some practical experience to see if you truly want to pursue research as a career. Find a research mentor, which is not as easy as many may think. The mentorship relationship goes both ways in that you each should benefit from the relationship. I have been very fortunate to work with several individuals who have guided me through phases of my career and the research process.
You are very involved in the National Center for Dental Hygiene Research & Practice. Explain its goals and why they are important to you. 
Being involved with establishing the National Center, its initial training programs, and now the global dental hygiene research conferences has been very motivational. Over the years, the National Center's Advisory Board has helped shape the mission and goals of the National Center. One change has been to recognize the value of practice and how it drives research, which is one reason why our center's name was expanded to add "& Practice." Our mission is to promote the health of the public by fostering the development, implementation, and dissemination of oral health research; establish an infrastructure to support dental hygiene research; and strengthen the scientific foundation for the discipline of dental hygiene. 
Two of our goals are:
To increase awareness of dental hygienists' contributions to multidisciplinary health care research.
To promote the translation of research evidence so that it is meaningful and useful in dental hygiene education and practice.
We continue to work toward achieving our mission and goals to advance our discipline, so that we promote scholarship and research that will establish dental hygiene as a true profession.
What do you hope the profession of dental hygiene will look like in 50 years? 
Hopefully, it will not take 50 years, but we need to be truly independent through self-regulation of our practice and education standards. We are one of the only licensed professions regulated by another licensed profession, and this needs to end. We need to be fully integrated as members of interdisciplinary health care teams working in a variety of health care settings, including but not limited to clinical practice, public health, hospitals, long-term care facilities, school settings, research, and industry. We need to be prepared at an equivalent educational level as our counterparts to better establish ourselves as equal members of the team and as specialists in disease prevention and health promotion—recognizing that what we do can save lives. We should automatically be documenting and measuring outcomes in a structured manner so that when we learn what works best in given situations we disseminate that information growing our knowledge base. As our healthcare system evolves and disease patterns change, and disparities continue, we need to be prepared to address these challenges and be recognized for our contributions.
---
Dimensions of Dental Hygiene is pleased to announce the ongoing support of our interactive online mentoring program for dental hygienists. Sponsored through an unrestricted educational grant from Hu-Friedy, the program enables users to easily access a mentor. The process is simple. Click here to access our panel of past and present "Six Dental Hygienists You Want to Know." It's a great next step on your journey of professional growth.
---
Featured image by MEDIAPHOTOS/ISTOCK/GETTY IMAGES PLUS
From Dimensions of Dental Hygiene. December 2017;15(12):19-25.