Product Profile: DentaPure® acquired by Crosstex International
Dental waterline treatment utilizes advanced technology.
While it doesn't take rocket science to effectively maintain a dental unit waterline, oral health professionals may want to utilize it in the management and maintenance of this important task. Crosstex International recently acquired DentaPure, an advanced technology cartridge that provides continuous treatment of dental unit waterlines for 12 months. Utilizing technology designed for the National Aeronautics and Space Administration (NASA) that ensures water is free of bacteria, viruses, and other harmful organisms, DentaPure provides a simple solution to the hassle of complex treatment protocols and management of dental unit waterlines.
SCIENCE BEHIND THE TECHNOLOGY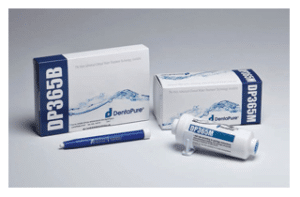 The DentaPure cartridge contains iodinated resin beads, which elute 2 ppm to 4 ppm of iodine as water passes through the resin matrix, killing bacteria. The isotopic iodine, I2, in DentaPure contains no allergenic proteins. DentaPure treats dental unit waterlines from the first day of installation for the life of the cartridge, reducing harmful bacteria exposure to patients and staff. The cartridge is not considered hazardous waste, so it can be disposed of in regular trash without cumbersome hazardous waste protocols and expenses. Once depleted, simply remove the cartridge and replace it with a new one. Dental unit waterline compliance has never been easier.
ADVANTAGES
Registered with the Environment Protection Agency as an antimicrobial
Utilizes advanced technology developed for use by NASA during space travel
Single cartridge provides a complete system that can be easily installed on any dental unit
Cartridges designed for either municipal or bottle systems
Simple protocol eliminates the need for tablets, shocking, continuousmonitoring, and distilled water
Treats from the first day of installation; just install and replaceannually
Delivers a reminder when it's time to replace the cartridge
Cleared by the United States Food and Drug Administration asa medical device

---
From Dimensions of Dental Hygiene. May 2015;13(5):66.