The year was 1923. It was momentous for numerous reasons, such as the first use of insulin to treat diabetes, the first baseball game played in the original Yankee Stadium, and the opening of King Tut's burial chamber. Another important event took place that year, led by 46 visionary dental hygienists from across the country. They met in Cleveland, Ohio, with the purpose of forming a national association: the American Dental Hygienists' Association (ADHA). At this first annual conference, a constitution and bylaws were enacted and the ADHA President, Winifred Hart, RDH, was elected.1 As I reflect on the pioneering spirit of those forward-thinking colleagues, I wonder — did they have any idea what the long-term impact of their actions might be?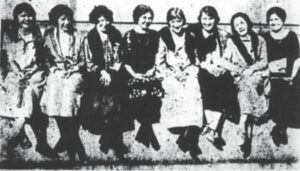 Today's ADHA looks quite different from the 1923 version. Initially, membership was open only to women but that changed in 1964, when the word "female" was deleted from its constitution and bylaws, allowing male dental hygienists to join the organization. The original mission of the organization was to develop communication and cooperation among dental hygienists. Its goals have expanded over the years. Currently, "The mission of ADHA is to unite and empower dental hygienists to enhance the public's oral and overall health. All to support the vision of creating a community where dental hygienists are valued and recognized for their ability to improve the public's health."2
ADHA — your national professional association — represents more than 226,000 dental hygienists in the United States. It advances the dental hygiene profession by helping to develop new career paths, expand opportunities for care, and provide the latest training and information.
ADHA supports your goals by helping to ensure access to quality oral healthcare; promoting dental hygiene education, licensure, practice, and research; and representing your legislative interests at the local, state, and federal levels. As the 2022-2023 ADHA President, Dawn Ann Dean, RDH, MSDH, states, "We stand on the shoulders of industry giants and of those who came before us, and because of the foresight, courage and leadership of 46 dental hygienists from 10 states, dental hygiene became a reality."
This year, the annual conference will be held July 7-9 in Chicago. Chicago is the headquarters of the ADHA, and the event promises to be exciting, fun, and filled with once-in-a-lifetime moments. President Dean invites everyone to attend. "On behalf of my fellow officers, ADHA Board of Directors and staff, we cannot wait to roll out the red carpet to our members and dental hygienists from around the world as we honor the past 100 years, but also to feel the excitement of what's to come and where we'll be in the next 100."
It will be momentous. Visit adha2023.org for more information about the ADHA's 100th anniversary celebration.
References
American Dental Hygienists' Association. ADHA Centennial 1923-2023. Available at: adha.org/​events/​adha-celebrates-100. Accessed May 8, 2023.
American Dental Hygienists' Association. 2020-2023 Strategic Plan. Available at: adha.org/​about-adha/​strategic-plan. Accessed May 8, 2023.
From Dimensions of Dental Hygiene, June 2023; 21(6):6.