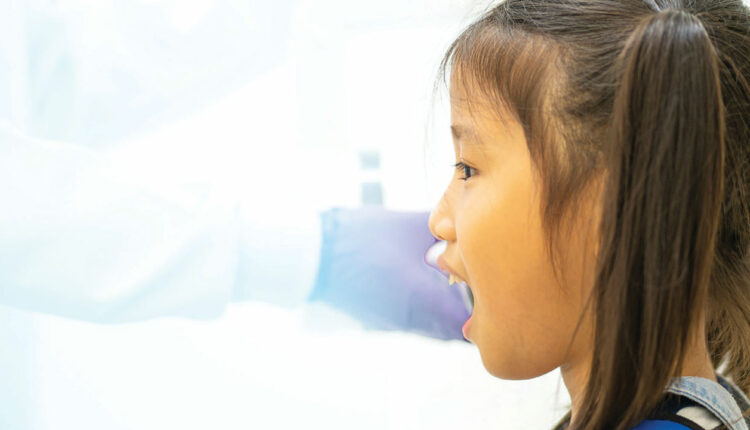 TUACHANWATTHANA / ISTOCK / GETTY IMAGES PLUS
Capturing Radiographs Among Patients With Special Needs
Oral health professionals need to remain up-to-date on the types of radiographic exposures and size image receptors in order to be well-prepared to treat this population.
According to the United States Centers for Disease Control and Prevention, one in four adults have some type of a disability, and approximately one in six children are diagnosed with a disability.1 An individual with special needs is defined as someone with an emotional, physical, intellectual, and/or behavioral impairment.2
Maintaining oral health can be extremely difficult for patients with special needs. This population faces significant barriers to care such as low socioeconomic status, low levels of education, lack of health/dental insurance coverage, high levels of anxiety, and physical barriers (eg, patient who uses a wheelchair is unsure of whether he or she will be able to easily enter the office entrance, dental operatory, and dental chair).3
Patients with special needs and their caregivers may be concerned regarding dental providers' lack of training in this area as well as their ability to communicate their needs to providers.4 Oral health professionals often don't have much knowledge and/or hands-on training in treating patients with special needs in a dental setting.4
This lack of knowledge is changing as dental schools in the US are now required to educate oral health providers on how to treat patients with special needs. Students are taught how to assess, treat, and manage patients with special needs.5
A diagnostic radiographic exam is an integral part of a complete dental appointment. However, capturing radiographs among patients with special needs may present some challenges.6
Sensory System overload
When patients with special needs present to the dental office, it can be an overwhelming sensory experience.5 Humans have eight sensory systems:7
Visual
Gustatory
Tactile
Hearing
Olfactory
Vestibular
Proprioceptive
Interoceptive
All eight of theses sensory systems come into play during a dental appointment, which can make the completion of treatment and obtaining diagnostic dental radiographs difficult. Some individuals have a strong gag reflex, anatomical limitations, tactile sensation when biting on image receptor holders, and difficulty following directions for radiographic exposures.8 Table 1 provides some simple strategies to help patients with special needs experience a successful dental appointment.9
Periapical Dental Techniques
Dental radiographs can be exposed using different types of techniques, images, and equipment. When exposing a periapical image, the paralleling technique provides a superior diagnostic image.8
An external aiming device, consisting of a rod, ring, and bite block, is used to hold the image receptor in place to expose in a specific area. The difficulty with using the external aiming device is that it can be bulky and challenging to place for certain individuals.10
 The bisecting angle technique is done with a universal sensor holder designed to take anterior and posterior periapical radiographs. It is often used for patients with small oral cavities and anatomical limitations. It may also be used for individuals with special needs who have difficulty biting and may have a hypersensitive gag reflex.11
Occlusal Technique
The occlusal technique is a radiographic examination that allows the dental provider to examine anatomical areas of the maxilla and the mandible on a larger scale, exposing one image on the maxilla and/or the mandible.10 The occlusal technique helps with modifications using an image receptor holder, which in turn, allows the patient with special needs to tolerate the radiographic examination.8
Two types of occlusal projections may be exposed:
Cross-sectional
Topographical
The maxillary cross-sectional is an uncommon projection not suitable for this population. The mandibular cross-sectional may be exposed with the patient's chin perpendicular to the floor and the central ray aiming perpendicularly to the image receptor. The mandibular cross-sectional may be used to help diagnosis impacted teeth, calcifications located sublingually, and malposition of mandibular teeth.
The topographical occlusal projection produces a large periapical radiograph and is best to view teeth, apical areas, and surrounding structures.10
The occlusal technique may be used on patients with limited opening of the mouth or patients with a sensitive gag reflex. Due to its simplicity, the occlusal technique may be used instead of periapical images; it may be the radiographic technique of choice for patients with special needs.8,10 A size 2 or 4 image receptor should be used. A size 2 is best for children and a size 4 receptor is designed for adolescents and adults.
Maxillary images need to be exposed with the central ray entering the area around the bridge of the nose with a vertical angulation at a +65 for adults and a +60 for children. The mandibular images are to be exposed with the central ray entering the middle of the chin and approximately a -55 vertical angulation for adults and children.11
Bitewing Technique
Bitewing radiographs are key in evaluating interproximal areas of both the maxillary and mandibular teeth to detect caries and interdental bone, in addition to performing other evaluations.10 A patient with special needs may have difficulty occluding on a bitewing radiograph due to gag reflex, behavioral issues, limited opening and closing, malocclusion, etc.
Modifying how the bitewing exposures are taken is a prudent approach. One modification is exposing a reverse bitewing radiograph. The image is exposed from the opposite side of the oral cavity with the image receptor placed in the buccal vestibule with the side on the image receptor that receives the radiation facing the teeth, rather than the cheek.
The radiographer then places the positioning indicator device (PID) of the X-ray unit on the opposite cheek and exposes it. Some structures may superimpose the image, however, a bitewing showing the maxillary and mandibular teeth will be captured.12
Lastly, if no other intraoral techniques are working, an extraoral panoramic may be exposed using the bitewing setting.13 Many panoramic machines are equipped with a setting to expose bitewing radiographs, which may be another option for a patient who has difficulty with intraoral images.
Extraoral Images
Panoramic images are common extraoral images used in many dental practices.11 In order to capture them, patients sit or stand while biting on a small bite block with their front teeth only. Patients may also use a chin guard to help them stay in the proper position for the exposure and to prevent occlusion on the bite block.
Patients must be able to sit or stand for 10 to 15 ­seconds in order to capture a view of the entire dentition with minimal radiation exposure. The simplicity of panoramic radiographs make them an excellent choice for patients with special needs.
The panoramic technique prevents gagging and can be used on patients who have limited opening and closing of the mouth. If the patient's disability causes him or her to move frequently, asking the patient sit in a chair may help to prevent movement as well.
One technique error that occurs quite frequently on panoramic radiography is the creation of the palatoglossal air space above the maxillary anterior teeth around the apical areas. This error may occur from the patient's inability to keep his or her tongue to the palate during exposure.14
To combat this issue, encourage the patient to simply breath in and out through the nose during the exposure. Using this breathing technique will naturally keep the tongue to the roof of the mouth. Instructions can be repeated during the exposure so patients continue with the breathing technique.14
Handheld X-ray Units
Handheld X-ray units may help capture radiographic exposures on patients with special needs. When using handheld X-ray units, the radiographer remains in the room with the patient and is protected by a lead protective backscatter ring.15 This may ease the patient's anxiety.
The handheld X-ray unit captures radiographs more quickly as the clinician doesn't need to leave the room.15
Conclusion
Radiographic exposures and techniques may require adjustment to ensure that high-diagnostic, good-quality images are captured. Patients with special needs may have a difficult time during dental treatment, including radiographic exposures. Clinicians must implement various radiographic techniques to best serve patients with special needs. Each patient will have varying abilities in which radiographic exposures can be tolerated and the modifications that may be necessary.
With new technology, alternative options are available to expose radiographs. Radiographers should stay current in various types of radiographic exposures and size image receptors to be best prepared for the patients with special needs that will continue to be seen in dental offices and clinics.
References
United States Centers for Disease Control and Prevention. CDC: 1 in 4 US Adults Live with a Disability. Available at: cdc.gov/media/releases/2018/p0816-disability.html#:~:text=One%20in%204%20U.S.%20adults,Morbidity%20and%20Mortality%20Weekly%20Report. Accessed June 30, 2023.
United States Centers for Disease Control and Prevention. Disability and Health Promotion. Available at: cdc.gov/ncbddd/disabilityandhealth/disability.html. Accessed June 30, 2023.
Vartanian, B. People with disabilities still face barriers accessing dental care. Available at: deltadental.foundation/blog/people-with-disabilities-still-face-barriers-accessing-dental-care. Accessed June 30, 2023.
Doherty AJ, Atherton H, Boland P, et al. Barriers and facilitators to primary health care for people with intellectual disabilities and/or autism: an integrative review. BJGP Open. 2020;4:bjgpopen20X101030
Bernhard B. Dental students will soon be trained to care for those with special needs. Available at: disabilityscoop.com/2019/09/03/dental-students-trained-care-special-needs/27108. Accessed June 30, 2023.
Espinoza K, Hayashi J, Shimada Y, Tagami J, Sadr A. Optical coherence tomography for patients with developmental disabilities: a preliminary study. Sensors (Basel). 2021;21:7940.
Paeds in a Pod. Sensory Processing and our 8 Senses Explained (yes, 8 not 5!). Available at: paedsinapod.com.au/sensory-processing-and-our-8-senses-explained-yes-8-not-5. Accessed June 30, 2023.
Williamson GF. Intraoral imaging: basic principles, techniques and error correction. Available at: dentalcare.com/en-us/ce-courses/ce559. Accessed June 30, 2023.
Mordini L. Maintaining oral health in patients with special needs. Dimensions of Dental Hygiene. 2018;16(2):37-42.
Thompson EM, Johnson,ON. Essentials of Dental Radiography for Dental Assistants and Hygienists. 10th ed. New York: Pearson Education Inc; 2018;159:215-225.
Iannuci JM, Howerton LJ. Dental Radiography, Principles and Techniques. 5th ed. St. Louis: Elsevier/Saunders; 2017;175:228–284.
Schwartz S, Jayaraman J. Radiographic techniques for the pediatric patient. Available at: dentalcare.com/en-us/ce-courses/ce63. Accessed June 30, 2023.
Casamassimo PS. Radiographic considerations for special patients — modifications, adjuncts, and alternatives. Available at: aapd.org/globalassets/media/publications/archives/casamassimo-03-s2.pdf. Accessed June 30, 2023.
Abu El-Ela WH, Farid MM, Mostafa MS. Intraoral versus extraoral bitewing radiography in detection of enamel proximal caries: an ex vivo study. Dentomaxillofac Radiol. 2016;45:20150326.
Scott AM, Reed WM. Panoramic radiography and patients with disability: a new simple breathing technique to reduce common airspace error. J Med Radiat Sci. 2022;69:261–266.
From Dimensions of Dental Hygiene. July/August 2023; 21(7):14, 16, 18-19.