Cancer Care
Joel Epstein, DMD, MSD, FRCD(C), FDS RCS(E), shares his expertise on the important role that dental professionals play in the prevention, diagnosis, and intervention of cancer.
Q. What is the relationship between cancer care and the provision of oral health care?
A. Due to advances in cancer therapy and improved survival, cancer is becoming a chronic condition. Oral care is a significant part of the supportive care of all cancers, but particularly with head and neck cancers. Dental professionals play an important role in the prevention, diagnosis, and intervention of cancer, as well as in oncology research and the oral complications of therapy.
THE CANCER TREATMENT TEAM
Q. Are dental professionals part of the cancer treatment team?
A Dental professionals need to be part of the cancer treatment team. In order to provide appropriate and coordinated oral care in oncology, communication is necessary between the medical (oncology) team and dental professionals. The medical and dental communities tend to speak different languages. The dental perspective is to save the teeth, oncology's is to cure the disease even though adverse effects may occur, and nurses are more focused on quality of life. Oncologists must focus on curing the cancer and because side effects of cancer treatment are so well-recognized—especially acute side effects like mucositis and pain—complications are expected.
Dental professionals must be informed about the cancer therapy so the determination of care can be facilitated. Dental care recommendations must be be communicated to the cancer center and treatment coordinated. In head and neck cancer, dental professionals need to understand where the radiation fields are planned so that pretreatment dental care can be implemented, which may reduce the risk of future dental infection and the need for surgical care in radiated bone. Oncologists need to understand that their patients must receive oral care before cancer treatment for acute needs and coincidental oral care during therapy. Ongoing care is also needed after cancer treatment. The dental professional needs to know the patient's diagnosis, stage of disease, planned cancer treatment including the radiation fields, the prognosis of the patient, and what future cancer treatment plans might be.
This need for communication is bi-directional, and dental treatment planning must fit with the planned schedule for cancer treatment. Survivors of cancer therapy, a rapidly growing group due to the advances in cancer therapy, may have a number of considerations that will impact future dental care.
Q. Where does this communication gap begin?
A. In dental and dental hygiene schools, there is limited contact with medicine and limited clinical experience with cancer treatment that results in a minimized understanding of the therapies used in cancer treatment, particularly advances in care. Anxiety can be raised when the treatment and prognosis are not understood. Similarly, the perspective of oncologists is different where they may be accepting of oral side effects as necessary complications simply because they have always been a part of cancer treatment. Integrated oral care in treatment planning and during and following treatment is the goal. Training programs, opportunities to work together, and conferences and courses that integrate patient care are needed to address this communication gap.
ORAL CARE FOR THE CANCER PATIENT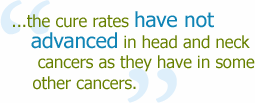 Q. What is the next step when a patient comes in for a dental appoint ment and while performing the health history, the patient informs the dental hygienist that he or she is undergoing treatment for cancer?
A. If the patient is already undergoing cancer care, the referral has occurred too late. The first step is finding out about the disease. The patient may provide initial information but the dental professional should contact the office or cancer center where the patient's oncologist is located. Dental professionals need to understand the disease, the treatment provided, the current treatment being administered, and the prognosis. In patients with head and neck cancers, the oncology team will have detailed records of the administered radiation therapy, which can be provided to the dental professional.
Q. What should happen during an examination?
A. If the patient is a survivor, the dental professional should know if there are any tissue changes and if any oral complications occurred. In head and neck cancer patients, complications may include radiation that could limit jaw opening, surgery that may cause scarring, mucosal sensitivity, mucosal infections, periodontal diseases, and xerostomia and its related complications. The head and neck cavity should be fully assessed in an examination, which should include indicated radiographs. Patients may question dental radiographs because of the radiation that they've received for cancer treatment. The dental professional needs to explain that the amount of radiation they've already received is overwhelmingly large and that any additional exposure required for diagnosis and treatment planning is not a consideration.
The head and neck and oral examination allows the dental professional to assess the structure and function of various tissues that may be affected. Any treatment planning must be completed in the context of prior cancer therapy and any continuing management. If the patient has teeth that received a high dose of radiation, this needs to be considered when treatments like scaling and root planing are needed because the impact of radiation on the vasculature may affect healing. Preventive therapy and expert dental treatment are absolutely necessary because the risks of progressive dental disease increase the risk of pain, dysfunction, and necrosis of the jaw.
THE DYNAMICS OF CANCER TREATMENT
Q. Has cancer treatment changed and, if so, how has this affected dental care?
A. Yes, much has changed in the cancer world because of advancements in radiation, surgical management, new drugs, and combination therapy, all of which are providing more positive outcomes for cancer patients. Many of these new strategies and combined therapies are associated with greater toxicity in increased cure rates. For example, some of the new targeted chemotherapy treatments may not cause the same complications as older therapies, but they now have their own set of problems. Unfortunately, the cure rates have not advanced in head and neck cancers as they have in some other cancers.
Q. Why are the cure rates for head and neck cancers not changing as quickly as other cancers?
A. Cure rates are impacted by the stage of diagnosis and, unfortunately, up to two-thirds of head and neck cancers are diagnosed at the advanced stage of disease.1 Cure rates for early stage disease are high, with very little morbidity. There is a 20% cure rate of advanced stage three or four cancer overall versus about an 80% cure rate for stage one and two cancer.1,2 Other reasons include comorbidities that patients with head and neck cancers may have that are related to high risk behaviors for squamous cell carcinoma associated with tobacco and alcohol abuse. Poor nutrition may also play a role.
Cure rates are improving due to changes in therapies that have occurred in the past decade. Combined therapy, advances in surgery and chemotherapy, targeted therapies, and supportive care are helping improve cure rates. Regardless of improvements in outcomes now being identified, the key to better results is the early detection and diagnosis of premalignant oral lesions and head and neck cancers, which happens in dental facilities. In order to achieve these outcomes, careful screening by dental professionals at every dental appointment is crucial.
REFERENCES
American Cancer Society. Cancer Facts and Figures 2008. Available at: www.cancer.org/downloads/STT/2008CAFFfinalsecured.pdf. Accessed January 20, 2009.
National Cancer Institute. SEER Cancer Statistics Review 1975-2003; 2003. Available at: http://seer.cancer.gov/statistics. Accessed January 20, 2009.
From Dimensions of Dental Hygiene. February 2009; 7(2):48, 50.