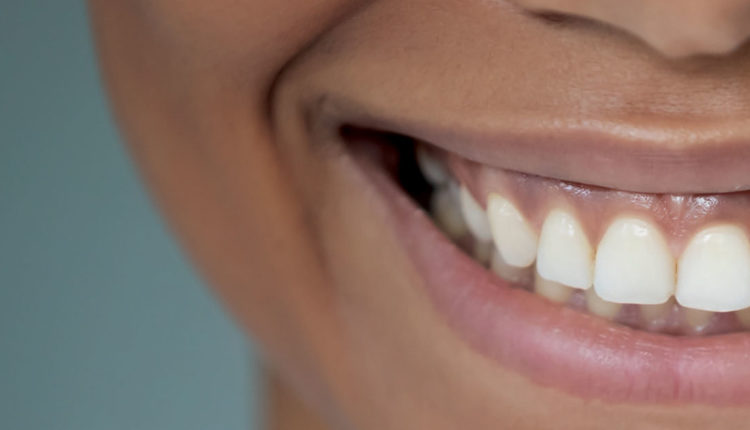 FIZKES/ISTOCK/GETTY IMAGES PLUS
Building Blocks of a Beautiful Smile
Gingival health is closely related to the esthetics of the smile.
Patients often ask their dental hygienists how to obtain a more esthetic or beautiful smile. Usually, patients are searching for the latest and greatest whitening procedure; however, some patients are concerned about the appearance of their gingiva. Patients may express concern regarding the esthetic appearance of their gingiva for various reasons including the color, shape, and proportion in relation to teeth, size, and location. To address these issues, dental hygienists should understand the causes of gingival overgrowth as well as treatment options, so they can integrate gingival esthetics into their comprehensive provision of care.
WHAT IS GINGIVAL OVERGROWTH?
A basic understanding of the gingival tissue characteristics and terminology used to describe gingival overgrowth is necessary to discuss the underlying causes. Gingival overgrowth, typically called enlargement, is an abnormal increase in the size of gingiva. There are two reasons for gingival enlargement:
Increase in the number of cells (hyperplasia)
Increase in the size of the cell(s) (hypertrophy)
These terms are used interchangeably because enlargement is often a combination of both hyperplasia and hypertrophy with different degrees of inflammation. The only way to know definitively is via biopsy.1 Clinical presentation of gingival overgrowth may be localized or generalized, and may be slight—occupying only the interdental papilla—to severe—covering the middle to incisal third or the majority of the clinical crown of the tooth/teeth.2,3
MAIN CAUSES OF GINGIVAL OVERGROWTH
There are four main categories of gingival overgrowth:4
Inflammatory
Drug-induced
Hereditary fibromatosis
Systemic.
Inflammatory gingival overgrowth can be caused by poor oral hygiene. One factor that may impact oral hygiene is malocclusion, which is commonly treated with fixed orthodontic appliances. Evidence demonstrates orthodontic appliances can hinder proper oral hygiene due to the length of therapy, patient attributes and compliance, and complexity of treatment.3,5,6 Some literature suggests the mechanical stress caused by orthodontic movement may be partially to blame for the inflammation.5–8 These combined factors can cause inflammatory gingival overgrowth. Many cases occur in conjunction with orthodontic treatment due to the combination of poor oral hygiene compliance and the treatment process itself.3,5–8 Gingiva affected by inflammatory gingival overgrowth may be red, edematous, painful, spongy, and bleed easily.3,4,7 This type can typically be reversed through the proper removal of biofilm and local irritants.5–8
Drug-induced gingival overgrowth is caused by the use of anticonvulsants, immunosuppressants, and calcium channel blockers.9–11 Understanding how these drugs affect gingival connective tissue can explain the gingival overgrowth side effect. All three target and inhibit intracellular calcium ion influx, which may disrupt collagenase function and synthesis.11 Collagenase disruption may be further complicated by the presence of biofilm, which can increase inflammation.2,5,6
Drug-induced gingival hyperplasia may be glossy, enlarged, and bulbous, or bumpy and granular, appearing as "clusters of grapes."2 To reduce gingival enlargement, discontinuing the causative medication is recommended; however, this is not always feasible.
Hereditary fibromatosis is rarely seen in childhood but may present in adulthood. This recurrent condition presents with excessive overgrowth of the tissue, such that the teeth may be partially to completely covered in tissue and usually requires surgical removal of the gingival overgrowth.4
Systemic causes of gingival overgrowth include pregnancy, hormonal irregularities, and leukemia, and often present similarly as other causes of gingival enlargement. Pregnancy gingival hyperplasia usually resolves when the condition is treated or when the mother delivers her child. Similar to previously discussed enlargement, oral hygiene directly affects the severity of systemically related overgrowth.4
The abnormal appearance of gingival overgrowth may negatively affect a patient's psychosocial or personal life including reducing self-confidence during social interactions.2,3,8
COMPREHENSIVE CARE OF GINGIVAL OVERGROWTH
Comprehensive care must begin with a thorough evaluation, which sets the stage for the clinician-patient relationship.12 Throughout the dental hygiene appointment, the dental hygienist gathers data which are used to create an individualized treatment plan. These assessments include a complete health and dental history, as well as clinical evaluations. A comprehensive medical history is essential as it may tie directly to the clinical examination.2,8,12 An important component of dental hygiene practice is to identify and treat diseases of the periodontium.13 As such, dental hygienists must perform a thorough periodontal evaluation, which includes assessment and documentation of probing depths, bleeding on probing, suppuration, clinical attachment level, gingival recession, furcation involvement, mobility, and plaque score.14
Clinical representation of gingival overgrowth may include pseudopockets of excessive gingival tissue rather than true attachment loss.10 Gingival overgrowth may vary in severity from mild overgrowth in the papillary tissue to complete coverage of the clinical crown.15 Because of this overgrowth, these patients may be at increased risk of further periodontal destruction, which requires careful observation and treatment.10
Developing an individualized treatment plan that incorporates findings from the assessments is essential for thoughtful and strategic management of the patient's gingival condition. The patient must be an active participant in his or her healthcare, therefore, the clinician should assess the implications from lifestyle choices, goals, and motivation level for achieving improved health. The dental hygienist and patient should work together to formulate a comprehensive care plan that prioritizes and sequences the specific phases to achieve optimal oral health.16
TREATMENT OPTIONS TO IMPROVE HEALTH AND ESTHETICS
When evaluating gingival overgrowth, it is important to discover what is driving the condition. If it is drug induced, the patient should be referred back to his or her primary health provider to discuss possible drug modifications.2,11 In addition to pharmacologic adjustments, patients should be treated with nonsurgical periodontal therapies, oral hygiene instruction, and possible surgical excision of the excessive tissue.10,11
The dental hygienist is on the frontline of treating this condition. In addition to nonsurgical periodontal therapy, patients should receive education in how to care for their oral health. Because all gingival overgrowth can be exacerbated by plaque biofilm, good oral hygiene instruction is critical for the removal of bacterial pathogens.2–10 Thompson et al2 recommends the Bass method of toothbrushing as more effective in plaque removal than other methods when working with a patient who has gingival overgrowth. The authors also cautioned that flossing needs to be carefully performed or the patient may cause excision or floss cuts to the adjacent papillary tissue. The patient should be involved in creating the self-care regimen to increase compliance.
Individualized periodontal treatment should be a priority. Once the local etiology is removed and gingival health has been established, many patients may seek further esthetic gingival contouring. Depending on the location of the gingival overgrowth, esthetics may be the patient's primary concern. Through referral and evaluation, surgical gingival recontouring may be recommended. Surgical therapies may include traditional scalpel gingivectomy, periodontal flap surgery, electrosurgery, or laser surgery.2,7,8,10,11,15,17 Each method, along with the patient's desires, must be carefully considered prior to implementation.
Moffitt et al10 stated, "Indications for surgical treatment of drug-induced gingival enlargement include failure of nonsurgical treatment, esthetic considerations, and soft tissue impaction of erupted teeth." When gingival overgrowth covers the clinical crown, surgical excision of the tissue is required to improve esthetics and to prevent further periodontal destruction. Surgery may be necessary to decrease probing depths to assist the patient and dental hygienist in maintaining the health of the periodontium.2,3,7,8–10,15,17
CONCLUSION
Empowered with the knowledge and clinical skills to identify the causes and characteristics of gingival overgrowth, the dental hygienist can promote optimal gingival health while providing patients with options to address their esthetic concerns.
REFERENCES
Agrawal AA. Gingival enlargements: Differential diagnosis and review of literature. World J Clin Cases. 2015;3:779–788.
Thompson AL, Herman WW, Konzelman J, Collins MA. Treating patients with drug-induced gingival overgrowth. J Dent Hyg

. 2004;78:1–13.

Shankar BS, Ramadevi T, Neetha MS, Reddy PSK, Saritha G, Reddy JM. Chronic inflammatory gingival overgrowths: laser gingivectomy and gingivoplasty. J Int Oral Health

. 2013;5:83–87.

American Academy of Oral Medicine. Gingival Enlargement. Available at: aaom.com/index.php%3Foption=com_content&view=article&id=132:gingival-enlargement&catid=22:patient-condition-information&Itemid=120. Accessed May 14, 2020.
Surllin P, Rauten AM, Pirici D, Oprea B, Mogoanta L, Camen A. Collagen IV and MMP-9 expression in hypertrophic gingiva during orthodontic treatment. Rom J Morphol Embryol

. 2012;53:161–165.

Surlin P, Rauten AM, Moganta L, Silosi I, Oprea B, Pririci D. Correlations between the gingival crevicular fluid MMP8 levels and gingival overgrowth in patients with fixed orthodontic devices. Rom J Morphol Embryol.

2010;51:515–519.

 Lei Z, Wang X, Yi X, Yue M. Relationship between orthodontic treatment and periodontal soft tissue health and management. West China J Stoma

. 2018;36:595–601.

Jadhav T, Bhat M, Bhat GS, Varghese JM. Chronic inflammatory gingival enlargement associated with orthodontic therapy:- a case report. J Dent Hyg

. 2013;87:19–23.

Sharma PK, Misra AK, Chugh A, Chugh VK, Fonnade N, Singh S. Gingival hyperplasia: should drug interaction be blamed for? Indian J Pharmacol

. 2017;49:257–259.

Moffitt M, Bencivenni D, Cohen R. Treatment modalities for drug-induced gingival enlargement. J Dent Hyg

. 2012;4:272–277.

Bharti V, Bansal C. Drug-induced gingival overgrowth: the nemesis of gingiva unraveled. J Indian Soc Periodontol

. 2013;17:182–187.

Little JW, Miller CS, Rhodus NL. Dental Management of the Medically Compromised Patient

. 9th ed. St. Louis: Elsevier; 2018.

Gurenlian J. An update on the classification of periodontal diseases. Dimensions of Dental Hygiene

. 2018;16(6):9–17.

Sweeting LA, Davis K, Cobb CM. Periodontal treatment protocol (ptp) for the general dental practice. J Dent Hyg

. 2008;82(Suppl 2):16–26.

Butterworth C, Chapple I. Drug-induced gingival overgrowth: a case with auto-correction of incisor drifting. J Indian Soc Periodontol

. 2016;20:496–502.

Gurenlian JR, Astroth D. Diagnosis and treatment planning. In: Henry R, Goldie MP, eds. Dental Hygiene: Applications to Clinical Practice

. Philadelphia: F.A. Davis; 2016:304–316.

Oncu E, Erbeyoglu AA, Alan R. Comparison of gingivectomy procedures for patient satisfaction: conventional and diode laser surgery. Selcuk Dent J

. 2017;4:6–9.
From Dimensions of Dental Hygiene. May 2020;18(5):24-25,27.