April 2019 Marketplace for Dental Hygienists
A listing of featured products.
CARIES-FIGHTING DENTIFRICE AVAILABLE IN US
Dr. Collins Inc, Lake Forest, California, is now selling BioMin toothpaste in the United States. BioMin protects teeth from decay by releasing calcium and phosphate ions to deliver hydroxyapatite onto tooth surfaces, the ions then form a seal over open dentinal tubules. The dentifrice is said to replace lost mineral from tooth surfaces. BioMin toothpaste has been available in the United Kingdom since April 2016. 888-583-6048; drcollins.com
DENTAL UNIT WATERLINE TABLET UNDERGOES REBRANDING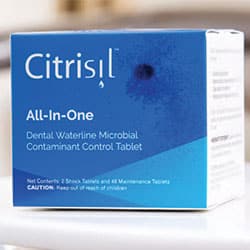 Sterisil Inc, Palmer Lake, Colorado, has rebranded its Citrisil Dental Waterline Microbial Control Tablet with an updated look and a more practical tablet quantity in every box. Maintenance boxes will now include two orange shock tablets and 48 maintenance tablets. Citrisil Dental Waterline Microbial Control Maintenance boxes are still available in 1 liter and 2 liter formulations for both white and blue tablets. The tablet-based, waterline treatment solution features a fully compatible shock and maintenance protocol with every box of maintenance tablets sold. 719-622-7200; sterisil.com
ULTRASONIC CLEANING SYSTEM
Coltene, Cuyahoga Falls, Ohio, introduces the BioSonic UC150. This 1.5-gallon ultrasonic cleaner can be used as a countertop or recessed unit, allowing for flexibility in any sterilization setting. Built for efficiency, convenience, and versatility, the new BioSonic UC150 can accommodate several cleaning configurations including beakers, baskets, and up to four medium-sized instrument cassettes. The multilingual touch screen is easy to use and allows full functionality with a gloved hand. The BioSonic UC150 includes a cassette basket, recess template, and gasket. 330-916-8800; coltene.com
From Dimensions of Dental Hygiene. April 2019;17(4):45.