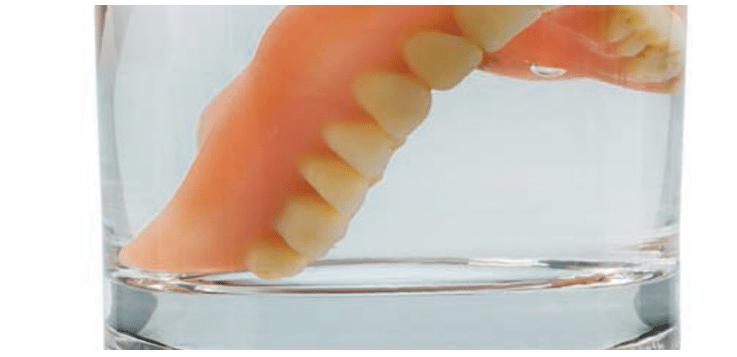 An Evidence-Based Look at Denture Care
Dental hygienists need to remain up to date on best practices for denture care so they can effectively educate patients.
Today, more than ever before, Americans are retaining their natural dentitions throughout their ­lifetimes.1 While this may cause the need for oral rehabilitation with removable partial dentures or complete dentures to eventually decline, removable prostheses remain a viable treatment option for tooth loss—especially among patients who are not good candidates for dental implants or for whom the cost is prohibitive.2 For patients with dentures, recare visits for professional cleaning and patient education are as important to oral health as the fabrication of high-quality, well-fitting prostheses. In order to best advise patients, dental hygienists need to keep apprised of what the evidence says about denture care. As the success of oral rehabilitation with removable prostheses depends on proper self-care by patients and/or caregivers, dental hygienists play a critical role in educating patients on how to care for their removable prostheses between recommended professional visits.
DENTURE STOMATITIS
Denture stomatitis (DS) is the most common problem experienced by denture wearers. It causes inflammation of the oral mucosa and pathological changes associated with the wearing of dentures.3 The etiology of DS is related to a variety of factors, including poorly fitted dentures that cause trauma and biological factors such as low salivary flow, smoking, antibiotic treatment, and microbial infection.4 Candida colonize denture surfaces as part of complex microbial communities known as biofilms or plaque. Older literature mostly focused on Candida as the primary cause of infection. However, increasing evidence suggests that DS is a polymicrobial disease in which bacterial and fungal interactions play roles in disease pathogenesis.5
The oral cavity is a complex environment. Oral prostheses and oral tissues are continually exposed to opportunistic microbes. The immune system works continuously to maintain a healthy oral environment and prevent disease. As individuals age, however, the immune system can become compromised—opening the door to oral disease development.
BIOFILM REMOVAL
The plaque found on the surfaces of removable dentures can be removed via mechanical or chemical methods. Mechanical methods are brushing (with water, soap, toothpaste, or abrasives) and ultrasonic treatment.6 Chemical methods are classified according to their composition and mechanism of action (eg, hypochlorites, peroxides, enzymes, diluted acids, castor bean-based solution, and mouthrinses containing antimicrobials such as chlorhexidine).7–9 Brushing with toothpaste is one of the most common methods used in denture hygiene, as it is simple, inexpensive, and effective. However, the abrasive action of some toothpastes may cause wear and roughening of denture surfaces. As such, it is not recommended to use regular toothpaste when brushing dentures outside of the mouth.10,11 At-home ultrasonic treatment has been studied as a possible denture cleaner, but is not commonly recommended because of cost and a lack of demonstrated benefits over other methods.12
Chemical methods for cleaning dentures mainly include soaking them in a household or commercial solution. These liquids are simple to use and can easily access undercuts of the denture base that toothbrush bristles cannot reach. A study by Kiesow et al11 compared the compatibility of denture cleanser tablets, toothpaste, mouthrinses, isopropyl alcohol, bleach, soap, and vinegar with denture materials, as well as investigated their effectiveness in an antimicrobial assay. They found that alcohol-based mouthrinse, isopropyl alcohol, bleach, and toothpaste damaged the surface of the denture material. On the other hand, denture cleanser tablets, soap, and vinegar were compatible with denture materials. Regarding antimicrobial efficacy, the bleach provided excellent results, as did the denture cleanser tablets, which were effective against all organisms after 5 minutes of treatment. Toothpaste, mouthrinses, alcohol, soap, and vinegar were less effective than bleach and denture cleansers. Other studies showed better results for denture cleaning with chemical solutions,13 brushing,14 or a combination of both.15 Conflicting results from these studies suggest that any differences may be minimal and/or more research is needed to further demonstrate these results.
The Cochrane Collaboration considered performing a meta-analysis of controlled trials evaluating denture cleaning in 2009.16 A meta-analysis was not possible, however, because there were too few well-designed randomized controlled trials that evaluated a wide range of interventions and outcome variables. Study authors instead performed a literature review in which they found weak evidence supporting the soaking of dentures in effervescent tablets or enzymatic solutions with antimicrobial activities. They noted that brushing can remove plaque and kill microbes better than inactive treatments. At this point, the best available evidence demonstrates that chemicals and brushing appear to be more effective than placebo in the reduction of plaque coverage and microbial counts of anaerobes and aerobes on complete denture bases.
PATIENT EDUCATION
A combination of routine mechanical and chemical cleaning methods is recommended for denture cleaning. Patients who wear removable prostheses should be advised to perform meticulous self-care to maintain denture cleanliness. The dentures should be removed during sleep. Oral soft tissues and remaining teeth must be thoroughly cleaned with a soft toothbrush and fluoride toothpaste. According to the guidelines published by the American College of Prosthodontists,17 edentulous patients should follow these recommendations in order to maintain their oral and systemic health:
Dentures should be mechanically cleaned daily by brushing with a soft toothbrush and a nonabrasive denture cleanser.
Denture cleansers should only be used to clean dentures extraorally.
Dentures should always be thoroughly rinsed after soaking and brushed with denture cleanser prior to reinsertion into the oral cavity. Always follow the product usage instructions.
Dentures should be disinfected annually by a dental professional with an ultrasonic cleaner to minimize biofilm accumulation. Patients who wear any type of removable prostheses should be seen by a dental professional at least once per year.
Dentures should never be placed in boiling water.
Dentures should not be soaked in sodium hypochlorite bleach for periods that exceed 10 minutes because the bleach can damage denture materials.
If not promptly placed back in the mouth after cleaning, dentures should be kept immersed in water to avoid the possibility of warping.
CONCLUSION
Future research is needed to provide more information on which method is more effective in maintaining the oral health of removable denture wearers. Furthermore, alternative interventions, such as microwave and ultrasonic cleaning, should be researched. Associated costs, benefits, and potential adverse effects to mechanical and physical properties of the prostheses should also be investigated.
References
Gendreau L, Loewy ZG. Epidemiology and etiology of denture stomatitis. J Prosthodont. 2011;20:251–260.
Felton DA. Complete edentulism and comorbid diseases: an update. J Prosthodont. September 15, 2015. Epub ahead of print.
O'Donnell LE, Robertson D, Nile CJ, et al. The oral microbiome of denture wearers is influenced by levels of natural dentition. PloS One. 2015;10:e0137717.
Salerno C, Pascale M, Contaldo M, et al. Candida-associated denture stomatitis. Med Oral Patol Oral Cir Bucal. 2011;16:139–143.
Pereira-Cenci T, Deng DM, Kraneveld EA, et al. The effect of Streptococcus mutans and Candida glabrata on Candida albicans biofilms formed on different surfaces. Arch Oral Biol. 2008;53:755–764.
Budtz-Jorgensen E. Materials and methods for cleaning dentures. J Prosthet Dent. 1979;42:619–623.
Andrade IM, Andrade KM, Pisani MX, Silva-Lovato CH, de Souza RF, Paranhos Hde F. Trial of an experimental castor oil solution for cleaning dentures. Braz Dent J. 2014;25:43–47.
Nikawa H, Hamada T, Yamashiro H, Kumagai H. A review of in vitro and in vivo methods to evaluate the efficacy of denture cleansers. Int J Prosthodont. 1999;12:153–159.
Paranhos HF, Silva-Lovato CH, Souza RF, Cruz PC, Freitas KM, Peracini A. Effects of mechanical and chemical methods on denture biofilm accumulation. J Oral Rehabil. 2007;34:606–612.
Haselden CA, Hobkirk JA, Pearson GJ, Davies EH. A comparison between the wear resistance of three types of denture resin to three different dentifrices. J Oral Rehabil. 1998;25:335–339.
Kiesow A, Sarembe S, Pizzey RL, Axe AS, Bradshaw DJ. Material compatibility and antimicrobial activity of consumer products commonly used to clean dentures. J Prosthet Dent. November 3, 2015. Epub ahead of print.
de Andrade IM, Cruz PC, da Silva CH, et al. Effervescent tablets and ultrasonic devices against Candida and mutans streptococci in denture biofilm. Gerodontology. 2011;28:264–270.
Chan EC, Iugovaz I, Siboo R, Bilyk M, Barolet R, Amsel R. Comparison of two popular methods for removal and killing of bacteria from dentures. J Can Dent Assoc. 1991;57:937–939.
Tarbet WJ, Axelrod S, Minkoff S, Fratarcangelo PA. Denture cleansing: a comparison of two methods. J Prosthet Dent. 1984;51:322–325.
Basson NJ, Quick AN, Thomas CJ. Household products as sanitizing agents in denture cleansing. J Dent Assoc S Afr. 1992;47:437–439.
de Souza RF, de Freitas Oliveira Paranhos H, et al. Interventions for cleaning dentures in adults. Cochrane Database Syst Rev. 2009;4:CD007395.
Felton D, Cooper L, Duqum I, et al. Evidence-based guidelines for the care and maintenance of complete dentures: a publication of the American College of Prosthodontists. J Am Dent Assoc. 2011;142(Suppl 1):1S–20S.
---
From Dimensions of Dental Hygiene. June 2016;14(06):20,23.