Ambassadors up Close: Helping Others Smile With Confidence 
Dimensions of Dental Hygiene Brand Ambassador Ann Cote, RDH, MSHA, talks about her 17-year career in the dental field.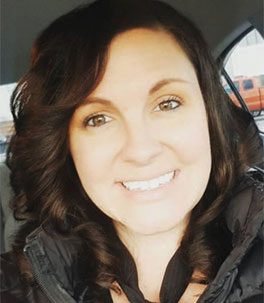 Growing up in a small town in Connecticut, Ann Cote, RDH, MSHA, was self-conscious about her teeth due to malocclusion and fluorosis. After completing orthodontic treatment and whitening procedures, she gained so much confidence and knew she wanted to help others with their smiles. Dentistry was her calling. Cote currently works in private practice and teaches at Three Rivers Community College in Norwich, Connecticut. Oral healthcare is her passion and developing a connection with her patients is one of her strengths. Cote loves helping patients by providing oral health education and seeing the improvements during their recare appointments.
How did you get into the profession of dental hygiene?
I wasn't exactly sure what I wanted to be when I grew up, but I knew I wanted to help people. Shortly after I graduated from high school, I learned about a local training program for dental assistants. I attended a tour of the school and that's when it hit me: I just knew dental was for me. I knew I would be skilled at the hands-on approach, along with the connections you make with patients and helping people achieve oral health. I had found my passion. I wanted to advance my education and several years after working as a dental assistant, I graduated from the Dental Hygiene Program at the University of New Haven in 2009. I have been practicing clinically ever since.
Why did you decide to start teaching?
I was never much of a public speaker, but while attending dental hygiene school, I did see myself as an educator. As dental hygienists, we educate patients daily, but more on a one-on-one basis. A colleague who was moving out of state suggested I consider applying for her position teaching a dental hygiene course at our local community college. After discussing the position with her, I knew I would be great at teaching. When I know my topic inside and out, I can talk for days about it.
As a clinical hygienist practicing in the time of COVID-19, what are some key issues that dental hygienists will need to advocate for over the next few years?
This pandemic has clearly affected the entire world. Being out of clinical work due to COVID-19 has been stressful but it is the best option for clinicians and patients. No one could have ever predicted this but, as a community, we are pulling through and eager to get back to work. Some issues we, as dental hygienists, will need to address are to make sure we are protected as clinicians and to also ensure we have some sort of financial stability, if we are ever faced with this type of pandemic again.
How have you impacted the dental profession?
My true impact on the dental profession has been through my students. I enjoy sharing my knowledge and experience with them, along with educating them to become the best dental hygienists they can be! Engaging with my students through my lessons and seeing their progress are highly rewarding.
What motivates you in your professional life?
I get so inspired when, after completing a full-mouth scaling and root planing, patients return for their fine scale appointment a month later, and I can see improvement in their overall tissue response. When my patients take more control of their oral health, use all of the oral hygiene instruction tips and products I recommended, and are on the right path to overall improved health, I am highly motivated.
Your love of helping others took you abroad. Tell us about your 2009 trip to Romania.
Traveling to Romania as part of my undergraduate studies was an amazing opportunity. Eight of us traveled to an orphanage where we treated children, adults, and seniors in very limited conditions. There is no preventive dental care in Romania, nor is there a dental hygiene profession. We had limited supplies, and treated our patients on inflatable pool floats. We had lights on our foreheads for our overhead lights and sterilized our instruments in a small dry heat sterilizer. I am grateful for this experience that increased my knowledge and allowed me to help educate underserved populations.
If there were more hours in the day I would love to …
Learn a second language. I love the Spanish language and so many of my patients speak Spanish. I feel as though I would be more beneficial to my profession and my patients knowing a second language.
What keeps you awake at night?
Currently, we are all feeling the effects of COVID-19. Many students need to fulfill their clinical examination to become licensed, but  are unsure when they can complete this exam and graduate. With uncertainties about when unemployment will kick in, when we can safely practice again, or when we have the proper personal protective equipment, the unknowns about this pandemic have surely been keeping me up at night.
What's ahead for hygienists?
I am from Connecticut and with the state legislature passing a bill to create a new provider, the dental therapist, in June 2019, this is creating a great leap toward more independence for us as dental hygienists. We as healthcare providers are given a little more freedom to treat our patients, and I hope this can lead to the advanced dental hygiene practitioner opportunity.
How do you hope to impact the profession in 2020?
I hope to continue to educate my students and inspire them to be the best dental hygienists they can be. I love hearing positive stories of my patients overcoming their dental fears, or taking control of their oral health. My goal is to keep helping my students and patients one day at a time.
How do you educate patients on their overall oral health?
As a healthcare provider it is my responsibility to help educate my patients on their oral health condition in connection with systemic conditions or diseases. I always review their health history and help my patients understand that medications they take could be aiding in their xerostomia, and some of their systemic conditions can make certain oral concerns
How do you balance work and life?
I make sure I leave my personal issues at the door when I walk into the office and when I come home to my family. I make sure I give them my full attention. During the week I don't seem to have much time with my family besides dinner time, so I make the best of the limited time I have. Balancing time with family can be challenging but it is something I have become accustomed to over the years.
---
Connect with Ann Cote, RDH, MSHA

@annie_dental_hygienious
---
To learn more about Dimensions' Ambassador Program, visit: dimensionsofdentalhygiene.com/apply.
From Dimensions of Dental Hygiene. June 2020;18(6):12.