AeroPro™ Cordless Prophy Handpiece System by Premier Dental Products Co
Improving the Coronal Polishing Experience.
Practicing clinical dentistry by all members of the team involves static posture, precise and repetitive motions, long work hours, and ergonomic challenges. These factors contribute to a prevalence of musculoskeletal disorders (MSDs) among dentists and dental hygienists, ranging from 64% to 93%, with prolonged static postures and repetitive movements listed as key risk factors.1,2 More concerning, dental hygienists seem to be at a disproportionate risk for MSDs compared to dentists, with a study showing 67% of dentists and 86% of dental hygienists reporting MSD pain.3 Focusing on hand and wrist pain, the same study reported a higher prevalence of hand pain among dental hygienists compared to dentists, 75% vs 38% respectively.
McCombs and Russell4 confirmed that using a cordless prophy handpieces can help dental hygienists combat hand and wrist stress. Via electromyography (EMG), they compared the muscle loads required during simulated tooth polishing using a corded vs a cordless handpiece. The results showed a reduced EMG for three muscles out of the four muscles tested when the cordless handpiece was used, and an average 30-second reduction in polishing time with the cordless handpiece. The dental hygienists in the study preferred the cordless handpiece over the corded handpieces specifically noting a lack of cordless weight, better balance, and low noise as the main reasons for the preference.
Based on input from dental professionals, Premier Dental recently introduced the AeroPro™ Cordless Prophy Handpiece System. The AeroPro system was engineered to provide clinicians with greater mobility, choice, and control—further helping to prevent symptoms of hand and wrist fatigue and to provide a better polishing experience for both operator and patient.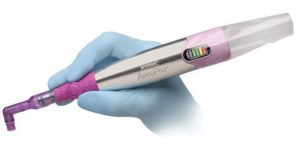 Compatible with most commonly available disposable prophy angles, AeroPro allows the angle to be rotated 360° for improved intraoral access. The lightweight, ergonomically designed handpiece features a textured grip for reduced pinch strength and hand fatigue. It is controlled using a single button, allowing the operator to easily access the most appropriate prophy cup speed for the procedure. AeroPro's speeds range from 500 rpm to 2800 rpm.
AeroPro is equipped with ChargeSMART™ Battery Technology. This innovative induction charging system powers AeroPro's battery quickly and safely and is designed to provide sufficient battery life for completion of a minimum of 10 coronal polishing procedures on a full charge. If additional battery life is needed, the unit can be easily placed back on the charging base between patients.
AeroPro's infection prevention protocol is cleared by the United States Food and Drug Administration and compliant with US Centers for Disease Control and Prevention (CDC) guidelines. The motor component is isolated by a custom-fit disposable polyethylene barrier and covered by a durable, metal outer sheath. After use, the metal sheath is removed, cleaned, and autoclaved, while the motor component is disinfected using a CDC intermediate-level disinfectant.

REFERENCES
Hayes MJ, Cockrell D, Smith DR. A systematic review of musculoskeletal disorders among dental professionals. Int J Dent Hyg. 2009;3:159–165.
Padhye NM, Padhye AM, Gupta HS. Effect of pre-procedural chair-side finger stretches on pinch strength amongst dental cohort—a biomechanical study. J Clin Diagn Res

. 2017;11:ZC82–ZC85.

Rucker LM, Sunell S. Ergonomic risk factors associated with clinical dentistry. Can Dent Assoc J.

2002;30:139–146.

McCombs G, Russell DM. Comparison of corded and cordless handpieces on forearm muscle activity, procedure time and ease of use during simulated tooth polishing. J Dent Hyg.

2014;88:386–393.
From Dimensions of Dental Hygiene. November 2019;17(10):44.