Addressing Whitening-Related Sensitivity
Many strategies are available to help patients prevent or manage this common complaint.
Tooth whitening processes and products are significant contributors to dentinal hypersensitivity. While patients may be satisfied with the esthetic results of whitening treatment, they may be left unsure of whether the outcome was worth the accompanying pain. Results of a study conducted by Jorgensen and Carroll found that approximately 50% of patients who underwent whitening treatment experienced sensitivity, ranging from mild to severe.1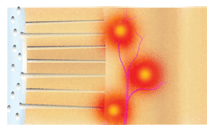 All esthetic whitening procedures have the potential to cause dentinal hypersensitivity—from at-home whitening strips to in-office bleaching procedures. The chemicals used in whitening treatments—carbamide peroxide and hydrogen peroxide—can penetrate through enamel and dentin, which may cause hypersensitivity.2
Dentinal hypersensitivity most commonly is found in the canines and premolars of both arches, with the buccal aspect of the cervical area experiencing the highest prevalence.3 This is likely due to toothbrush abrasion or the habitual use of other objects, such as toothpicks, that may harm tooth enamel. Other causes may include insertion and removal of partial dentures and retainers causing abrasion; attrition; enamel erosion from acid exposure; and abfraction, which causes breakage due to excessive stress from occlusal forces.2
Brännström's hydrodynamic theory is the most widely accepted theory of how teeth become sensitive. It suggests that dentinal hypersensitivity is caused by the movement of fluid inside the dentinal tubules initiated by mechanical, osmotic, or evaporative stimuli (Figure 1).4,5
PRIOR TO WHITENING TREATMENT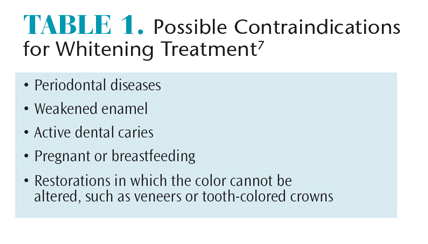 As the sensitivity pain caused by whitening treatment can be serious enough to cause patients to discontinue therapy, patients should be prescreened for sensitivity risk before the whitening treatment is initiated.6 Satisfactory whitening can occur if both the patient and dental team are proactive in identifying areas of hypersensitivity prior to whitening.
Patients' nutritional habits also should be discussed to reduce the risk of sensitivity.2 Clinicians should advise patients to reduce their consumption of acid-containing beverages and to maintain a nutritional diary to keep track of substances that may induce sensitivity. Patients should, prior to receiving whitening treatment, undergo a thorough oral examination to evaluate oral health status and determine if there are any contraindications to treatment. Table 1 lists factors that may interfere with tooth whitening.7
Clinicians also will need to help patients maintain realistic expectations of results. For instance, brownish-colored teeth may not become as white following treatment as yellow-colored teeth, which tend to respond better to vital tooth bleaching.8–10 Patients with staining caused by tetracycline exposure or fluorosis may not see significant change to tooth color following treatment.8–10 Patients who desire the white teeth seen on television ads or in magazines may be disappointed when their teeth do not achieve this look. Further, patients who self-treat will most likely fail to see the same results that can be achieved through in-office treatments prescribed by oral health professionals.
ADDRESSING HYPERSENSITIVITY
Today, there are many therapeutic modalities used to combat sensitivity, including but not limited to fluoride, potassium nitrate, calcium phosphate technologies, arginine calcium carbonate, strontium compounds, resin sealers, and glutaraldehyde. Patients who are at-risk of sensitivity can start brushing with a toothpaste containing potassium nitrate before beginning a whitening regimen. Those using a tray system for whitening treatment also can place the potassium nitrate toothpaste/gel in the trays and wear them prior to or after whitening treatment to reduce sensitivity.11–14 Potassium nitrate may take approximately 4 weeks to begin working; patients should be advised of this fact.15 The application of fluoride varnish or the daily use of fluoride toothpaste also may help reduce the risk of sensitivity during whitening treatment.16
Patients who develop sensitivity after receiving in-office whitening treatment may be best served by the professional application of an arginine prophylaxis paste.17 A mouthrinse containing arginine and sodium fluoride also is available.18 For patients who incorporate mouthrinse into their oral hygiene regimen, the use of one containing 1.4% potassium oxalate was shown to reduce dentinal hypersensitivity.19
Calcium phosphate technologies—such as amorphous calcium phosphate (ACP), casein phosphopeptide-ACP (Recaldent®), calcium sodium phosphosilicate (NovaMin®), and tri-calcium phosphate—may be helpful in reducing whitening-induced dentinal hypersensitivity.20,21 These therapeutics can be found in over-the-counter toothpastes, prescription dentifrices and pastes, fluoride varnish, and prophy pastes.
The inclusion of hydroxyapatite in dentifrice also may provide sensitivity relief,15 as well as the use of 5% glutaraldehyde, 35% hydroxyethylmethacrylate varnish, and surface prereacted glass-ionomer fillers, but more research is necessary to ascertain their efficacy in relation to whitening-induced sensitivity.
Additional methods used to treat hypersensitivity associated with bleaching include gingival grafts and lasers. Exposed root surfaces also may be restored with composite resins or glass ionomers.22
CONCLUSION
Patients who are about to embark on a whitening treatment plan should first consult with their oral health professional to discuss strategies for preventing or managing bleaching-related sensitivity. Clinicians are charged with investigating the wide variety of methods to address sensitivity, using an evidence-based approach. Positive outcomes are best achieved when patients and the dental team work together.
REFERENCES
Jorgensen MG, Carroll WB. Incidence of tooth sensitivity after home whitening treatment. J Am Dent Assoc. 2002;133:1076–1082.
Goldie MP. Dentin hypersensitivity. Available at: dentistryiq.com/articles/2011/03/maria-intro-hypersensitivity.html. Accessed June 23, 2015.
Addy M, Mostafa P, Newcombe RG. Dentine hypersensitivity: The distribution of recession, sensitivity and plaque. J Dent. 1987;15:242–248.
Oxford Index. Brännström's Hydrodynamic Theory. Available at: oxfordindex.oup.com/view/10.1093/oi/authority.20110803095524708. Accessed June 23, 2015.
Walters PA. Dentinal hypersensitivity: A review. J Contemp Dent Pract. 2005;6:107–117.
Morgan J. Dentin hypersensitivity from bleaching. Inside Dentistry. 2014;10(4):56–60.
Martin J, Fernandez E, Bahamondes V, et al. Dentin hypersensitivity after teeth bleaching with in-office systems: Randomized clinical trial. Am J Dent. 2013;26:10–14.
Delta Dental. The Risks of Tooth Whitening. Available at: deltadentalins.com/oral_health/bleaching_risks.html. Accessed June 23, 2015.
Wang XD, Chen SL, Yu JB. Clinical survey of a combined in-office cold light bleaching and nightguard vital bleaching system for tetracycline stained teeth. Hua Xi Kou Qiang Yi Xue Za Zhi. 2008;26:409–418.
Kugel G, Gerlach RW, Aboushala A, Ferrira S, Magnuson B. Long-term use of 6.5% hydrogen peroxide bleaching strips on tetracycline stain: a clinical study. Compend Contin Educ Dent. 2011;32:50–56.
Muzzin K. Sensitivity training. Dimensions of Dental Hygiene. 2012;10(3):50–53.
Tam L. Effect of potassium nitrate and fluoride on carbamide peroxide bleaching. Quintessence Int. 2001;32:766–770.
Tay LY, Kose C, Loguercio AD, Reis A. Assessing the effect of a desensitizing agent used before in- office tooth bleaching. J Am Dent Assoc. 2009;140:1245–1251.
Haywood VB, Caughman WF, Frazier KB, Myers ML. Tray delivery of potassium nitrate—fluoride to reduce bleaching sensitivity. Quintessence Int. 2001;32:105–109.
Yuan P, Shen X, Liu J, et al. Effects of dentifrice containing hydroxyapatite on dentinal tubule occlusion and aqueous hexavalent chromium cations sorption: a preliminary study. PLoS One. 2012;7:45283.
Armenio RV, Fitarelli F, Armenio MF, Demarco FF, Reis A, Loguercio AD. The effect of fluoride gel use on bleaching sensitivity: a double-blind randomized controlled clinical trial. J Am Dent Assoc. 2008;139:592–597.
Panagakos F, Schiff T, Guignon A. Dentin hypersensitivity: effective treatment with an in-office desensitizing paste containing 8% arginine and calcium carbonate. Am J Dent. 2009;22:3A–7A.
Withers S, Friesen D, Li Y. Dentinal hypersensitivity management. Dimensions of Dental Hygiene. 2015;13(4):25–32.
Sharma D, McGuire JA, Amini P. Randomized trial of the clinical efficacy of a potassium oxalate-containing mouthrinse in rapid relief of dentin sensitivity. J Clin Dent. 2013;24:62–67.
Giniger M, Spaid M, MacDonald J, Felix H. A 180- day clinical investigation of the tooth whitening efficacy of a bleaching gel with added amorphous calcium phosphate. J Clin Dent. 2005;16:11–16.
Matis BA, Cochran MA, Eckert GJ, Matis JI. In vivo study of two carbamide peroxide gels with different desensitizing agents. Oper Dent. 2007;32:549–555.
Strassler HE, Serio FS. Managing dentin hypersensitivity. Inside Dentistry. 2008;4(7).
---
From Dimensions of Dental Hygiene. July 2015;13(7):21–22.