Ultradent Introduces New VALO X Curing Light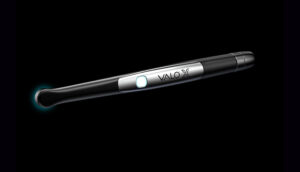 Ultradent (800-552-5512; ultradent.com), a leading manufacturer of high-tech dental materials and equipment, has launched the newest edition of its award-winning VALO curing light series — the completely redesigned VALO X broadband LED. As Ultradent's most innovative curing light yet, this new addition offers the ultimate in engineering and design in every performance category — including durability, power, accessibility and versatility.
Thanks to its larger 12.5 mm lens and powerful LED chip, the VALO X delivers a more complete cure than ever before; this includes improved curing depth and beam collimation. The VALO X features two power modes (standard power and Xtra Power) and two diagnostic modes (black light and white light), as well as the ability to work in either corded or cordless configurations.
The light's one-button activation also incorporates a user interface with an accelerometer that lets clinicians cycle between the light's power and diagnostic modes with just the wave of the wand, a light drum tap, or the push of a button. The VALO X also comes with five accessory lenses that further enhance its capabilities. What's more, its simplified, low-profile design enables the light's head to reach posterior restorations with ease.
Like Ultradent's other award-winning VALO curing lights, the VALO X is milled from a single bar of aerospace-grade aluminum — a material that improves thermal management, enhances LED longevity, and ensures unmatched durability.