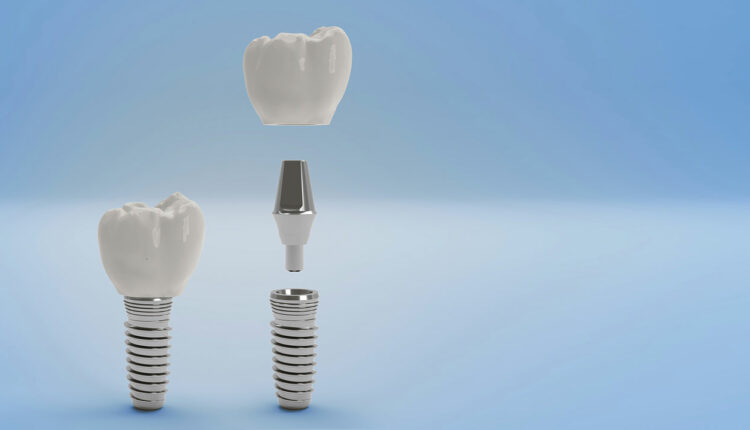 sefa ozel / iStock / Getty Images Plus
Precise Flapless Dental Implants for Improved Success
Implant placement technique offers precise insertion without tissue incision, minimizing complications and promoting successful outcomes, even in patients with diabetes.
Patients who present with sufficient keratinized attached gingiva, an approximate bone width of 7 mm in the implant recipient site, and do not require bone augmentation are considered viable candidates for flapless, computer-assisted guided implant placement.1 The procedure allows insertion of implants into the bone through the mucosal tissue without invasive incision of the tissue or flap reflection that can sometimes lead to gingival scarring, vascular disruption, and impairment of the gingival papilla.2,3
By using a rotating instrument or a soft tissue punch device, dental specialists can pierce the gingival tissue to gain access to the underlying bone while preserving the vascular supply and existing soft tissue shape (Figure 1).4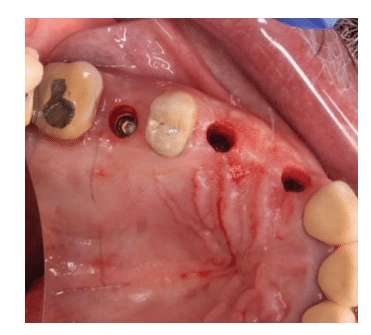 A study examining the success rate of dental implants among patients with well-controlled diabetes using either the conventional method or the flapless technique revealed a comparatively similar outcome: 94.2% and 92.3%, respectively.5 Diabetes was once thought to be a contraindication for implant restoration therapy due to concerns over poor wound healing.5,6 However, guidelines from the European Federation of Periodontology and International Diabetes Federation suggest that well-controlled glucose levels do not increase the risk of developing peri-implantitis. Conversely, poorly controlled diabetes increases the risk of peri-implantitis.5
Conclusions
Oral health professionals are essential in guiding patients in making educated, evidence-based decisions regarding their oral healthcare needs. With the advent and widespread adoption of cutting-edge dental technologies, patients benefit due to the increased precision and accuracy in diagnostic and restorative therapy.
References
Romandini M, Ruales-Carrera E, Sadilina S, Hämmerle CHF, Sanz M. Minimal invasiveness at dental implant placement: A systematic review with meta-analyses on flapless fully guided surgery. Periodontol 2000. 2022;10:1111.
Naeini EN, Atashkadeh M, De Bruyn H, D'Haese J. Narrative review regarding the applicability, accuracy, and clinical outcome of flapless implant surgery with or without computer guidance. Clin Implant Dent Relat Res. 2020;22:454–467.
Gao X, Qin S, Cai H, et al. Comparison of general and aesthetic effects between flapless and flap techniques in dental implantation: a meta-analysis of randomized controlled trials. Int J Implant Dent. 2021;7:100.
Divakar TK, Gidean Arularasan S, Baskaran M, et al. Clinical evaluation of placement of implant by flapless technique over conventional flap technique. J Maxillofac Oral Surg. 2020;19:74–84.
Singh K, Rao J, Afsheen T, Tiwari B. Survival rate of dental implant placement by conventional or flapless surgery in controlled type 2 diabetes mellitus patients: a systematic review. Indian J Dent Res. 2019;30:600–611.
Nibali L, Gkranias N, Mainas G, Di Pino A. Periodontitis and implant complications in diabetes. Periodontol 2000. 2022;90:88–105.
This information originally appeared in Monchik C, Marsh I. Innovations in implant therapy. Dimensions of Dental Hygiene. 2023;21(3)34-37.