MicroCare to Present New ProEZ Gel™ at AORN Expo Booth #9017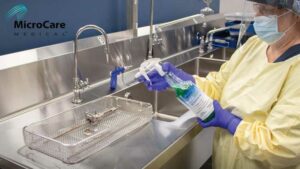 MicroCare, LLC, following its recent acquisition of Certol International, a fast-growing and leading global manufacturer of instrument cleaning and infection prevention solutions, will present an expanded range of products at the AORN Global Surgical Conference & Expo 2022, New Orleans, Louisiana from March 19-23 2022. The MicroCare team of experts will be on hand to present its entire medical platform of products along with the new patent pending ProEZ Gel™.
ProEZ Gel Ready-to-Use Pre-Treatment Gel is a new, high performing product for precleaning soiled instruments and devices at point of use. It has a unique innovative bio-generated action for effective soil removal even on complex, sticky orthopedic and neurosurgical soils. The targeted active soil breakdown combines with humectants to sustain moisture during holding and transport to reduce the risk of dangerous biofilm formation.
ProEZ Gel helps facilities with performance to standards and device compliance.  It is easy to apply and the green tint offers quick visual confirmation of proper coverage and compliance with pretreatment protocols.  ProEZ Gel is pH neutral and non-corrosive and is tested and validated to sustain moisture, continue soil breakdown, and protect instrumentation for up to 72 hours of holding time. It is free rinsing to improve productivity and workflow in Central Sterile Processing environments.
"We originated the concept of a pre-treatment spray, over 20 years ago, with ProEZ foam™ Foaming Enzymatic Spray.  As the Joint Commission and other accrediting agencies push for compliance at "point-of-use" with device cleaning instructions, healthcare facilities are now coming on board with a better understanding of the need for policies and effective products," says Peggy Spitzer, RDH, M.A.Ed., MicroCare Clinical Educator. "My experience in working with hospitals and surgery centers to achieve consistent compliance reinforces the value of ProEZ Gel as a powerful new tool for pre-treatment. This product is far more effective than traditional gel sprays or wet towels for maintaining instrument preservation."
To learn more about ProEZ Gel and the MicroCare portfolio of products, visit the team at AORN Global Surgical Conference & Expo 2022, New Orleans, Louisiana from March 19-23 2022.