Kulzer Introduces Ivory® Releaf™ Minis Hands-Free Suction Solution
Small size ideal for pediatric patients and adults with smaller arches.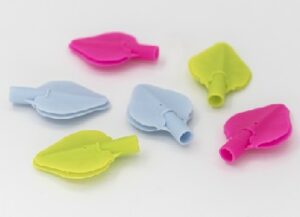 Kulzer has announced the launch of Ivory ReLeaf Minis, which can be used with its Ivory ReLeaf hands-free suction system when treating pediatric patients
and adult patients with small arches. The system delivers safety and comfort to patients while enhancing efficiency and ergonomics for dental practices.
Ivory ReLeaf is an innovative, hands-free high volume evacuator (HVE) suction solution that assists with evacuation, retraction and maintaining a dry field during various hygiene and dental procedures, including restorative procedures, endodontics, periodontics, orthodontics, ultrasonic scaling, sealants, root planing and whitening. The Ivory ReLeaf system consists of an HVE hose with a quick disconnect adaptor on one end for convenient connection to the practice's existing dental vacuum system, and a u-shaped connector on the other end into which a single-use "Leaf" is inserted. The Leaf – which is BPA-free and latex-free and designed to be soft for patient comfort – is placed into the oral cavity and positioned between the teeth and cheek. The Leaf maintains highly effective suction and a dry field while allowing the practitioner to comfortably work in all four quadrants with a full view of the oral cavity. Importantly, the Leaf's 280 degrees of suction means that its location never has to be changed by the practitioner.
The ReLeaf Mini Leaf, which is approximately 25% smaller than the conventional Leaf but fits the ReLeaf system's same u-shaped connector, is designed to work comfortably with pediatric patients, elderly patients, patients with temporomandibular joint (TMJ) disorders, special needs patients, and other patients with small arches. ReLeaf Mini refills come in 100-count packages featuring an assortment of green, magenta and light blue colors.
The hands-free design and exceptional ergonomics of the Ivory ReLeaf system can save practices up to 15 minutes of time per patient. Moreover, patients appreciate not only its superior comfort but the fact that it minimizes backflow risk and aerosol risk while making it much easier to communicate.
For more information, visit kulzerus.com