Cranberry Launches Groundbreaking Bio Nitrile Biodegradable Nitrile Gloves

Cranberry, a leading nitrile glove manufacturer, is proud to announce the release of its newest innovation, the Bio Nitrile Biodegradable Nitrile Powder Free Examination Gloves. These gloves are designed to meet the rising demand for environmentally sustainable and eco-friendly products.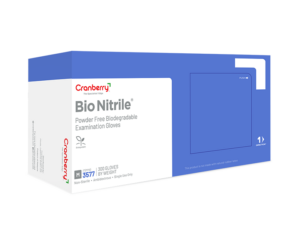 The biodegradable properties of the glove are attributed to a unique additive that induces microbial activity upon introduction to the landfill, resulting in the material breaking down up to 90% within a mere 1.5 years. Despite being biodegradable, the gloves pass and exceed ASTM standards for tensile strength and force at break.
The Cranberry Bio Nitrile gloves represent a significant breakthrough in the healthcare industry. They offer eco-friendly benefits without compromising on protection or durability, making them suitable for examination use in dental and medical settings.
"We are excited to introduce the Bio Nitrile Biodegradable Nitrile Gloves to our customers," said a spokesperson for Cranberry. "These gloves reflect our commitment to sustainability and innovation. We believe that our customers will appreciate the eco-friendly aspect of the gloves, without compromising on quality and performance."
Cranberry's Bio Nitrile Biodegradable Nitrile Gloves are available now. For more information, please visit: www.cranberryusa.com.