Kettenbach Releases a New Fluoride Varnish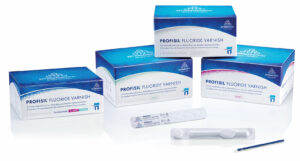 Profisil® Fluoride Varnish contains 5 % sodium fluoride in a mucosa-friendly, pleasantly flavored dimethicone gel. This formula is not made with ethyl alcohol or colophony (rosin), thus reducing the potential of soft tissue irritation or rosin-based allergies.
The benefit? No more stinging. No stickiness. No tackiness, clumping, or grittiness! Instead, the patient feels a smooth, silky, lubricious surface on the teeth…a natural, clean experience.
The treatment procedure remains the same. All after-care protocols remain the same. Varnish application can be performed in any manner preferred, by the dental professional, on wet or dry surfaces, with or without prophylaxis.  In fact, the dental professional does not need to learn anything new in applying Profisil or instruction of after-treatment care. It's all benefit and no downside.
Available in Berry, Mint, and Unflavored, there is a flavor (or none) that will appeal to the unique preferences of the most particular patient, young or old.
Sold direct to offices, pricing is attractive and shipped same day with orders placed before 2 pm Eastern.
You can learn more about Profisil by calling 877-532-2123 or by visiting www.kettenbach-dental.us.
---
About Kettenbach LP
Kettenbach LP is located in Huntington Beach, California, and is the exclusive US distributor for Kettenbach GmbH & Co. KG located in Eschenburg, Germany. Founded by August Kettenbach in 1944, Kettenbach GmbH was created for the development and marketing of medical and dental products. Today, the company is one of the leading international producers of dental impression materials, resin restorative materials, and preventive products.