Interim Therapeutic Restorations
Dental hygienists with additional education can use this powerful tool in caries stabilization.
Interim therapeutic restorations (ITRs) are a powerful tool within the realm of minimally invasive dentistry and a useful treatment option for caries stabilization. ITR, also known as atraumatic restorative technique, is a caries treatment approach that acknowledges that with the advent of glass ionomer (GI) materials and the science supporting incomplete caries removal, standard caries preparations—which weaken the tooth and contribute to the need to continually service the restoration—are not always the most appropriate first line of treatment.1 As neither local anesthesia nor the use of a handpiece to treat the lesion is necessary with an ITR, the technique has high patient acceptance.1,2 To meet both patient comfort needs and provide an effective caries treatment that does not compromise the tooth in the same procedure is, indeed, a game changer.
In California, the passage of AB1174 in 2014 enabled licensed dental hygienists who have completed the necessary continuing education (CE)—including a didactic component, a lab in which ITRs are placed and evaluated, and a clinical component—to place ITRs. The passing of this bill hinged on the positive outcomes documented after a 6-year pilot study of the safety and effectiveness of dental hygienists placing ITRs at the Pacific Center for Special Care at the University of the Pacific, Arthur A. Dugoni School of Dentistry (Pacific) in San Francisco. The use of ITRs by dental hygienists under general supervision of dentists is done through Pacific's Virtual Dental Home Program, in which oral health services are provided to underserved and vulnerable populations via teams of allied dental professionals who use telehealth technology in community settings throughout California.2
ITRs require the removal of carious tooth structure, which makes them different from placing temporary restorations. The use of ITRs is also allowable by Kansas dental hygienists who hold an extended care permit III, Minnesota dental hygienists and dental assistants with restorative permits, New Mexico dental hygienists who are also expanded function auxiliaries, Oregon expanded practice dental hygienists who have agreements with a dentist, Washington state dental hygienists (restorative care is part of their initial licensure), and Idaho dental hygienists with extended access restorative endorsements or extended access dental hygiene endorsements.3 It seems that the placement of ITRs may also be within the scope of practice for Maine public health and independent practice dental hygienists.3
CLINICAL PROCEDURE
The clinical procedure itself is quite simple and quickly completed once a clinician has gained familiarity with the process (Figure 1). The Pacific Center for Special Care notes that the following lesions are appropriate for ITR treatment when placed by dental hygienists in community settings: asymptomatic, clear of periapical pathology, located 2 mm or more from pulpal tissue, accessible, and do not require a matrix band. Once the treatment has been planned by the dentist, the dental hygienist can place the ITR.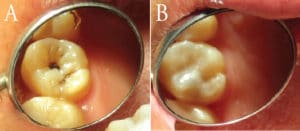 First the soft material of the carious tooth structure is removed using hand instrumentation in order to obtain a clean enamel margin. Once a clean margin has been obtained, the preparation is conditioned and GI is then placed in the excavated preparation. This can be accomplished with composite instruments, or even a gloved finger in the case of very small lesions. It is important to ensure that the restorative material does not interfere with occlusion, so the use of an instrument, such as a discoid-cleoid to shape the GI to the appropriate height and contour, is necessary. After light curing the GI, occlusion should be checked.1,2 
In addition to the benefits provided in patient comfort, ITRs provide distinct advantages for patients with high caries risk. As GIs are hydrophilic, they can be successfully placed in a slightly moist environment. GI is a useful fluoride reservoir, as well. In addition to using ITR treatment to stabilize teeth, the technique can address a large number of disease sites at once, quickly, and at significantly reduced cost. ITRs also fulfill the need for increased fluoride exposure to promote remineralization. For patients with many disease sites, ITRs can provide the time needed to consider whether each tooth needs to be addressed individually with more extensive restorative care. During this period, the disease etiology can be addressed and a better environment created for restorative care. In some cases, an ITR may be a final restoration. Regardless of the length of service life, an ITR has a place in the sequence of care for many patients.1,2
Finding means of incorporating new treatments into practice can require time and energy. Consider how ITR can meet needs within your patient population, particularly those with high and extreme caries risk. We are practicing in a time of great understanding of the caries disease process and the importance of minimally invasive dentistry, as well as with biomaterials that allow us to make different choices.
ACKNOWLEDGEMENT
The author would like to thank Paul Glassman, DDS, MA, MBA, director of the Pacific Center for Special Care at the University of the Pacific Arthur A. Dugoni School of Dentistry, for his assistance with this article.
REFERENCES
Schwendicke F, Dörfer CE, Paris S. Incomplete caries removal: a systematic review and meta-analysis. J Dent Res. 2013;92:306–314.
Glassman P, Subar P, Budenz AW. Managing caries in virtual dental homes using interim therapeutic restorations. J Calif Dent Assoc. 2013;41:744–747.
American Dental Hygienists' Association. Overview of Restorative Services Provided by Dental Hygienists and Other Non‐Dentist Practitioners. Available at: adha.org/resources-docs/7517_Restorative_Services_Factsheet.pdf. Accessed September 20, 2017.
---
From Perspectives on the Midlevel Practitioner, a supplement to Dimensions of Dental Hygiene. October 2017;4(10):41-42.