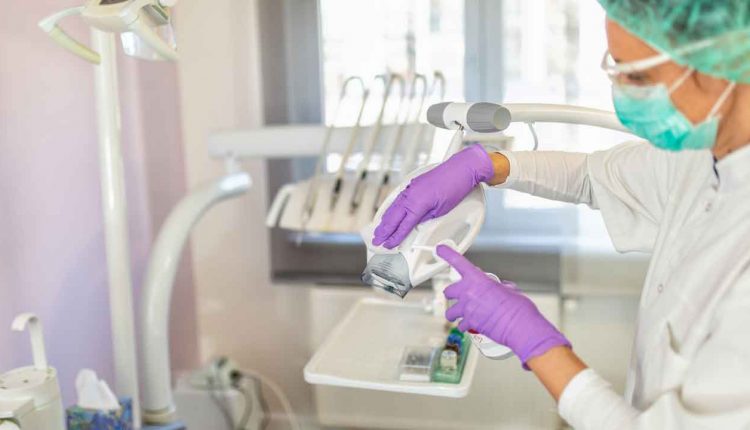 miljko / E+
Dental Hygienist Reflects on the Profession During the Global Pandemic
Dimensions Brand Ambassador Ann Cote, RDH, MSHA, reflects on the changes she has experienced since returning to work in May 2020.
During the COVID-19 pandemic, dental offices across the country were encouraged to postpone any and all routine preventive, nonessential dental appointments per the United States Centers for Disease Control and Prevention (CDC) and the American Dental Association (ADA). Dental offices were only permitted to provide emergency treatment. This made dentistry appear "nonessential." Clinicians are now dealing with the aftermath as patients return to the dental chair for preventive and nonessential dental care after months of delaying treatment.
US dental offices were slowly permitted to reopen for preventive procedures in May 2020.1 CDC and ADA2 guidelines require clinical dental staff to wear eye protection in addition to their facemask to ensure the eyes, nose, and mouth are all protected from exposure to respiratory secretions during patient care, as well as N95 respirators, or respirators that offer an equivalent or higher level of protection during aerosol-generating procedures. Adding more ventilation to dental offices and limiting any aerosol procedures were also suggested.
At 6 months after the start of the global pandemic started, many offices are back to business as usual according to a survey conducted by the ADA Health Policy Institute (ADA HPI). In March, the ADA HPI reported 76% of offices were closed and only seeing emergency patients, 19% of practices were closed and not seeing any patients, and 5% were open but with lower patient volumes.3 Poll data from September 21, 2020, show 46.8% of offices are open for business as usual and 52.4% are open but at lower patient volumes.4
In many cases, offices are now scrambling to make up for the 2 months to 3 months of they were closed. Many dental hygienists have been working extra hours to get patients caught up with recare appointments that had to be postponed. I returned to work in late May not only because I was eager to see my patients again but also because I love what I do.
I have experienced firsthand many patients continuing to postpone their appointments due to fear of COVID-19 and the misconception that dental care is nonessential. According to the ADA HPI's September 21 poll of consumers, 55% of patients said they are ready to receive dental treatment, 24% have recently seen their dental provider, 14% say a vaccine needs to be available before returning to the dental practice, and 7% require assurance from local/national medical and governmental agencies before feeling safe to return.4
Another issue is that not all dental hygienists are comfortable returning to work. The fear of contracting the novel coronavirus, difficulty accessing required but limited supplies of personal protective equipment, and securing childcare may hinder some dental hygienists' ability to return to work. This means that those clinicians willing to come back to work, like me, are carrying a heavier load.
I have always assured my patients pre-COVID and now during COVID-19 that our dental offices are safe. We always follow the current CDC and Occupational Safety and Health Administration guidelines regarding infection control. The majority of my patients seem comfortable when they witness all of the extra safety measures we have in place after re-opening, such as temperature checks, air purifiers, and social distancing.
In summary, the COVID-19 pandemic has deeply impacted dentistry on a financial level, but, I believe with time, things will bounce back. Many patients have returned to dental offices for their routine preventive appointments and elective procedures. Patients may be more cautious but they do understand the importance of their oral health needs. As oral health professionals, it is important to emphasize the infection control procedures we have in place to keep patients safe.
REFERENCES
—
Follow Ann on Instagram: @annie_dental_hygienious