Marketplace
A listing of featured products.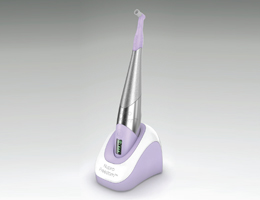 THE SMART CORDLESS PROPHY SYSTEM
Dentsply Sirona Preventive, York, Pennsylvania, introduces the Nupro Freedom Cordless Prophy System with SmartMode Technology, which provides clinicians with the ability to control the speed and power of the prophy cup, while freeing them from cords and foot pedals. According to the company, Nupro Freedom provides 25% more speed and power than the previous generation of Freedom handpieces. The system includes a cordless handpiece, and three autoclavable outer sheaths that allow a dental practice to comply with infection-prevention guidelines without needing to buy three separate handpieces. Also included are Disposa-Shield disposable polyethylene barriers to facilitate cleaning, and disposable prophy angles. SmartMode Technology is described as using gentle pressure of the prophy cup against the tooth to control its speed. An optional cordless foot pedal is available. 800-989-8825; nuprofreedom.com.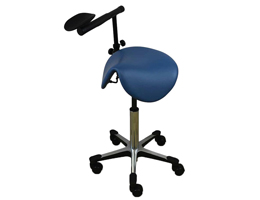 ERGONOMIC SEATING
Productive Practices, Bristol, Rhode Island, presents its new Straddle stool. Designed to provide seating with proper positioning of the spine and pelvis, this stool positions clinicians into an anterior pelvic tilt. This angle promotes balance of core muscles and maintenance of normal curvature without a backrest, while also reducing the risk of stress on the spine. 877-446-8088; productivepractices.net.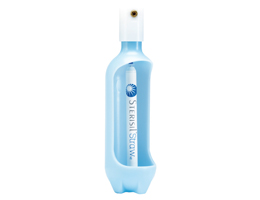 ALL-IN-ONE DENTAL MICROBIOLOGICAL CARTRIDGE
Sterisil, Palmer Lake, Colorado, recently launched its Sterisil Straw V2. This microbiological cartridge is the company's latest technology in the fight against waterborne pathogens in the dental waterline. The Sterisil Straw V2 features residual silver disinfectant, built-in shock treatment, and a lifespan of up to 365 days prior to replacement. Free of oxidizers, such as iodine and chlorine, this solution features a luer-lock fitting, which offers a reliable connection and reduced installation and replacement time. The Sterisil Straw V2 has a quantified EPA claim of ?10 CFU/ml HPC purity and employs several engineering best practices. 719-622-7200; sterisil.com.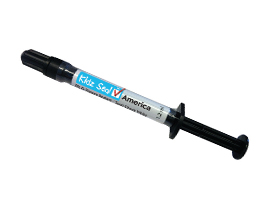 VERSATILE PIT AND FISSURE SEALANT
TAUB Products, Jersey City, New Jersey, introduces Kidz Seal–America—a pit and fissure sealant that can be used in both dry and wet fields. This self-adhesive and tooth integrating light-cure sealant has a low viscosity, is self-adjusting (no occlusal adjustment needed), and tooth integrating—all of which help seal against microleakage and deliver long-lasting retention. Offering sustained fluoride release and solid strength, Kidz Seal–America is ideal for high-volume practice settings. The sealant is sold in packages of four 1.2-ml syringes and 20 tips, and can be purchased from any trusted dental dealer. 800-828-2634; taubdental.com.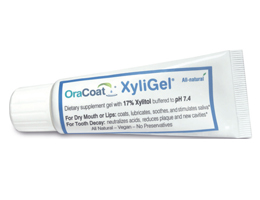 ORAL GEL RELIEVES XEROSTOMIA
OraCoat, a division of OraHealth Corp, Bellevue, Washington, recently launched a new version of OraCoat® XyliGel®. Formulated with all-natural ingredients, XyliGel coats the mouth with 17% xylitol and oral lubricant to help relieve the symptoms of xerostomia. It is ideal for patients who have very low levels of saliva or who prefer to use a gel vs a rinse or oral-adhering disc. XyliGel works by coating the mouth and lips, day or night. The pH buffered gel is nonacidic, stimulates saliva production for relief of dry mouth, and protects against plaque accumulation and resultant tooth decay. Free samples are available. 877-672-6541; oracoat.com.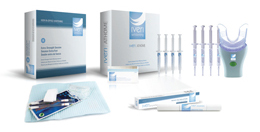 WHITENING SYSTEM
Zest Dental Solutions, Carlsbad, California, recently acquired Iveri Whitening—an innovative teeth whitening solutions company. With the acquisition, Zest now offers Iveri Teeth Whitening Technology. Delivering both in-office and at-home solutions to clinicians and patients alike, Zest's Iveri Whitening Technology is designed to simplify ease of use, minimize sensitivity, and deliver noticeable results. 800-262-2310; zestdent.com.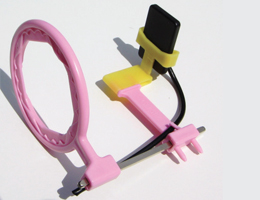 HOLDER FOR HANDHELD X-RAYS
ClikTech LLC, Scottsdale, Arizona, presents the ClikStik rod—the only holder that works with popular handheld X-ray units. Radiation safety mandates th e use of a circular backscatter shield, which interferes with traditional ring and rod systems. Unlike standard or shortened X-ray holder rods, the patented variable length ClikStik rod allows the user to align the ring as close as possible to both the patient and scattershield. This unique holder also allows the use of any biteblocks for X-ray film, phosphor storage plates, and digital sensors from most manufacturers, and makes it possible to capture an entire full mouth series with just one rod, one ring, and one ClikStik. 877-251-8594; clikray.com.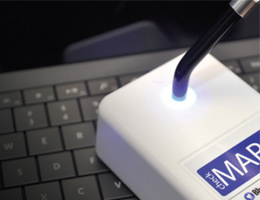 CURING LIGHT TEST SYSTEM
3M Oral Care, St. Paul, Minnesota, and BlueLight Analytics, Halifax, Nova Scotia, Canada, have partnered to offer the checkMARC Curing Light Testing Service. This professional service has been established to validate curing light performance and determine the required curing times for each curing light and material combination in the dental operatory. Using the checkMARC system, 3M Oral Care will now test and identify the efficacy of a practice's curing light, review curing protocols, and provide sound advice for improving clinical outcomes. 800-634-2249; 3m.com/curinglights, checkmarc.net.
---
From Dimensions of Dental Hygiene. February 2017;15(2):58-59.