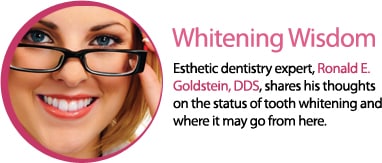 Whitening Wisdom
Esthetic dentistry expert, Ronald E. Goldstein, DDS, shares his thoughts on the status of tooth whitening and where it may go from here.
Tooth whitening was initially conceived to improve the appearance of teeth that had become discolored due to injury or endodontic treatment. Over the past 20 years, the popularity of tooth whitening has exploded, and it is now one of the most frequently requested dental procedures.1 Opinions vary on what effect this growth has had on the dental profession. Some believe it has brought more patients to the dental office, while others lament the missed opportunity to diagnose oral health problems when patients bleach their teeth without visiting their dental office first. Dimensions sat down with one of the pioneers of modern cosmetic dentistry—Ronald E. Goldstein, DDS—who shared his thoughts on contemporary tooth whitening.
Have there been any new whitening products or procedures developed over the past few years?
Tooth whitening is more widespread now than ever before, so many new over-the-counter (OTC) products have been introduced. Innovation is occurring with in-office whitening procedures that do not require light or heat to bleach the teeth. Also, the addition of medicaments to reduce whitening-associated dentinal hypersensitivity and advancements in tray design are new developments. Whitening trays are now made from softer materials that are less irritating to the tissues. But overall, the technologies used to whiten teeth are still the same.
Do the newly introduced OTC products offer improved efficacy?
All tooth whitening products are effective, but different products offer varying levels of efficiency. Factors that affect efficiency include the percentage of bleaching agent used and the time period that the treatment is implemented. We have found that one in-office whitening treatment followed by home application for 4 weeks to 6 weeks provides the best and most efficient results (Figure 1 through Figure 3). In-office whitening products are typically composed of 30% to 50% hydrogen peroxide, whereas OTC products often contain between 10% and 12% hydrogen peroxide. The active ingredient used in most OTC products is carbamide peroxide, which is a diluted form of hydrogen peroxide. Carbamide peroxide is very effective in home bleaching because anti-dentinal hypersensitivity products can be added to it and patients control exactly how frequently and how long they bleach, which often correlates to the amount of sensitivity encountered.
Is tooth whitening any safer today?
I think tooth whitening is safer in the sense that patients experience much less dentinal hypersensitivity through the addition of different desensitizing agents—such as fluoride, potassium nitrate, calcium phosphate technologies, and arginine/calcium carbonate—either to the whitening formulation itself or application before or after whitening treatment. To best address sensitivity, several steps are necessary. First radiographs must be taken so the patient's pulp can be viewed (Figure 4). How large are the pulps? Where are the pulp horns? How old is the patient? Have the pulps shrunk back so they are no longer a factor? These are all important questions to ask. If the pulps are large, then I would not recommend the patient start with in-office treatment but rather with the 10% desensitized bleaching agent in a tray for approximately 15 minutes to 30 minutes. If sensitivity occurs, slow down the treatment. Now the dental professional knows what the patient can tolerate.
| | |
| --- | --- |
| | |
What is the recare protocol for patients who have whitened their teeth?
Patients who experienced little change after tooth whitening several years ago should try bleaching again. Patients who experienced sensitivity in the past can be encouraged to try again because the pulps will have shrunk and they can use an at-home regimen with an added sensitivity agent. For patients who experienced positive results that have faded, another full whitening treatment is recommended. All whitening results deteriorate a bit over time. If a patient has yellow teeth and the yellowness is alleviated through whitening, the yellow most likely will not return but the teeth may appear less bright. Some patients may need retreatment at 1 year, 3 years, 5 years, or even longer. It depends on when patients feel they have lost some of their brightness. We also have patients who come in for "party bleaches." They want their teeth to look really bright for a special engagement so they come in for an inoffice treatment. These types of patients often inquire about whether porcelain veneers would provide the brightness they are seeking with less upkeep. The answer is: not necessarily. Veneers may look great the day they go in, 6 months later, 3 years later, but maybe in 5 years some discoloration in the root begins that causes shadowing on the veneer.
Tooth whitening is the answer for people who are satisfied with the color they can achieve and maintain. Others may need to seek different restorative solutions in the future.
What do you think the future holds for whitening products and procedures?
So much research has been done on tooth whitening in the past 20 years, and I know many companies are working on new ways to achieve more effective bleaching results. When considering the different compounds that can influence the shade of the tooth's cell structure, I think there is definitely room for innovation in products and techniques. I see a rising trend in the incorporation of tooth whitening into interdisciplinary care. For example, patients may add whitening treatment to their orthodontic treatment with clear aligners. Under professional supervision, the end result is whiter, straighter teeth with no extra time involved.
Why is it important for patients to whiten their teeth?
For patients who are happy with their teeth, whitening is probably not that important. For those patients who want a more esthetic smile, bleaching is key. Many patients don't realize what a difference a whiter, brighter smile can make in their appearance. People who work with the public, such as dental professionals, may inspire more confidence with a nicer smile. A great smile is such an important part of self-image. People with a good self-image tend to be more successful. More than 2,000 studies have shown the importance of the smile and the positive effects of self-assurance. It's called the physical appearance phenomenon.2 I have had many patients express the sentiment: "You want to look as good as you can because others have to look at you."
At what age do you think it is acceptable for young patients to consider whitening?
This really depends on the child. What is the child seeing when he or she looks in the mirror? Emphasis is being placed on appearance at much younger ages these days. It used to be teenagers who reported being unhappy with their looks, but now we're seeing this behavior in 9- and 10-year-olds. If the dental professional, parent, and child decide that whitening is appropriate, radiographs must be taken so the pulps can be evaluated. Research shows that the risk of damaging the pulp through tooth whitening is very slim, but a young person's pulps will most likely be more sensitive.3-5
In young patients with severe tetracycline stain, bleaching may not make much of a difference. If young patients are deeply affected by this type of unremovable stain, then I would recommend porcelain veneers. Also, I would definitely suggest microabrasion to painlessly remove white or brown spots.
Do you think the growth of whitening has brought more patients to the dental office?
Yes and no. Patients who have adopted OTC bleaching are not any more likely to visit a dental office. But patients who want the most effective and efficient whitening treatment definitely will visit the dentist. This is so important and I think the media has done a terrible disservice by not emphasizing this point—all patients should have a complete dental exam before beginning whitening treatment. Amidst the media attention surrounding bleaching, the importance of the dental visit is rarely stressed.
People who use at-home whitening kits and do not see a dentist are at risk of masking a serious dental issue or experiencing intense dentinal hypersensitivity, which could have been prevented by first consulting a dental professional. And people who have their teeth whitened at mall shops and kiosks, which do not staff dental professionals, are putting their health at risk.
The esthetic side of dentistry has received a lot of media attention over the past 10 years, do you think this has negatively affected the profession?
I think the public perception that dentists just put on veneers, perform bleaching treatments, and make people look good is negative. People do not understand what the dental profession is all about. On the other hand, the desire for veneers may be what motivates a patient to visit a dental office. It is then up to the dental professional to ensure that the patient receives a complete overview of his or her oral health after the initial exam. Health is first, esthetics are second. In my own practice, however, I would estimate that 80% to 90% of my new patients are seeking esthetic treatment. This is fine because when I start my exam, I don't look at esthetics, I look at the health of the teeth and the oral cavity. It is more important now than ever before—in dental hygiene and restorative and specialty dentistry—that we evaluate the patient's health first.
The views expressed in this interview are those of Ronald E. Goldstein, DDS
REFERENCES
ADA Council on Scientific Affairs. Tooth Whitening/Bleaching: Treatment Considerations for Dentists and Their Patients. Available at: www.ada.org/sections/about/pdfs/HOD_whitening_rpt.pdf. Accessed January 26, 2012.
Patzer GL. Looks: Why They Matter More Than You Ever Imagined

. New York: American Management Association; 2008.

Pugh G Jr, Zaidel L, Lin N, Stranick M, Bagley D. High levels of hydrogen peroxide in overnight tooth-whitening formulas: effects on enamel and pulp. J Esthet Restor Dent

. 2005;17:40-45.

Dahl JE, Pallesen U. Tooth bleaching—a critical review of the biological aspects. Crit Rev Oral Biol Med

. 2003;14:292-304.

Dadoun MP, Bartlett DW. Safety issues when using carbamide peroxide to bleach vital teeth—a review of the literature. Eur J Prosthodont Restor Dent

. 2003;11:9-13.
From Dimensions of Dental Hygiene. February 2011; 10(2): 36, 38, 41.