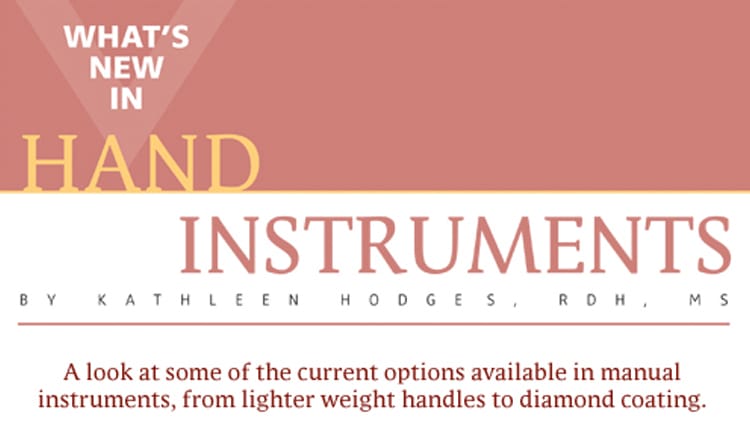 What's New In Hand Instruments
A look at some of the current options available in manual instruments, from lighter weight handles to diamond coating.
New technology in dental hygiene most often conjures up images of computers, lasers, and other high tech devices. However, a plethora of new technology associated with hand instruments is currently available.
Instrument Handles
One of the most versatile advances in hand instruments is the array of instrument handles, from metal to resin to silicone. These choices allow the clinician to change instrument handle size, as well as grips, textures, and weights. Silicone is a new material designed to improve ergonomics, texture, and weight.
DENTSPLY Professional makes a medical grade silicone design called Flexichange™, which is an ergonomically shaped handle with raised dots on its surface. The soft handle is wider near the working ends and narrower in the middle of the instrument (Figure 1). The handles are color coded to aid in instrument identification and selection.

ADMT Technology offers the Intervention line of instruments with ergonomically ribbed silicone handles with varying degrees of thickness—3/8 inch to 7/16 inch on the area next to the working end. This variance is intended to eliminate switching back and forth to different handle sizes during patient care to protect the operator from occupational injuries. The handles are color coded to easily identify the specific instrument. There are no sterilization limitations.
Big Easy™ instruments, made by Premier Products Co, also have medical grade silicone handles and were developed to prevent repetitive motion injuries. The instrument combines a resin handle with a silicone patented grip for ergonomics and control. The Big Easy™ Ultralite™ has a polymer handle with a medical grade silicone cushion grip that is 1/2 inch in diameter and weighs 16 grams. The Big Easy Hollow Handle Stainless Steel has the silicone around a hollow stainless steel handle to improve tactile sense and durability. It is 7/16 inch in diameter and weighs 23 grams.
G. Hartzell & Son also introduced a large 3/8 inch diameter, lightweight "A" handle to promote better ergonomics. It is made of stainless steel.
The GripLite™ S6 instruments are a new addition to Miltex Inc's GripLite line. The instrument family uses an ergonomic, wider diameter grip to reduce hand and wrist fatigue and features a lightweight, hollow stainless steel handle.
Flexible Plastic Probes
The Colorvue™ Probe Tips from Hu-Friedy Manufacturing Co Inc offer the option of using replaceable and flexible tips with 1 mm or 3 mm markings (Figure 2). The yellow probe with the black markings creates a striking contrast with the gingival tissue. Tips last 30 uses due to wearing of the color markings.
The PerioWise® Friendly Probe® by Premier Dental is a white, flexible, autoclavable 3-6-9-12 mm or 3-5-7-10 mm probe. At the tip is a green band indicating a 3 mm or less sulcus depth. Red millimeter markings are present at 5 mm or 6 mm and thereafter indicating disease (Figure 2). A PerioWise screening system is also available.
Paradise Dental Technologies makes the EasyView Probe System, designed to provide greater visibility, increased tactile sensitivity, and greater flexibility. The probe is made of thermal resin. The markings are in 2 or 3 mm increments. It is sterilizable, reusable, and indicated for implants.
Diamond Coated and Furcation Instruments
Another new advancement is medical grade diamond placed on the working ends of periodontal instruments. The activation of the instrument is with both a push and pull stroke with very light pressure in a multidirectional fashion. The diamond coating is placed 360° around the tip (Hu-Friedy Manufacturing Co Inc) or approximately 180° around the tip (Brasseler USA, G. Hartzell & Son). The back of the 180° instrument is smooth for placement against the tissue. Diamond-coated instruments are used for final debridement and polishing of root surfaces and furcations and not for heavy calculus removal.1,2 They are also used often in endoscopic therapy.
Different designs are made by different manufacturers (Diamond Tec™ File Scalers, Hu-Friedy Manufacturing Co Inc; Diamond Tip Curettes, Brasseler USA; Diamond Files, G. Hartzell & Son; Furcation Files, LM Instruments). One design is for buccal and lingual surfaces (SDCN7, Hu-Friedy Manufacturing Co Inc; 209.F1 and 209.F2, Brasseler USA) and other designs are for mesial and distal surfaces (SDCM/D7, Hu-Friedy Manufacturing Co Inc; 209.F3, 209.F4, 210.W3 and 210.W4, Brasseler USA). See Figure 3.
The buccal and lingual designs have right and left paired ends and, as such, universal application. The mesial and distal diamond coated working ends have a mesial end that is concave and a distal end that is convex on one instrument (Hu-Friedy Manufacturing Co Inc), or mesial and distal ends that are concave (Brasseler USA). The mesial and distal designs adapt to line angles and deep developmental grooves.
Upon examination of these instruments, they are not truly stainless steel periodontal working files, scalers, or curets by design. However, they are named as such because of their function, which is to remove light deposit and finish surfaces in narrow, inaccessible areas, like furcations. Research on the effects of diamond-coated scalers on root surfaces and in healing should be conducted, reviewed, and considered when making evidence-based decisions about the use of these instruments in clinical practice.
The Quetin furcation curets (Hu-Friedy Manufacturing Co Inc) are actually miniature hoes with semicircular blades designed to scale the floor or ceiling of a furcation. They are available in large and small sizes with buccal-lingual and mesial-distal instruments. A new instrument designed specifically to access furcations is the LM-Furcator made by the Finnish company, LM Instruments. The LM-Furcator is a delicate, small instrument designed to reach concave root surfaces.
Less Sharpening
Curets are available that require less sharpening when compared to other carbon or stainless steel instruments. The instrument blade is made with a stainless steel alloy with a fine finish and sharp blade (EverEdge™ Technology, Hu-Friedy Manufacturing Co Inc). The technology is created by a tempering process that uses advanced stainless steel alloy that is harder than traditional stainless steel. It then employs heat treatment and cryogenics to create the finest wear characteristics on the blade. An extra finishing step is employed to produce a smooth and sharp edge. It is available in most popular instrument designs (Figure 4).
Sharpening Eliminated
A new technology is being manufactured to eliminate, not reduce, the need for sharpening periodontal curets and sickle instruments. These instruments (XP™ Technology, American Eagle Instruments® Inc) have gold colored working ends created by impregnating titanium nitrate into stainless steel by surface engineering (Figure 5). This process produces a very hard but not brittle instrument surface and cutting edge(s) that maintain the original sharpness after each use.
Indications for this technology include debridement, fine scaling, and root planing of nontenacious deposits. Contraindications include large tenacious calculus deposits, overhang removal, and trimming restorative margins. Other instruments are designed for the latter purposes. The instruments are discarded after they become dull. The manufacturer estimates the longevity of the instruments to be 3 to 4 months and guarantees the instruments will last this long. The longevity, however, depends on the number of patient uses, the type of deposit, and procedures being performed. This technology is available in area-specific (Gracey curet series), universal, and sickle designs.
Relying On the Evidence
Clinicians are encouraged to make evidence-based decisions related to the use of new technology, including hand instruments, by combining evidence, clinical skills, judgment, experience, and patient preferences.3 Evidence-based decision making (EBDM) requires the clinician to ask solid questions about the use of these instruments, conduct a thorough search, appraise the evidence, apply the results in clinical practice, and evaluate clinical outcomes.3 For example, does a silicone handle provide the clinician with the same or better tactile sense as a metal handle? Does a flexible probe provide more comfort for patients? Do diamond-coated tips improve efficacy in finishing root surfaces when compared to area-specific curets? Use of EBDM will enable practitioners to make the best choices for their patients' benefit.
Currently, there are few or no scientifically controlled research studies evaluating these new features and instruments. Dental hygienists are encouraged to review the manufacturer's information, conduct computer searches, and read scientific literature as well as conduct research trials of their own. For now, implementation of these instruments into clinical practice and networking with other professionals about outcomes are ways to start evaluating these new advances.
This is an overview of recent advancements made in hand-activated instrumentation and is intended to provide the reader with insight into the variety of options available. While every attempt is made to be as comprehensive as possible, there may be inadvertent omissions. This article is not intended to endorse any specific product or manufacturer.
References
Matsuda, SA. Instrumentation of biofilm. Dimensions of Dental Hygiene. 2003;1(1):26-28,30.
Pattison, AM. Trends in instrumentation. Dimensions of Dental Hygiene. 2005;3(7):27.
Forrest, JL, Miller, SA. Evidence-based decision making—a new term for a new concept. Dimensions of Dental Hygiene. 2005;3(9):12.
---
From Dimensions of Dental Hygiene. Nov 2005;3(11):26, 28-29.