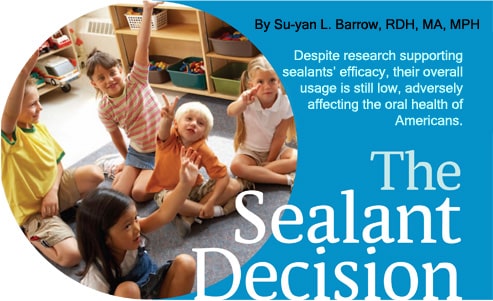 The Sealant Decision
Despite research supporting sealants' efficacy, their overall usage is still low, adversely affecting the oral health of Americans.
Occlusal pits and fissures provide an ideal ecological niche for the microflora of the oral cavity.1 Sealants were developed to prevent caries by reducing the impaction of food and debris within pits and fissures, which create acidic conditions that result in carious lesions.2 Recent studies show that more than 90% of new carious lesions are confined to pits and fissures, illustrating that sealant usage in the developmental fissures, including facial pits and lingual fissures, can significantly reduce decay.3
According to Simonsen, the success of sealants depends on the application procedure.1 The appropriate application of pit and fissure sealants to at-risk teeth is one of many complementary strategies for preventing dental caries.4 When sealants are totally retained on teeth, they prevent caries. Therefore, sealant efficacy is assessed today using sealant retention as a measure of effectiveness.3
SELECTION CRITERIA
As pit and fissure caries is biofilm related, age should not be a consideration for dental sealants. Research indicates that occlusal caries susceptibility does not diminish throughout life, therefore, adults can benefit from dental sealants as well as children.5 Sealants are particularly helpful for people with medical conditions associated with higher caries rates, children who have experienced extensive caries in their deciduous teeth, and children who already have incipient caries in a permanent molar tooth.6 Performing an initial risk assessment on patients early in life and then repeating it periodically throughout adulthood is imperative to identifying those at the greatest risk for developing dental caries.7
If a tooth has no occlusal cavities within a 2-4 year period after eruption, the tooth is unlikely to decay and a sealant is unnecessary. However, several studies demonstrate that predicting occlusal caries in the permanent first molars by means of prior caries experience in the primary dentition is difficult8 and that the judgment of deep occlusal anatomy varies from one practitioner to another. This illustrates the shift in paradigm regarding patient selection criteria and, most recently, the debate on whether or not to seal noncavitated incipient teeth.1
In a retrospective evaluation of the natural history of permanent first molars 4 years after presumed eruption in children at age 6, Bhuridej and colleagues concluded that the permanent first molars with sealants received less subsequent restorative treatment than did permanent first molars without sealants.9 Therefore, the recommendation is that sealants should be used for people whose teeth are at risk for pit and fissure caries regardless of age. However, in a study conducted by Wendt and colleagues the location of the sealants could be problematic. In this study, the buccal pits of mandibular molars were more difficult to seal than occlusal surfaces due to moisture control.2
RISK ASSESSMENT
The ability to accurately assess whether a lesion is static, advancing, or regressing is paramount in determining the required course of treatment.7 Risk assessment is considered a necessary component in the clinical decision-making process.10 Although dental hygienists do not definitively diagnose dental caries, they are responsible for detecting caries at all stages of disease and recognizing risk factors.5 A detailed analysis of these factors together with the exposure to protective factors, eg, fluorides, past history of dental caries, and current presence of active disease, are necessary components of risk assessment and help determine the most appropriate plan for a particular patient.11 Risk assessment tools are available, such as the American Academy of Pediatric Dentistry's Caries Risk-Assessment Tool (CAT)12 and from the American Dental Association (ADA) Council on Access, Prevention, and International Relations.13 Based on the environment of the oral cavity, lesions may progress, stabilize, or regress.14 Awareness of these changes can assist the dental hygienist in accurately predicting and identifying patients at risk for dental caries as well as planning management and preventive strategies.5
TO SEAL OR NOT TO SEAL
Because pit and fissure caries is not always easy to detect, the use of sealants on questionable carious pits and fissures remains controversial.3 In a study conducted by Swift where carious lesions were sealed, the findings indicated a decrease in the number of viable microorganisms in lesions under intact sealants.15 The American Academy of Pediatric Dentistry conducted a survey of pediatric dentists and found that 80% of the respondents routinely seal caries-free and questionable occlusal surfaces, however, the remaining 20% reported sealing incipient occlusal caries.16 The authors reported that when the sealant remained intact, the lesions did not progress and, in some instances, actually regressed.4 Since the highest rate of sealant loss in clinical studies is in the first year following placement, success depends on meticulous operator technique in placing sealants. Patients with sealants should also have them checked biannually.3
The results of numerous research investigations conclude that if the caries is confined to the enamel surface, the bacteria are trapped in the fissure and arrested with the sealant application. This is because the source of nutrients from the oral cavity to the mutans streptococcus is eliminated by the sealant.17 This evidence is supported by the ADA Council and the American Academy of Pediatric Dentistry. The stipulation is that the decay is not advanced, which would cause the caries to progress if the sealant was lost.14 Eccles noted: "Fissure sealants should be used preventively for the caries-prone patient, and therapeutically for the suspect or early carious lesions."18 Sealants are clinically effective in preventing caries for as long as the sealant material remains in place.4
BARRIERS
Since the introduction of dental sealants, many dental practitioners have expressed several reasons for not fully adopting the use of sealants in their practices. The recurring reasons include concerns about inadvertency of sealing small undetected decay, the belief that sealants are not effective, and the perception that sealants are not reimbursable through insurance.19 Some of these reasons may explain why sealant use is still well below the goal of 50% usage by 2010 as set forth by the Healthy People 2010 campaign through the Centers for Disease Control and Prevention (CDC).20
Other factors that affect sealant usage relate to the attitudes of parents/caregivers of children. Using data from the National Health and Nutrition Examination Survey (NHANES) 1999- 2000, Jones et al investigated whether the disparities in the receipt of dental sealants among school-aged children was linked to caregivers' knowledge of the preventive purpose of sealants.21 Both knowledge of sealants and prevalence were positively associated with income level. Among higher- income families, 71% of caregivers exhibited sealant knowledge, compared to 47% of their low-income counterparts. The lack of an association between sealant prevalence and knowledge among lowincome families may reflect higher levels of public provisions of sealants to this group.21
Lack of insurance coverage is the major barrier to patients receiving sealants, in addition to low reimbursement rates. The risk of inappropriate use or abuse is a concern with adding sealants coverage to third party dental programs, which could result in overtreatment.22 The initial insurance coverage for sealants is often declined and insurance coverage for repair and/or replacement many be limited.23 Many patients may not be willing to pay out-of-pocket for sealants.
COMMUNITY / SCHOOL-BASED PROGRAMS
Targeting children at high risk for tooth decay and applying dental sealants can result in considerable savings for society.24 Many children from uninsured and/or low-income families can greatly benefit from community-based or school-linked sealant programs and several are running successfully today. These programs demonstrate that school-based programs can provide effective preventive services to children at high risk for tooth decay and least likely to receive dental care. According to the CDC, children receiving dental sealants in school-based programs have 60% fewer new decayed pit and fissure surfaces in the posterior teeth for up to 2 to 5 years after a single application. Among children, 90% of decay is in pits and fissures.25 The CDC has implemented computer software—Sealant Efficiency Assessment for Locals and States (SEALS)—as an evaluation and benchmarking tool for administrators of community sealant programs.26
FUNDING OPPORTUNITIES
The Oral Health National Agenda Guidelines recommend the development of private-public partnerships to address the oral health needs of our children, especially those at high-risk for oral diseases. Oral Health America (OHA) is an independent advocacy organization that is responding to the Surgeon General's Call to Action to Promote Oral Health in America.6 The organization has implemented the program, Smiles Across America, to improve the oral health of all Americans. It has been instrumental in establishing partnerships with educational and community-based organizations and schools to help fight untreated oral diseases. One of OHA's strategies to achieve these goals is the National Sealant Alliance, which in partnership with American's Promise, provides donated dental sealant material to school-based and school-affiliated programs.
Government funding supports states that ensure the health of all mothers, infants, children, adolescents, and children with special health care needs. The goal of the Maternal and Child Health Bureau (MCHB) is to improve the health of all mothers and children consistent with the applicable health status goals and national health objectives. The bureau's objectives include promoting comprehensive, community-based oral health care services that combine public and private delivery systems; maximizing the effectiveness of Medicaid and State Children's Health Insurance Program; and encouraging the application of science to practice in order to reduce disease burden.27 Funding for oral health programs has been provided by MCHB, such as the Children's Dental Sealant Project in San Diego County, Calif, where children from five elementary schools receive preventive services.28
For many years, professional health associations and public health agencies, as documented in Healthy People 2010, have been recommending pit and fissure sealants for application on susceptible tooth surfaces. Sealants are cost-effective preventive measures when compared to treatment costs and the discomfort resulting from dental decay. The National Oral Health objective for the provision of dental sealants in the general population has not been met. The dental health and public health communities need to continue to strive to meet this objective.
REFERENCES
Simonsen R. Pit and fissure sealants: review of the literature. Pediatr Dent. 2002;24:393-414.
Wendt LK, Koch G, Birkhed D. On the retention and effectiveness of fissure sealants in permanent molars after 15-20 years: A cohort study. Community Dent Oral Epidemiol. 2001;29:302-307.
Van WF, McIver FT. Pit and fissure sealants: An overview of issues related to diagnosis and treatment decisions. Available at: www.mchoralhealth.org/pdfs/pit_fissuremonograph.pdf. Accessed October 31, 2006.
Truman BI, Gooch BF, Sulemana I, et al. Reviews of evidence on interventions to prevent dental caries, oral pharyngeal cancers, and sports-related craniofacial injuries. Am J Prev Med. 2002;23(1 Suppl):21-54.
Barnes CM. Dental hygiene participation in managing incipient and hidden caries. Dent Cli North Am. 2005;49:795-813.
Oral Health America: A Report of the Surgeon General. Rockville, Md: United States Department of Health and Human Services, National Institute of Dental and Cariofacial Research; 2000.
Jackson R, Fontana M. Maximizing the benefits of sealants. Dimensions of Dental Hygiene. 2005;3(2):16, 18, 20-21.
Ismail AI. Reactor paper: minimal intervention techniques for dental caries. J Public Health Dent. 1996;56:155-160.
Bhuridej P, Damiano PC, Kuthy RA, et al. Natural history of treatment outcomes of permanent first molars: a study of sealant effectiveness. J Am Dent Assoc. 2005;136:1265-1272.
Barber LR, Wilkins EM. Evidence-based prevention, management, and monitoring of dental caries. J Dent Hyg. 2002;76:270-275.
American Dental Association. Treating caries as an infectious disease. J Amer Dent Assoc. 1995;126:2-8-15-8.
American Academy of Pediatric Dentistry Council on Clinical Affairs. Policy statement on the use of a caries-risk assessment tool, adopted 2002. Available at: www.aapd.org/pdf/policycariesriskassessmenttool.pdf. Accessed October 30, 2006.
Rethman J. Trends in preventive care: caries risk assessment and indications for sealants. J Am Dent Assoc. 2000;131:8S-12S.
Jackson R, Fontana M. Preventing the progression. Dimensions of Dental Hygiene. 2006;4(7):28,30-31.
Swift EJ Jr. The effect of sealing on dental caries: a review. J Amer Dent Assoc. 1988;116:700-704.
Primosch RE, Barr ES. Sealants and placement techniques among pediatric dentists. J Am Dent Assoc. 2001;132:1442-1451.
Going R, Loesche W, Graniger DA, Syed SA. The viability of microorganisms in carious lesions five years after covering with a fissure sealant. J Am Dent Assoc. 1978;97:455-462.
Eccles MF. The problem of occlusal caries and its current management. N Z Dent J. 1989;85:50-55
Siegal M, Farquhar CL, Bouchard JM. Public Health Rep. 1997;112:98-106.
Centers for Disease Control and Prevention. Healthy People 2010. Oral Health Objective 21. Available at: www.healthy people.gov/Document/word/Volume2/21Oral.doc. Accessed October 30, 2006.
Jones K, Griffin S, Moonesinghe R, Jaramillo F, Vousden C. Reducing Dental Sealants disparities in school-aged children through better targeting of informational campaigns. Prev Chronic Dis. 2005.
Siegal MD, Garcia AL, Kandray DP, Giljahn LK. The use of dental sealants by Ohio. J Public Health Den. 1996;56:12-21.
American Dental Association, Statement on preventive coverage in dental benefits plans. Chicago, Ill: 1994:656.
Bertness, J, Holt, K. (eds). 2006. Dental Sealant Resource Guide (2nd Ed.). Washington, DC: National Maternal & Child Oral Health Resource Center.
Centers for Disease Control and Prevention. Department of Health and Human Services. Morbidity and Mortality Weekly Report, Surveillance for dental caries, dental sealants, tooth retention, edentulism, and enamel fluorosis – United States, 1988-1994 and 1999-2002. 2005;54:SS3.
Jones K, Griffin S. User's Manual for SEALS: Sealant Efficiency Assessment for Locals and States. Atlanta: Centers for Disease Control and Prevention; 2006.
Maternal and Child Health Services Title V Block Grant. United States Department of Health and Human Services. Health Resources and Service Organization. Available at: http://mchb.hrsa.gov/programs/blockgrant/overview.htm. Accessed October 30, 2006.
Cuevas S. Children's Dental Sealant Project: Final Project. Available at www.syhc.org. Accessed October 30, 2006.
From Dimensions of Dental Hygiene. November 2006;4(11): 34, 36, 38.