The Information Revolution
How dental informatics is changing the practice of oral health care.
PURCHASE COURSE
This course was published in the June 2013 issue and expires June 2016.
The authors have no commercial conflicts of interest to disclose.
This 2 credit hour self-study activity is electronically mediated. 
EDUCATIONAL OBJECTIVES
After reading this course, the participant should be able to:
Define dental informatics.
Identify the scope of dental informatics.
Discuss the practice of dental informatics.
Identify further resources for information on 

dental informatics.
---
The information revolution has affected modern life across a broad spectrum—from the most mundane tasks to national and international security. It seems almost unbelievable that the large, bulky mainframes of the 1960s, used only in large companies with masses of data to manage, led to the ubiquitous smart phone, of which it is estimated there will be 1.4 billion in use around the world by the end of this year.1 With inexpensive hardware, an expansive selection of software products, and the ability to transfer large quantities of data, the digital age is here.2 But how does this affect dentistry and dental hygiene?
DENTAL INFORMATICS
Dental informatics is the application of computer and information science to improve dental practice, research, education, and management.3 A relatively new field, dental informatics can provide significant support to clinical care. As it evolves, dental informatics has the potential to become a core discipline with a literature base to support it, specialists with expertise in the field, and educational programs to teach it to a wide audience.4
Dental professionals collect, display, and analyze data differently than their medical counterparts. While the general medical and medication histories collected by both medical and dental professionals share many common elements, dental history and oral health status have no equivalent in medicine. Consequently, the development, implementation, and evaluation of computer-based dental records present both challenges and opportunities for dental informatics.5
Dental informatics combines dentistry and several disciplines, such as computer science and telecommunications. Limited areas of overlap exist between information technology and dental informatics. For example, a dental informatics team may conceptualize a computerized method to organize patient history archives and then seek the technical expertise of an information technology team to help with software development.6
Because dentistry is an information intensive discipline, almost every aspect benefits from the application of computer and information sciences. The ubiquitous reach of today's computer networks indicates significant change—dentistry is not an isolated province of health care anymore.7 Dentistry is now, more than ever, connected to a larger system of stakeholders, regulations, expectations, accountability, and risk.
The main goal of dental informatics is to improve patient outcomes. A secondary goal is to make the delivery of dental care more efficient, for example, by maintaining or improving cost-benefit ratios.5 Dental informatics has many applications in dentistry and dental hygiene, including dental education, record keeping, computer-aided design/computer-aided manufacturing (CAD/CAM), computer video imaging, digital radiography, teledentistry, and research.
EDUCATION
In dental and dental hygiene education, computer-assisted learning packages have been developed in several dental disciplines such as oral pathology, tooth anatomy, trauma, general teaching, and as interactive programs to provide students with the ability to develop their critical thinking and decision-making skills.8
Simulation is an important aspect of dental informatics used in dental and dental hygiene education. By providing students with a virtual realm in which they can practice clinical procedures, as well as have their progress assessed, students often learn faster and decrease the time needed to achieve competency.9 E-textbooks are also used, which can be read, annotated, and cross-referenced on a computer. Instructors also have many digital tools in their armamentarium to provide lecture recording and broadcasting, student response systems, and tutoring applications.10
ELECTRONIC ORAL HEALTH RECORDS
Electronic oral health records are used to document patient care with respect to individual patient's health conditions and concurrently manage the resources needed to provide patient care. There have been many productions of the electronic oral health record with different approaches and focuses, such as inclusion of dental history, oral status, treatment planning, progress notes, patient care database, medical alerts, clinical care guidelines, care modifiers, and diagnostic decision support.11
While many dental practices continue to adopt electronic patient records, mainly for organizational and patient privacy concerns, dental informatics can push the electronic oral health record beyond just a replication of paper charts. The next generation of these records will also provide avenues for quality improvement, application of best evidence, corroboration for decision making, and inclusion of systemic health factors.2 As electronic records become more interactive, they may also play a role in integrating prevention guidelines into patients' general health records in an effort to decrease the incidence of dental disease through collaboration with nondental health care providers.2,10
COMPUTER-AIDED DESIGN/COMPUTER-AIDED MANUFACTURING
CAD/CAM technology is widely used in restorative dentistry to generate tooth-colored fillings that are bonded to front and back teeth. CAD/CAM can be used for making fillings chairside in the dental office or for fabricating restorations in a dental laboratory.11 Some of the benefits of using CAD/CAM to create dental restorations include availability of new, prefabricated, and controlled materials; better quality and reproducibility; improved precision and planning; and increased efficiency. With continued advancement in both hardware and software development, CAD/CAM technology will become more widely adopted and less expensive to implement.12
PATIENT EDUCATION
Patient education software systems can inform patients about their oral health status and proposed treatment options. In addition, computer video imaging can provide patients with visual images of how they might look after restorative, orthodontic, or surgical care. These applications can improve treatment acceptance and support informed consent.
DIGITAL RADIOGRAPHY
The advancements in digital radiography are really a breakthrough in the field of dentistry.13 The most significant advantages include computer-aided image interpretation, image enhancement, and reduction of radiation exposure, in addition to the obvious options of standardized image archiving and easy image retrieval.14 The use of digital radiography is also more time efficient because film processing is not needed.15
TELEDENTISTRY
The term "teledentistry" is defined as "the use of information technology and telecommunications for dental care, consultation, education, and public awareness in the same manner as telehealth and telemedicine."16 Teledentistry can extend advanced care to patient populations at a reasonable cost through their health care providers, as well as ease the problem of too few dental specialists and professional isolation in rural areas.17
RESEARCH
Although dental informatics is not widely used in research currently, it has many possible applications. Because scientific data are being compiled at a more rapid pace, federal regulations on the conduction of research have become more stringent, and the demands for data sharing and management have grown, the applications abound for dental informatics in this arena. New ways of using information technology in data collection, in addition to reducing the cost of implementing dental informatics, need to happen in order to increase the use of dental informatics in research.2
PRACTICE OF DENTAL INFORMATICS
Dental Informatics has the potential to improve the effectiveness, efficiency, and overall quality of care provided by dental professionals. Table 1 lists the elements of patient care that are enhanced through dental informatics.18
Dental professionals can integrate information technology into practice by learning about the technology options.6 Looking for unbiased reviews online and in journals, asking fellow dental professionals, and taking continuing education courses are all strategies for seeking out information about dental technology. Once a new technology is identified as a possibility, clinicians will need to evaluate how it will complement the dental team's current workflow and recognize that there are no short cuts to integrating technology into practice. However, when done thoughtfully, informatics allows the dentist and dental team to concentrate on what they do best—deliver patient care.6 The research agenda of dental informatics is continually evolving.4 Table 2 lists a few of the research areas currently being addressed.4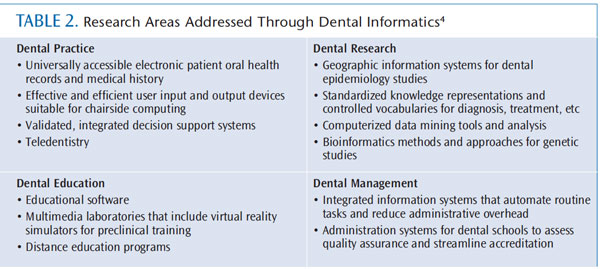 The success of dental informatics requires the expertise of a broad range of professionals. There is no need to have a computer science degree to get involved in dental informatics. People who have contributed to the advancement of dental informatics come from a variety of fields including research, education, bioinformatics, computer science, library and information sciences, and dentistry.5
RESOURCES FOR DENTAL INFORMATICS
Currently, dental informatics does not have a mainstream journal or professional society of its own. Rather, a variety of professional organizations have developed dental informatics programs. For example, the American Dental Association (ADA) dedicates one day of its annual conference to the latest technologies, the American Dental Education Association hosts an annual session dedicated to informatics, and the American Medical Informatics Association holds an annual symposium that includes a presentation on dental informatics.
Continuing dental education programs across the United States provide a variety of courses focusing on dental informatics. The Dental Informatics Online Community is a National Library of Medicine-funded project to create an open, worldwide research community for people interested in dental informatics.7 The National Library of Medicine is the world's largest medical library and is a division of the National Institutes of Health operated by the federal government. The Dental Informatics Online Community includes literature to enhance research and practice, a supportive community to seek feedback and collaboration, and announcements of meetings and conferences.7
SUMMARY
The growth of information technology innovations, such as high-capacity digital networks, powerful computer hardware and software, high-resolution digital image compression, the Internet, and very high data speeds enabling faster image transmission, has reshaped our lives already. The question is to what degree it will transform dentistry.
Many dental professionals are still unaware of the informatics field and its growing importance to dental practice, research, and education. Putting the theories and concepts of informatics into practice requires some effort and significant investment. However, if implemented and used optimally, dental informatics will change the delivery and efficiency of dental care.
REFERENCES
ABI Research. 45 Million Windows Phone and 20 Million BlackBerry 10 Smartphones in Active Use at Year-end; Enough to Keep Developers Interested. Available at:
www.abiresearch.com/ press/45-millionwindows-phone-and-20-million-blackberry. Accessed May 17, 2013.
Schleyer TK, Thyvalikakath TP, Spallek HS,Dziabiak BA, Johnson LA. From information technology to informatics: the information revolution in dental education. J Dent Educ

.

2012;76:142–153.
Schleyer TK. Dental informatics: an emerging biomedical informatics discipline. J Dent Educ. 2003;67:1193–2000.
Schleyer TK. Dental informatics: a work in progress. Adv Dent Res. 2003;17:9–15.
Schleyer T, Spallek H. Dental informatics. A cornerstone of dental practice. J Am Dent Assoc. 2001:132;605–613.
Schleyer TK, Spallek H, Bartling WC, Corby P.The technologically well-equipped dental office. J Am Dent Assoc.

2003:134;30–41.

The Virtual, Global Community for AnyoneInterested in Dental Informatics. Available at: www.dentalinformatics.com. Accessed May 17, 2013.
Buchanan JA. Use of simulation technology in dental education. J Dent Educ.2001:65;1225–1231.
Lackey MA. One year's experience with virtual reality preclinical laboratory simulation at the University of Tennessee. Int J Comput Dent

. 

2004;7:131–141.
Damiani G, Pinnarelli L, Colosimo SC, et al.The effectiveness of computerized clinical guidelines in the process of care: a systematic review. BMC Health Serv Res

. 2010;10:2.

Heid DW, Chasteen J, Forrey AW. Th eelectronic oral health record. J Contemp DentPract. 2002;3;1–13.
Beuer F, Schweiger J, Edelhoff D. Digita ldentistry: an overview of recent developments for CAD/CAM generated restorations. Br Dent J

. 

2008;10;204:505–511.
van der Stelt PF. Filmless imaging: the uses of digital radiography in dental practice. J Am Dent Assoc. 2005:136;1379–1387.
Nair MK, Nair UP. Digital and advanced imaging in endodontics: a review. J Endod. 2007;33:1–6.
Wenzel A, Moystad A. Work flow with digital intraoral radiography: a systemic review. Acta Odontologica Scandinavica. 2010;68:106–114.
Clark GT. Teledentistry: what is it now, and what will it be tomorrow? J Calif Dent Assoc. 2000;28:121–127.
Daniel SJ, Kumar S, Wu L. Teledentistry:clinical outcomes, utilization and costs. J Dent Hyg. In press.
Feuerstein P. Can technology help dentistsdeliver better patient care? J Am Dent Assoc. 2004;135:11S–16S.
From Dimensions of Dental Hygiene. June 2013; 11(6): 52–55.