The Future is Yours
Advocacy is key to improving the oral health of all Americans and ensuring the vitality of the dental hygiene profession.
You have invariably heard the story of a couple who discover that their newborn baby has a rare disease. Together, they learn as much as possible about their child's condition, and then create a foundation to raise funds to increase awareness and to support research that may contribute to a cure. This classic tale demonstrates how advocacy can make a profound difference in the lives of many.
Advocacy describes the process of supporting a cause, field of study, aspect of social justice, or candidate for election, to name a few. The recipe for advocacy requires a few significant ingredients, including heaping cups of focus, endurance, and well-developed communication skills, as well as a generous dose of passion. The ability to work within a team is essential as advocacy is most often accomplished in groups.
By serving as an advocate for your profession, you can make a difference in your own future, as well as the future of dental hygiene. As the profession of dental hygiene approaches its 100th anniversary in the United States, this is an excellent opportunity to assess your desire to serve as an advocate to further advance the management of oral diseases and disorders for all Americans.
TIMES HAVE CHANGED
When dental hygiene was formalized in the early 20th century, life expectancy was 47 years and acute bacterial infections were the primary cause of morbidity and mortality. In the ensuing 100 years, the human lifespan has essentially doubled, and today's main causes of disability and death are chronic diseases. The number one chronic disease among children is dental caries. The primary cause of tooth loss is chronic periodontal diseases. When considering our advocacy agenda, I suggest we ask: "How can the profession of dental hygiene best serve society's health and well-being in the 21st century?" "How do we best prepare ourselves to learn and work with other health professions?" "Are we positioned to be players at this time in history?" "Should we strengthen our knowledge and skill sets to become more effective advocates for the health of all Americans?"
GRIM REALITY
Today, more than one-third of the US population does not have dental insurance. Access to oral health care for nearly 110 million Americans is in jeopardy. Research shows that between 2000 and 2010, the percentage of adults with access to oral health care fell by roughly 4%; among uninsured adults, the drop equated to 9%.1 According to the Pew Center on the States, the rate of annual dental visits for adults between 2000 and 2010 declined the most in Florida (10.3%), Tennessee (9.8%), and Kentucky (8.6%).2 Today, a baby is born every hour with cleft lip and/or palate.3 An American dies every hour from oral cancer; essentially no improvement over the past 50 years of recording such data.4
Despite many decades of progress, too many older adults are edentulous. Virtually every state in the US experienced deteriorating access to care among adults over the past decade.
THERE IS HOPE
Through my work on the Surgeon General's report, "Oral Health in America," from 1996 to 2000, I learned that two-thirds of Americans receive excellent access to oral health care, but one-third has little or no access. My team and I discovered that access to health care was affected by many socioeconomic determinants such as education, mental health, geography, transportation, distribution of oral health professionals, general health, insurance status, ethnicity, and poverty, as well as behaviors of oral health professionals.5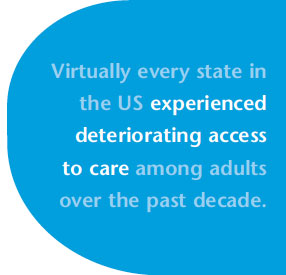 The state of Maryland has made immense strides in addressing access to care issues in the wake of 12-year-old Deamonte Driver's death due to tooth decay in 2007.6 In 2009, Maryland legislators made Medicaid participation less cumbersome for oral health professionals. The state also created a new category of oral health professional—the public health dental hygienist—to enhance the state's capacity to provide preventive services for the underserved. State-level changes can have a profound influence on the quality of life for all Americans. Over the next few years, it will be encouraging to see the progress Maryland achieves in decreasing unmet health care needs, improving access, and fostering transprofessional alliances between public and private entities.
CALL TO ACTION
Careful analysis of national data sets reveals that access to oral health started declining before the start of the recession in 2008, and that reduced access occurred for adults with all types of health insurance. Access issues are not only rampant for those who live in poverty but also for the minimum wage workforce. Due to limited reimbursement policies at the state-level, many dentists and other oral health professionals do not accept certain types of compensation from underserved populations. These issues are highlighted in the PBS television program Frontline's segment "Dollars and Dentists" that aired on June 26, 2012.
Besides addressing access to care problems and the various forms of reimbursement for oral health care services, this segment also covered the Alaska and Minnesota state-level dental therapist clinician model as another approach to meeting the oral health needs of millions of Americans. Our health care system produces profound inequities in the access and delivery of care, as well as in health outcomes, with certain people left less able to access services while also experiencing significantly poorer health than other population segments. If we accept the evidence, clearly define the set of problems, and marshal our collective ingenuity, we should be able to discover solutions that will lower costs and improve outcomes.
I am excited about the possibilities of improving health care for all people in our society. I am also looking forward to an era of wide spread acceptance of the association between oral and systemic health, as well as improved accountability— where better quality of care is provided at lower costs. I urge you to examine the Surgeon General's report "Oral Health in America,"5 the Institute of Medicine's "Oral Health, Advancing Oral Health in America,"7 and the National Academy of Sciences' "Improving Access to Oral Health Care for Vulnerable and Under served Populations."8
These excellent reports describe the oral health disparities in the US, address the need for improved measurement of the results of oral health care services, and investigate strategies for improving quality and accessibility in health care. As a dental hygienist, maintaining a membership in your national organization, the American Dental Hygienists' Association, is key to effective advocacy. The dental hygiene profession is facing some significant challenges.
Can dental hygiene forge transprofessional coalitions with other health professions that could help provide optimal oral health care for all Americans? Can dental hygienists take a larger role in preventive services, including risk assessment? Will dental hygiene education include more depth in oral-systemic diseases and treating special needs patients, including frail or medically-compromised older adults?
Should dental hygienists be better prepared to manage populations beyond the single patient in a dental office? Is there a role for dental hygienists outside of an operatory with oversight by a dentist? The future of the profession lies within the answers to these questions. To consider these and other related issues, I suggest you routinely visit the National Institute of Dental and Craniofacial Research's website (www.nidcr.nih.gov) to take advantage of the many educational and patient care opportunities. I also encourage you to read "Oral Health Quality Improvement in the Era of Accountability" by Paul Glassman DDS, MA, MBA, on behalf of the W.K. Kellogg Foundation and DentaQuest Institute.9
Your dedication to lifelong learning coupled with your involvement in advocacy will make an enormous contribution. Wonderful experiences await you as you engage in advocacy for yourself and for your profession. The future is yours to shape.
REFERENCES
Kenney GM, Zuckerman S, Goin D, McMorrow S. Virtually Every State Experienced Deteriorating Access to Care for Adults Over the Past Decade. Available at: www.rwjf.org/content/dam/farm/reports/reports/2012/rwjf72827. Accessed November 6, 2012.5
The Pew Center on the States. A Costly Dental Destination. Available at: www.pewstates.org/uploadedFiles/PCS_Assets/2012/A%20Costly%20Dental%20Destination.pdf. Accessed November 6, 2012.
Centers for Disease Control and Prevention. Facts About Cleft Lip and Palate. Available at: www.cdc.gov/ncbddd/birthdefects/cleftlip.html. Accessed November 6, 2012.
Oral Cancer Foundation. Available at: http://oralcancerfoundation.org. Accessed November 6, 2012.
Oral Health in America: a Report of the Surgeon General. Rockville, Md: United States Department of Health and Human Services. NIH Publication No 00-4713; 2000.
Thuku NM, Carulli K, Costello S, Goodman HS. Breaking the cycle in Maryland: oral health policy change in the face of tragedy. J Public Health Dent. 2012;72(Suppl):S7–S13.
Committee on an Oral Health Initiative Board on Health Care Services. Oral Health, Advancing Oral Health in America. Washington, DC: National Academies Press; 2011.
Institute of Medicine. Improving Access to Oral Health Care for Vulnerable and Underserved Populations. Washington, DC: National Academy of Science; 2011.
Glassman P. Oral Health Quality Improvement in the Era of Accountability. Available at: www.dentaquestinstitute.org/sites/default/files/reports/2011/12/Pacific_Center_for_Special_Care_Report.pdf. Accessed November 6, 2012.
From Dimensions of Dental Hygiene. December 2012; 10(12): 16.