The Dynamic Duo
PowerScrub™ and PowerSonic™ by Solmetex® ensure optimal vacuum line suction and meticulously clean instruments.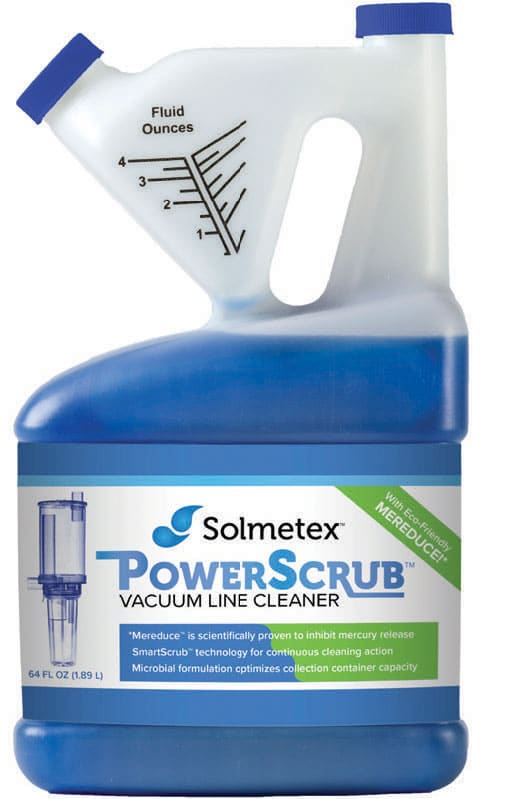 Efficient vacuum systems and rigorous infection control are essential in every operatory. By maximizing vacuum performance and instrument cleanliness, dental practices maintain a safe and effective environment for both patients and staff. The combined efficacy of PowerScrub™ and PowerSonic™ guarantees peak vacuum line suction and ultrasonic bath performance, enhances patient well-being, and positions dental practices at the forefront of efficient and conscientious care.
PowerScrub™ Vacuum Line Cleaner
Unlike other vacuum line cleaners that work by lubricating debris rather than removing it, PowerScrub's SmartScrub Technology uses specific microbes to break down and eliminate vacuum line debris. Its eco-friendly, 100% bio­degradable formulation re­mains in the lines for continual cleaning action and rinses clean when the job is done.
PowerScrub Vacuum Line Cleaner is compatible with all dental vacuum systems and all amalgam separators. No hot water is required and it works with all water temperatures. PowerScrub is the only vacuum line cleaner recommended for use with the NXT Hg5 Series Amalgam Separators by Solmetex. Continuous use of the PowerScrub Vacuum Line Cleaner extends the warranty of the NXT Hg5 Amalgam Separator from 2 to 5 years.
Here is an overview of some of this cleaner's greatest benefits:
Feel the difference: keeps evacuation lines clear of debris to ensure optimal suction
Improves the function and extends the life of amalgam separators, reducing maintenance costs and downtime
Works with any water temperature
The only vacuum line cleaner to contain Mereduce™ that inhibits the release of harmful mercury
Neutral pH meets Environmental Protection Agency's Dental Rule requirements
Compatible with both dry and wet-ring vacuums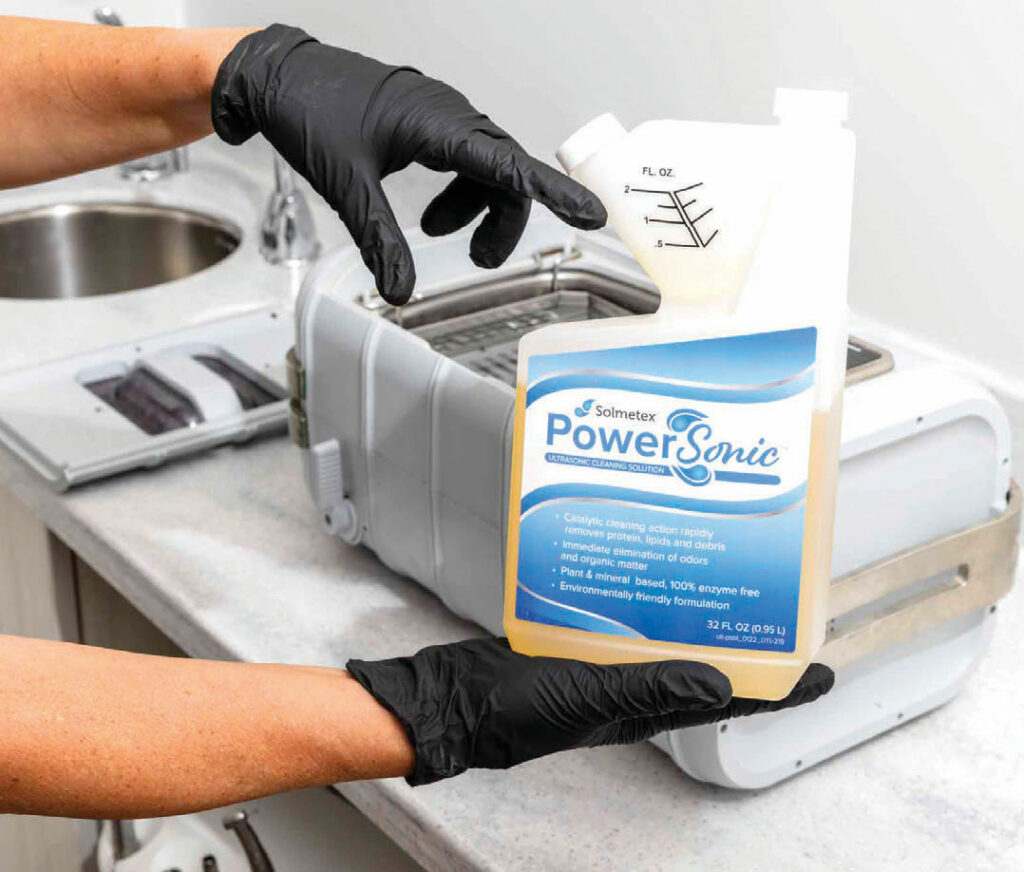 PowerSonic™ Ultrasonic Cleaning Solution
PowerSonic™ Ultrasonic Cleaning Solution is designed to boost the efficacy of ultrasonic baths and instrument washers. It's a patented, plant- and mineral-based, 100% enzyme-free catalytic cleaner that supercharges the action of ultrasonic baths and instrument washers using nano-oxygen bubbles. Its benefits include:
Effectively removes debris from instruments
Immediate elimination of odors and organic matter
No mixing required
Rapidly removes protein — even without ultrasonic action
Inhibits rust formation
Environmentally friendly formulation
The importance of efficient vacuum systems and stringent infection control measures cannot be overstated in dental practices. The combined power of PowerScrub™ and PowerSonic™ not only guarantees peak performance in vacuum line suction and ultrasonic bath cleaning but also improves patient care.
---
SOLMETEX
solmetex.com
800-216-5505
From Dimensions in Dental Hygiene. October 2023; 21(9):22