The Benefits of Patient Comfort
GINGICaine from Gingi-Pak not only improves the patient experience, it provides a variety of clinician advantages, too.
When I was a new hygienist and patients asked for pillows, blankets, or topical anesthetic, I assumed the patient was going to be "high-maintenance," and the appointment would be long and challenging. I didn't realize that keeping the patient comfortable and at ease, ultimately, helps me. A relaxed patient is compliant; we need that compliance to ensure proper positioning and ergonomics.
Did you know body pain affects a significant portion of the United States population? According to the Centers for Disease Control and Prevention, body pain affects 30% to 39% of all Americans.1 With this knowledge, we can assume we are seeing patients every day with some form of body pain that will affect their compliance during the appointment. How about offering them a cushion or two to improve their comfort in the chair?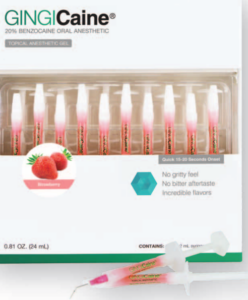 What about patients with anxiety? Dental anxiety is considered the fifth most prevalent cause of anxiety in adults.2 Offering a blanket, noise-canceling headphones, or topical anesthetic goes a long way for these patients. Even if the patient doesn't have dental anxiety, the presence of worn enamel, inflamed gingiva, or exposed dentin causes sensitivity, which, in turn, leads the patient to be apprehensive during the appointment.
Offering to apply topical anesthetic lets patients know we care about them and want to keep them comfortable. In addition, it will help the appointment go much smoother with minimal stress.
I've tried many different topical anesthetic options over my career, and GINGICaine from Gingi-Pak (Figure 1) is at the top of the list. It is easy to use and comes in a small syringe that is simple to hold and maneuver around the mouth. It also comes with a tip that has a mark at 7 mm, helping guide us around the sulcus during application (Figure 2). The tip has a rounded edge, so you don't need to worry about poking or tearing the tissue.
Time management is huge during our appointment, and this anesthetic has a quick 15-second onset and a working time of about 30 minutes. Plus, it comes in a strawberry flavor without the medicinal aftertaste, which patients appreciate.
A bidirectional relationship exists between stress and pain.3 The lower our stress, the less pain we feel. Something that can dramatically increase our stress is not enough time during appointments. Our job may, at times, feel impossible, completing what seems like an endless list of tasks for our patients and the practice in a relatively short time. In this sense, every minute matters. The availability of tools, such as GINGICaine, that improves patient comfort, is easy to use, and offers quick onset, can make all the difference during our day.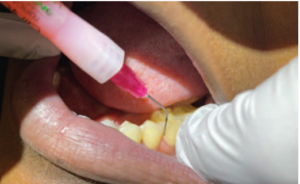 Lowering our stress levels and learning and practicing ergonomics are crucial for long-term health. Pain, injury, disability, surgery, and early retirement are far too common in dentistry, but it doesn't have to be this way. Many products, behaviors, and interventions can help us ensure our career longevity and health.
References
Lucas JW, Connor EM, Bose J. Back, lower limb, and upper limb pain among U.S. adults, 2019. NCHS Data Brief. 2021;:1–8.
Murad MH, Ingle NA, Assery MK. Evaluating factors associated with fear and anxiety to dental treatment—a systematic review. J Family Med Prim Care. 2020;9:4530–4535.
Hannibal KE, Bishop MD. Chronic stress, cortisol dysfunction, and pain: a psychoneuroendocrine rationale for stress management in pain rehabilitation. Phys Ther. 2014;94:1816–1825.
GINGI-PAK
 800-437-1514
From Dimensions of Dental Hygiene. March 2023; 21(3)24.