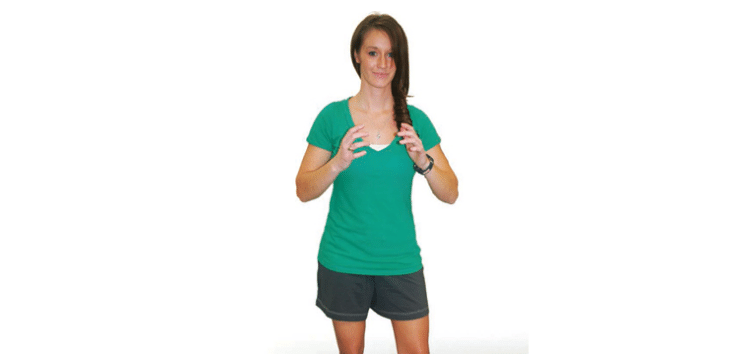 ROBERTPRZYBYSZ/ISTOCK/THINKSTOCK
Tai Chi for Health
Dental Hygienists can enhance both their psychological and physical health by participating in this ancient form of exercise.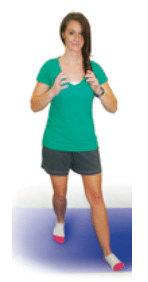 Dental hygienists report pain in their necks, shoulders, and hands/wrists at higher rates than other oral health professionals, including dentists.1–3 Prolonged standing postures, bending of the spine, and excessive reaching activities using the upper extremities place dental hygienists at high risk for musculoskeletal injury.3,4 In addition to physical stress, dental hygienists experience psychological stress and anxiety in the workplace.5,6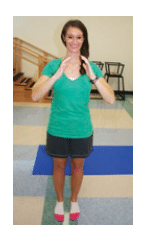 For these reasons, therapeutic exercise programs are recommended to both prevent and treat musculoskeletal problems. Tai chi, an ancient Chinese form of self-defense, may help dental hygienists reduce work-related pain and injury. Using slow, graceful movements, Tai chi is practiced to relieve stress and improve health. Tai chi emphasizes low-impact, flowing movements and is safe for most populations. It is inexpensive, requires no special equipment, and can be performed either alone or in small groups. Tai chi emphasizes the mind-body connection, similar to yoga.7,8
Tai Chi for Arthritis, a specialized form of tai chi developed by Paul Lam, MD, is specifically developed for individuals who are prone to arthritic joints that limit full range of motion and rigorous exercise. It uses agile steps that enhance mobility, breathing, and relaxation.9 The Arthritis Foundation has endorsed Tai Chi for Arthritis, noting that its gentle and fluid movements have resulted in well-established improvements to health.10 Symptoms of arthritis begin on average at age 48, with diagnosis occurring typically at age 50.11 As 28% of practicing dental hygienists are older than 50,12 they may be susceptible to this disease. Though developed specifically for arthritis treatment and prevention, Tai Chi for Arthritis offers a relatively easy, low-impact form of the art appropriate for individuals with multiple types of musculoskeletal disease or healthy individuals who are interested in prevention.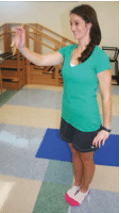 Research has demonstrated that participation in tai chi can reduce symptoms and enhance function in various forms of arthritis.13–18 In addition, a randomized controlled study demonstrated that a 10-week program of tai chi reduced low back pain and disability.19 Tai chi may also help improve bone health in perimenopausal and postmenopausal women.20,21 It has been shown to yield results similar to formal physical therapy sessions for patients experiencing knee osteoarthritis and may reduce depression, anxiety, and stress.22–24
TAI CHI MOVEMENTS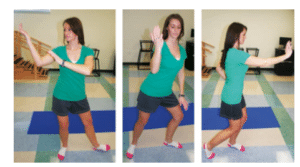 Tai chi practice should be relaxing and enjoyable. Figure 1 through Figure 9 demonstrate tai chi movements suitable for beginners. Although formal tai chi instruction from a qualified teacher is the best way to learn the art, the photos provide a basic understanding of what it is like to perform tai chi. As with any exercise, it is important to check with a physician prior to starting a new activity.
Pain during tai chi is not desirable, and positions and movements that exacerbate current conditions or cause new symptoms should be avoided. Relaxation is key, and proper breathing will help to ease tense muscles and reduce anxiety. Coordination of each inhalation and exhalation with individual movements of the body can create a rhythmic sense of serenity. Participants should not hold their breath for an extended period of time. Generally speaking, extremes of movement should be avoided, such as fully extending or locking the elbows and knees. Rather, the joints should remain relaxed as the body moves throughout the range of motion in a slow and graceful manner.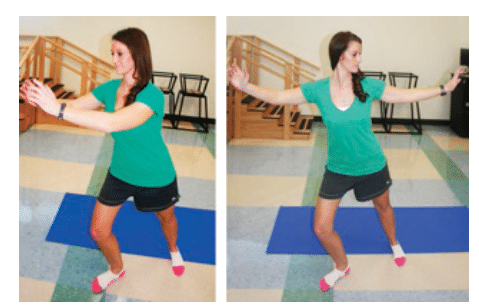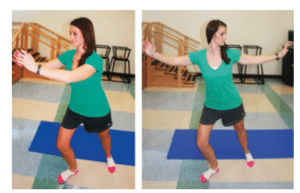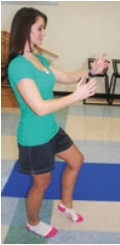 Due to the physical demands of the job and accompanying musculoskeletal problems, dental hygienists should consider complementary and alternative medicine practices, such as tai chi, for both prevention and treatment of various painful conditions. The breathing and postural awareness learned through tai chi can reduce stress and the aches and pains occurring during workdays. Tai chi is practiced daily in 20-minute to 30-minute sessions, and may serve as a warm-up routine prior to work. Dental hygienists may also find that the breathing techniques and basic exercises can be performed during lunch and other breaks to relieve tension and improve circulation. Tai chi is also a great way to promote relaxation in the evening after a long day of treating patients.
CONCLUSION
Tai chi can be a fun and healthy activity for individuals of all ages. Like many exercises, there are beginner, intermediate, and advanced versions. Though numerous videos and self-training materials are available, beginners should seek a qualified instructor to make sure they are learning correct technique. Those new to the art should be patient, as the movements may seem complex at first. However, after a short period of training, confidence will grow and the physical and psychological rewards will become apparent.
Dental hygienists should consider the regular practice of tai chi for the potential benefits of decreased stress/anxiety, improved mood, better posture, and body awareness, decreased musculoskeletal pain, and enhanced bone health. Those with current health conditions may discover tai chi to be of benefit, and dental hygienists who are relatively healthy may find tai chi valuable as a preventive practice. Additional information can be found at the National Center for Complementary and Integrative Health website: nccih.nih.gov.
REFERENCES
Hayes MJ, Smith DR, Cockrell D. An international review of musculoskeletal disorders in the dental hygiene profession. Int Dent J. 2010;60:343–352.
Hayes MJ, Taylor J, Smith DR. Predictors of work-related musculoskeletal disorders among dental hygienists. Int J Dent Hyg. 2012;10:265–269.
Marklin RW, Cherney K. Working postures of dentists and dental hygienists. J Calif Dent Assoc. 2005;33:133–136.
Noh H, Roh H. Approach of industrial physical therapy to assessment of the musculoskeletal system and ergonomic risk factors of the dental hygienist. J Phys Ther Sci. 2013;25:821–826.
Gorter RC. Work stress and burnout among dental hygienists. Int J Dent Hyg. 2005;3:88–92.
Ylipaa V, Szuster F, Spencer J, Preber H, Benko SS, Arnetz BB. Health, mental well-being, and musculoskeletal disorders: a comparison between Swedish and Australian dental hygienists. J Dent Hyg. 2002;76:47–58.
Mayo Clinic. Tai chi: A gentle way to fight stress. Available at: mayoclinic.org/healthy-lifestyle/stress-management/in-depth/tai- chi/art-20045184. Accessed October 8, 2016.
Harvard Medical School, Harvard Health Publications. Tai chi and chronic pain. Available at: health.harvard.edu/alternative-and-complementary-medicine/tai-chi-and-chronic-pain. Accessed October 8, 2016.
Tai Chi for Health Institute. Tai Chi for Arthritis. Available at: http://taichiforhealthinstitute.org/programs/tai-chi-for-arthritis. Accessed October 8, 2016.
Arthritis Foundation. Exercises for Arthritis. Available at: arthritis.org/living-with-arthritis/exercise. Accessed October 8, 2016.
MacDonald KV, Sanmartin C, Langlois K, Marshall DA. Symptom onset, diagnosis and management of osteoarthritis. Health Rep. 2014;25:10–17.
Center for Health Workforce Studies. Practice patterns and characteristics of dental hygienists in Washington State. Available at: http://depts.washington.edu/uwrhrc/uploads/CHWS%20FR114%20Andrilla.pdf. Accessed October 8, 2016.
Wang C, Schmid CH, Hibberd PL, Kalish R, Roubenoff R, Rones R, McAlindon T. Tai Chi is effective in treating knee osteoarthritis: a randomized controlled trial. Arthritis Rheum. 2009;61:1545–1553.
Lee EN, Kim YH, Chung WT, Lee MS. Tai chi for disease activity and flexibility in patients with ankylosing spondylitis–a controlled clinical trial. Evid Based Complement Alternat Med. 2008;5:457–462.
Lee KY, Jeong OY. The effect of Tai Chi movement in patients with rheumatoid arthritis. Taehan Kanho Hakhoe Chi. 2006;36:278–285.
Taggart HM, Arslanian CL, Bae S, Singh K. Effects of T'ai Chi exercise on fibromyalgia symptoms and health-related quality of life. Orthop Nurs. 2003;22:353–360.
Brisme?e JM, Paige RL, Chyu MC, et al. Group and home-based tai chi in elderly subjects with knee osteoarthritis: a randomized controlled trial. Clin Rehabil. 2007;21:99–111.
Lan C, Lai JS, Wong MK, Yu ML. Cardiorespiratory function, flexibility, and body composition among geriatric Tai Chi Chuan practitioners. Arch Phys Med Rehabil. 1996;77:612–616.
Hall AM, Maher CG, Lam P, Ferreira M, Latimer J. Tai chi exercise for treatment of pain and disability in people with persistent low back pain: a randomized controlled trial. Arthritis Care Res. 2011;63:1576–1583.
Sun Z, Chen H, Berger MR, Zhang L, Guo H, Huang Y. Effects of tai chi exercise on bone health in perimenopausal and postmenopausal women: a systematic review and meta-analysis. Osteoporos Int. 2016;27:2901–2911.
Mayo Clinic. Menopause. Available at: mayoclinic.org/diseases- conditions/menopause/basics/definition/con-20019726. Accessed October 8, 2016.
Wang C, Schmid CH, Iversen MD, et al. Comparative Effectiveness of Tai Chi Versus Physical Therapy for Knee Osteoarthritis: A Randomized TrialTai Chi Versus Physical Therapy for Knee Osteoarthritis. Ann Intern Med. 2016;165:77–86.
Sharma M, Haider T. Tai chi as an alternative and complimentary therapy for anxiety: a systematic review. J Evid Based Complementary Altern Med. 2015;20:143–153.
Wang F, Lee EK, Wu T, et al. The effects of tai chi on depression, anxiety, and psychological well-being: a systematic review and meta-analysis. Int J Behav Med. 2014;21:605–617.
Tai Chi for Health. Tai Chi Improves Posture. Available at: taichiforhealth.net/tai-chi-improves-posture. Accessed October 8, 2016.
---
From Dimensions of Dental Hygiene. November 2016;14(11):29–30.