Sustainability Challenge
Here are strategies to help dental practices reduce their environmental impact.
Sustainability has become a popular catchphrase, and implementing environmentally friendly strategies—from recycling to reducing carbon emissions—is fashionable among both consumers and businesses. According to the 2010 BBMG Conscious Consumer Report,1 nine out of 10 Americans identify with the label "conscious consumer," and feel positively about companies that use environmentally friendly practices.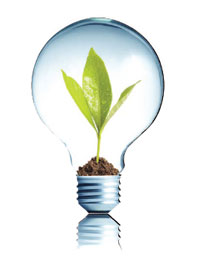 Preserving the environment is not a foreign concept in the oral health care arena. The Eco-Dentistry Association was formed in 2008 to promote green practices in the dental setting (see sidebar), and many companies and clinicians alike are dedicated to sustainable dental practice.
For oral health professionals who are interested in making their practices more eco-friendly, the process begins with the three "Rs"—reduce, reuse, and rethink. First, clinicians need to reduce the amount of disposable items purchased for use in the dental practice. For instance, eliminating bottled water from the office, and instead offering branded bisphenol-A (BPA)-free water bottles placed next to a filtered water station, is an environmentally sound strategy.2 Second, dental team members, including office staff, need to consider reusing items they already have and purchasing reusable products when possible. For example, branded cloth bags can be purchased to provide patients with oral health supplies, instead of plastic bags that eventually end up in landfills. The third suggestion is to rethink daily consumption habits, both inside and outside of the treatment room. This habit is also referred to as precycling, which focuses on preventing the need for recycling by making purchase decisions that support responsible products and packaging.
PRECYCLING STRATEGIES
Conscious efforts can be made to decrease dental practices' carbon footprints. For example, energy efficiency can be maximized by installing eco-friendly light bulbs and by turning off the lights when an operatory is not in use. Consider the use of energy-saving compact fluorescent light bulbs (CFL), which last 8 times to 12 times longer, cost less per hour, and produce 70% less heat than incandescent bulbs.3 While they save energy and money, CFLs require special handling for disposal.3 Another green practice is to order and use rechargeable batteries for cordless equipment, including curing lights, caries detection devices, intraoral cameras, and other portable devices.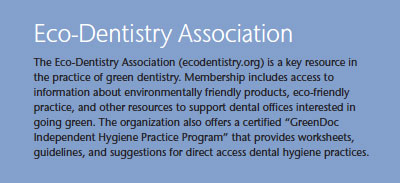 Digital charting is another way dental practices can become more environmentally friendly. Computerized charting saves 10,000 sheets of paper per year in the average dental practice.4 Further enforce this by replacing paper invoices, billing statements, and bulk mail with electronic communications, such as text messages and emails. Use recycling bins for paper, plastics, and glass. As dental offices make the shift to electronic filing systems, more than 200,000 trees could be saved each year.4
Finally, partner and purchase products from credible manufacturers that demonstrate a high consciousness for the environment on a corporate level. Look for and utilize recyclable packaging materials, such as boxes/cartons/containers/displays; aluminum tubes; plastics; packing materials; and soy-based inks.
Most practices today use digital radiography over traditional X-rays, which reduces radiation exposure by 90%, and also eliminates the need for lead foils and toxic photo development liquids that previously required special handling.5
Use biodegradable, nontoxic "green" certified disinfection and cleaning products. Products registered with the United States Environmental Protection Agency ensure the highest standards of safety to protect human health and the environment. Steam-based instrument sterilization or dry heat techniques that do not require harmful chemicals are other positive changes. Instruments can be prepared for sterilization with hospital-grade surgical cloth and tape. If this is not possible, the thousands of sterilization pouches used every year in dental hygiene practice may be recyclable.
EDUCATE TO DIFFERENTIATE
Effective communication is integral to the success of precycling—the entire dental team needs to be involved. Once a precycling approach is enacted, patients should be informed of these efforts. There is already a high expectation among consumers for corporate behavior to include at least minimal standards of environmental protection. For patients, choosing an environmentally conscious dental practice significantly impacts their local environment—including the air, water, and soil. More than 50% of the general population expects to increase their involvement in protecting the environment over the next 5 years.2 Patients who are committed to sustainable living prefer an eco-friendly dental office because they know their choice of health care providers reflects their shared values of health, wellness, and planetary consciousness.
LONG-LASTING IMPACT
In 2008, National Geographic initiated a partnership with GlobeScan to develop Greendex—an international research program to measure and monitor the progress toward environmentally sustainable consumerism.6 The consumer actions evaluated by Greendex include repairing items rather than replacing them, using cold water to wash laundry, and choosing green products rather than environmentally unfriendly ones. Choices controlled by circumstances, such as the climate consumers live in and the availability of green products and public transportation, were also evaluated. For the fourth year in a row, American consumer behavior ranked as the least sustainable of all the countries surveyed since the inception of the study. This leaves incredible opportunity for oral health clinicians to demonstrate their commitment to the environment by offering eco-friendly dental services. By aligning with patients' desires to live a green lifestyle, dental professionals will be well served by moving to more sustainable practices, both personally and professionally.
REFERENCES
Bemporad R, Baranowski M. Conscious Consumers Are Changing the Rules of Marketing. Are You Ready? Highlights from the BBMG Conscious Consumer Report. Available at:?fmi.org/docs/sustainability/BBMG_ Conscious_Consumer_ White_Paper.pdf. Accessed February 18, 2014.
Natural Marketing Institute. Understanding The LOHAS Market Report. Available at: andeeknutson.com/studies/LOHAS/General% 20Health%20and%20 Wellness/11_LOHAS_Whole_Foods_Version.pdf. Accessed February 18, 2014.
US Environmental Protection Agency. Compact Fluorescent Light Bulbs. Available at: 2.epa.gov/cfl. Accessed February 18, 2014.
Farahani A, Suchak M. Eco-Friendly Dentistry. Available at: c.ymcdn.com/sites/ www.ecodentistry.org/resource/resmgr/docs/eco-friendly_dentistry_jcda.pdf. Accessed February 18, 2014.
Healthcare Environmental Resource Center. Pollution Prevention and Compliance Assistance Information for the Healthcare Industry. Available at: hercenter.org/wastereduction/dentalwastes.cfm. Accessed February 18, 2014.
National Geographic. 2012 Greendex Map of the World. Available at: environ-ment.nationalgeographic.com/environment/greendex. Accessed February 18, 2014.
From Dimensions of Dental Hygiene. March 2014;12(3):23–24,26.