Supporting Ergonomics With a Multipronged Approach
Interprofessional collaboration can be a powerful tool in the effort to improve the safety of dental hygiene practice.
Dental hygienists are charged with supporting their patients' oral health as well as their overall health. With this responsibility, it is easy for clinicians to neglect their own well-being.
From prophylaxes to scaling and root planing, most dental hygiene procedures require repetitive movements and awkward positioning, which can lead to career-ending musculoskeletal injuries. Dental hygienists should strive to improve the ergonomics of their practice to prevent such injuries.
Magnification Is Key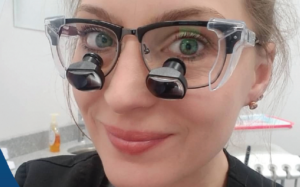 The most significant step to improving ergonomics during dental hygiene care is magnification. Loupes enable dental hygienists to maintain proper posture while eliminating the struggle to view the oral cavity. A variety of different styles and magnification levels are available. Dental hygienists should spend time with representatives of loupe manufacturers to determine which type best suits their needs.
Interprofessional Approach
A collaboration between the Department of Dental Hygiene at Tunxis Community College in Farmington, Connecticut, and the Department of Occupational Therapy at Quinnipiac University in Hamden, Connecticut, helped dental hygiene students significantly improve their ergonomics and learn strategies for protecting their musculoskeletal health that will, hopefully, last a lifetime.
The collaboration was based on the occupational therapy students observing the dental hygiene students' work behaviors in order to develop positioning strategies to reduce the harm caused by clinical postures.1
In order to combat prolonged sitting postures, the occupational therapy students recommended static stretching exercises to lengthen shortened tissue and balance musculature. Maintaining a neutral posture was also recommended.1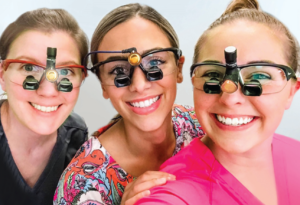 Adjusting the operator chair and headrest was an important facet of protecting musculoskeletal health. The collaboration worked on alternative ways for the clinician to move around the patient instead of sticking to rigid clock recommendations (ie, right-handed clinicians always approach the patient in the 8 o'clock to 12 o'clock position). Recognizing awkward postures and taking steps to move toward a neutral position were helpful to the dental hygiene students.1
Through this collaboration between occupational therapy and dental hygiene students, the ergonomics of dental hygiene practice were improved. By working with occupational therapy students, the dental hygiene students were encouraged to try different positions in order to achieve a balanced working posture; hopefully, reducing their risk of musculoskeletal disorders once they begin clinical practice.1
Conclusion
Prioritizing self-care is paramount to health. The use of loupes and other ergonomic tools is important in supporting ergonomic health in addition to additional strategies such as taking breaks to stretch and switch positions, as well as maintaining a healthy diet, exercise regimen, and mental health support. The goal of all ergonomic interventions is to help dental hygienists maintain a long and healthy career in the profession. n
Reference
Turcotte C, Sanders MJ, Johnson PA. An interprofessional approach to ergonomics. Dimensions of Dental Hygiene. 2018;16(1):30–32.
From Dimensions of Dental Hygiene. May 2023; 21(5):24.