Strategic Biofilm Removal With Ultrasonic Instrumentation
The Pac-Dent Autoscaler helps dental hygienists maximize the efficiency of this important technique.
Dental hygienists have a unique responsibility in protecting their patients' overall well-being through a variety of disease prevention and therapeutic measures. Evidence supports the existence of a complex, two-way connection between the mouth and body, which has served to increase the need for the specialized knowledge and skill set of oral health professionals. When it comes to periodontal disease, leading research suggests that the over-abundance and dysbiosis of oral biofilm play a significant role in disease development and progression.1 With this in mind, efforts should be focused on the effective removal and disruption of pathogenic microbes and biofilm during the instrumentation portion of each hygiene visit.
Ultrasonic instrumentation offers many benefits to both patients and clinicians, and is a very effective means of mechanically removing biofilm and hard buildup, while still preserving vulnerable root anatomy and tooth structure.2 Utilizing a combination of high-power acoustic vibrations and lavage action, power instruments enable debridement of supra- and subgingival areas while providing ergonomic comfort, reduced working time, and enhanced antimicrobial abilities when compared to hand instrumentation alone. Magnetostrictive-powered devices lend additional advantages in effective biofilm management, thanks to a high-frequency oscillatory movement that allows all surfaces of the insert tip to work efficiently in detaching colonized pathogens from the surface of the tooth and gingiva.
Pac-Dent Autoscaler
The Pac-Dent Autoscaler employs powerful magnetostrictive ultrasonic power that is housed in a simple, easy-to-use device. Offering more than 40 years of product experience, the Autoscaler has a proven track record of consistency and reliability that clinicians can count on while providing expert biofilm removal for their patients. The unit is compact in size and easy to store and operate in small spaces where other devices may have difficulty properly fitting. In addition to its small size, the Autoscaler provides an easy-to-access on/off switch and knobs that control power and water on the front of the console.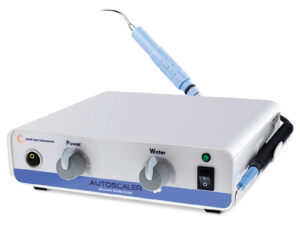 Although nearly any popular magnetostrictive insert can be used with the Autoscaler, Pac-Dent's universal and thin tips are perfect companions for this device. Available in either 25K or 30K for the appropriate unit, the clinician can benefit from enhanced tactile sensitivity with the insert's nonslip grip. Water flow delivery originates at the insert base and can be easily adjusted on the unit's face. The universal insert can be utilized in most hygiene procedures, while the slim insert is designed for especially narrow, hard-to-reach areas where biofilm removal is more challenging. 
The benefits of effective biofilm removal cannot be underestimated, and ultrasonic instrumentation is a standard approach for the management of the oral microbes that contribute to disease. When precision, convenience, and affordability are desired, the Autoscaler system and its accessories are designed to exceed clinician expectations. Ensuring the proper equipment is being utilized for biofilm management will undoubtedly result in healthier, happier patients and highly regarded dental hygiene providers. n
References
Lasserre JF, Brecx MC, Toma S. Oral microbes, biofilms and their role in periodontal and peri-implant diseases. Materials (Basel). 2018;11:1802.

 

Apatzidou DA. Modern approaches to non-surgical biofilm management. Front Oral Biol. 2012;15:99–116.

 
Pac-Dent Inc
(909) 839-0888
From Dimensions of Dental Hygiene. July 2022; 20(7)25.