Pulsation and Pressure
Oral irrigation can help your patients improve their self-care routine.
Oral health care professionals devote a great deal of time and energy toward helping patients achieve and then maintain oral health. A cyclical pattern of health and disease is experienced by many patients due to ineffective oral self-care and poor oral hygiene habits. The challenge is to promote effective long-term oral hygiene habits in order to avoid frequent relapse and achieve lifelong maintenance of oral health. At-home oral irrigation with a dental water jet can be an important component of an effective oral health care routine. Research shows that the regular use of oral irrigation can improve oral health.1-3
The American Academy of Periodontology (AAP) asserts that the majority of periodontal patients can retain their dentition with proper treatment, reasonable plaque control, and continuing maintenance care.4 It is the "reasonable plaque control" component that is often the most challenging for patients. Athome oral irrigation, along with toothbrushing, is an effective self-care approach5 that may promote long-term compliance.
Oral health care professionals have traditionally promoted dental floss for interproximal oral health. Despite this support by the dental profession, many people find flossing difficult and time-consuming and they do not include it in their daily self-care routine.6-8 Even among health care professionals, including dentists, more than two-thirds admit to not flossing daily.9 Providing other options to patients who struggle with consistent flossing may help them improve their oral health.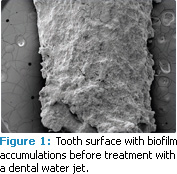 HOW IT WORKS
The combination of fluid pulsation and pressure most likely are responsible for oral irrigation's benefits.10-12 The cycles of compression and decompression are capable of expelling subgingival bacteria and debris, in addition to stimulating gingival tissues. The pulsating action is more effective than a continuous fluid stream.10-12 Although various antimicrobial agents have been delivered with oral irrigation, it seems that the dynamics of pulsation and pressure are the key to the efficacy of oral irrigation, not the type of irrigant used.1,13 Most of the studies using the dental water jet were conducted at medium pressure and with water as the irrigant.
The dental water jet can also deliver an agent more deeply than mouthrinsing alone. A standard jet tip can reach 71% of the depth of normal sulci, and 44% to 68% of the depth of 4 mm to 7 mm periodontal pockets.14 More than 50% of the time, the standard jet tip allows the irrigant to penetrate 75% of the pocket depth.14
GINGIVAL BLEEDING
The dental water jet reduces plaque biofilm, bleeding, and gingivitis.1 One of the first studies conducted on the dental water jet in 1969 concluded that oral irrigation could decrease both gingivitis and calculus.15 In 2005, Barnes et al showed that oral irrigation, when combined with manual or sonic toothbrushing, is an effective alternative to manual toothbrushing and dental floss.2 Conducted at the University of Nebraska, the 4-week study with 105 subjects found that the dental water jet was up to 93% better at reducing bleeding and up to 52% better at reducing gingivitis than dental floss. The study found a similar reduction in plaque biofilm between the dental water jet and dental floss.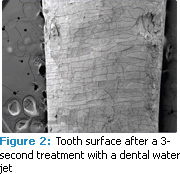 QUALITY, NOT QUANTITY
Research shows that decreasing the amount of plaque may not be as important as a change in the content of the plaque biofilm. Research conducted with the dental water jet highlights the role of the quality, not just the quantity, of plaque biofilm. Studies of other oral hygiene devices, including floss, have primarily focused on plaque removal, which is only one factor in the complex etiology of chronic inflammatory periodontitis.
Since current understanding of the etiology of periodontal diseases highlights plaque biofilm and host inflammatory mediators as critical components of the disease process, looking at the impact of self-care devices on biofilm and inflammation is essential. The term biofilm suggests that there is a protective capsule or envelope around the mass of bacteria and debris. Use of a dental water jet eliminates this fibrin-like mesh envelope surrounding biofilms,16 which may explain the improved clinical para meters evident in scientific studies.
The inflammatory pro cess is also impacted by daily oral irrigation. Changes in inflammatory-promoting biochemicals in the gingival crevicular fluid of periodontal patients were demonstrated after using the dental water jet for 2 weeks, which correlated with a significant reduction in bleeding on probing.17 These research findings16,17 are particularly compelling since they support contemporary concepts of periodontal disease etiology involving bio films and the immune system.
DISEASE REDUCTION
The current focus in periodontology is on disease reduction, not just plaque reduction. Quality changes in the biofilm are not visually evident with disclosing solution. Likewise, changes in subgingival plaque cannot be assessed with traditional visual indices. A recent study conducted at the University of Southern California Center for Biofilms sheds new light on plaque biofilm removal by a dental water jet (figures 1 and 2). Eight periodontally involved teeth were extracted and treated with saliva to stimulate further biofilm growth. The teeth were sectioned and treated with a 3-second application of the standard or orthodontic jet tip at medium pressure. Before and after treatment, the teeth were evaluated by scanning electron microscopy (SEM). SEM results showed that the 3-second exposure to the dental water jet removed 99.9% of plaque biofilm from treated areas.18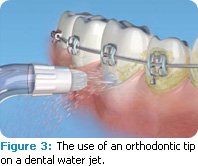 SPECIALIZED NEEDS
Dental patients with specialized needs, such as patients with intricate orthodontic appliances, diabetes, and dental implants, may also benefit from the use of the dental water jet as a self-care device. Newer approaches in orthodontics, such as the use of temporary anchorage devices and lingual appliances, pose plaque biofilm control challenges. Additionally, there are greater numbers of adult orthodontic patients whose periodontal needs differ from those of adolescents. A 30-day study conducted with 105 subjects who had fixed orthodontic appliances compared the use of a home dental water jet with an orthodontic tip (Figure 3) combined with manual toothbrushing to manual toothbrushing combined with flossing via a floss threader. The plaque biofilm removal achieved by the dental water jet was three times as effective as floss and five times as effective as brushing alone.3 The study also measured bleeding and found that irrigation was superior to flossing by 26% and was 53% better than brushing alone.3
To evaluate best oral hygiene practices for patients with diabetes following scaling and root planing, a study looked at two groups: one included a home regimen of twice daily use of a dental water jet with a subgingival tip in addition to standard brushing and flossing, while the second group used standard brushing and flossing alone. After 3 months, not only did the dental water jet group have about 40% better bleeding and gingivitis scores than the brushing and flossing group, but blood serum studies showed that their systemic health markers had also improved.19
Older adults often have implants and/or extensive crown and bridge work. The dental water jet is safe to use on implants. For those implant patients who use a chlorhexidine rinse, one study found that the participants who used chlorhexidine in a dental water jet experienced better outcomes than those who only used chlorhexidine as a mouthrinse.20
CONCLUSION
The AAP states that oral irrigation benefits patients who perform inadequate interproximal cleaning.4 This description probably fits many patients seen in the traditional dental setting. Providing choices to patients to help them achieve and maintain oral health is the responsibility of the dental hygienist. By offering an alternative to floss, dental hygienists may engender new enthusiasm for plaque biofilm removal in patients' self-care routines.
REFERENCES
Jahn CA. The dental water jet: a historical review of the literature. J Dent Hyg. 2010;84:122-128.
Barnes CM, Russell CM, Reinhardt RA, Payne JB, Lyle DM. Comparison of irrigation to floss as an adjunct to toothbrushing: effect on bleeding, gingivitis, and supragingival plaque. J Clin Dent

. 2005;16:71-77.

Sharma NC, Lyle DM, Qaquish JG, Galustians J, Schuller R. The effect of a dental water jet with orthodontic tip on plaque and bleeding in adolescent orthodontic patients with fixed appliances. Am J Ortho Dentofacial Orthop

. 2008;133:565-571.

American Academy of Periodontology. Guidelines for periodontal therapy. J Periodontol

. 2001;72:16241628.

Greenstein G. The role of supraand subgingival irrigation in the treatment of periodontal diseases. J Periodontol

. 2005;76:2015-2027.

Noorlin I, Watts TL. A comparison of the efficacy and ease of use of dental floss and interproximal brushes in a randomized split mouth trial incorporating an assessment of subgingival plaque. Oral Health Prev Dent

. 2007;5:13-18.

 Newman M. Beyond floss. Interdental cleaning devices. J Am Dent Assoc

. 1991;122: 9-13.

Blanck M, Mankodi S, Wesley P, Tasket R, Nelson B. Evaluation of the plaque removal efficacy of two commercially available dental floss devices. J Clin Dent

. 2007;18:1-6.

Merchant A, Pitiphat W, Douglass CW, Crohin C, Joshipura K. Oral hygiene practices and periodontitis in health care professionals. J Periodontol

. 2002;73:531-535.

Cobb CM, Rodgers RL, Killoy WJ. Ultrastructural examination of human periodontal pockets following the use of an oral irrigation device in vivo. J Periodontol

. 1988;5:155-163.

Drisko CL, White CL, Killoy WJ, Mayberry II WE. Comparison of dark-field microscopy and a flagella stain for monitoring the effect of a Water Pik on bacterial motility. J Periodontol

. 1987;58:381-86.

Newman MG, Flemmig TF, Nachnani S, Rodrigues A, Calsina G, Lee Y, deCamargo P, Doherty FM, Bakdash MB. Irrigation with 0.06% chlorhexidine in naturally occurring gingivitis. II. 6 months microbiological observations. J Periodontol

. 1990;61:427-433.

Flemmig TF, Newman MG, Doherty FM, Grossman E, Meckel AH, Bakdash MB. Supragingival irrigation with 0.06% chlorhexidine in naturally occurring gingivitis. I. 6 month clinical observations. J Periodontol

. 1990; 61: 112-117.

Eakle WS, Ford C, Boyd RL. Depth of penetration in periodontal pockets with oral irrigation. J Clin Periodontol

. 1986;13:39-44.

 Lobene RR. The effect of a pulsed water pressure cleansing device on oral health. J Periodontol

. 1969;40: 667-770.

 Cobb, CM, Rodgers RL, Killoy WJ. Ultrastructural examination of human periodontal pockets following the use of an oral irrigation device in vivo. J Periodontol

. 1988;59:155-163.

Cutler CW, Stanford TW, Abraham C, Cederberg RA, Boardman TJ, Ross C. Clinical benefits of oral irrigation for periodontitis are related to reduction of proinflammatory cytokine levels and plaque. J Clin Periodontol

. 2000;27:134-143.

Gorur A. Lyle DM, Schaudinn C, Costerton JW. Biofilm removal with a dental water jet. Compend Contin Ed Dent

. 2009;30(Suppl 1):1-6.

Al-Mubarak S, Ciancio S, Aljada A, et al. Comparative evaluation of adjunctive oral irrigation in diabetics. J Clin Periodontol

. 2002;29:295-300.

Felo A, Shibly, O, Ciancio SG, Lauciello FR, Ho A. Effects of subgingival chlorhexidine irrigation on perioimplant maintenance. Am J Dent

. 1997;10:107-110
From Dimensions of Dental Hygiene. October 2010; 8(10): 58-60. <