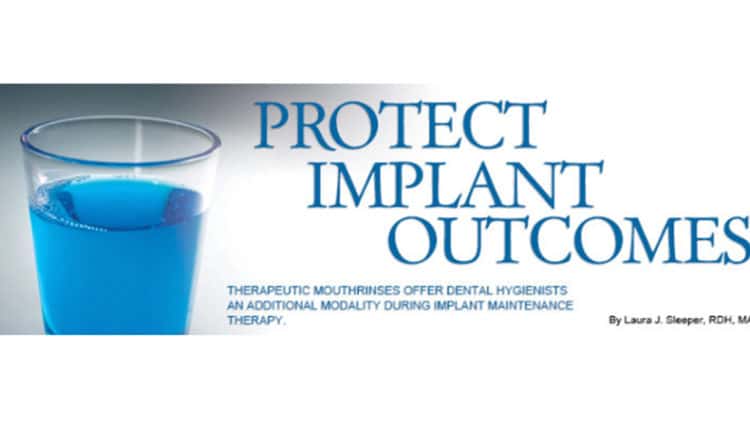 Protect Implant Outcomes
Therapeutic mouthrinses offer dental hygienists an additional modality during implant maintenance therapy.
Since they were approved for widespread use in 1982, dental implants have undergone an evolution in materials and advancements in techniques.1 Made of titanium, dental implants are surgically placed into the maxilla or mandible where they osseointegrate, or fuse to the bone. In the case of an edentulous patient, several implants are placed to create a stable anchor for the prosthesis. For individuals who have lost single or multiple teeth, the implant acts as root replacement therapy with crowns that present as natural-looking teeth.
The American Association of Oral and Maxillofacial Surgeons (AAOMS) states that 69% of adults age 35 to 44 have lost at least one permanent tooth to an accident, periodontal diseases, failed root canal, or dental caries.2 Moreover, by age 74, 26% of adults have become completely edentulous.2 With a long history of clinical research and an overall success rate of 95%, the AAOMS reports that implants are the best treatment for replacing missing teeth.2
The care and maintenance of dental implants require the patient to work in concert with the dental team. Dental hygienists, due to frequency of contact, are well positioned to partner with implant patients and monitor their progress through the presurgical, surgical, post-surgical, and maintenance phases of treatment. Along with mechanical biofilm control—including brushing, flossing, and the use of interdental aids—mouthrinses have become an additional option in the oral hygiene armamentarium. A therapeutic mouthrinse is a simple and effective chemotherapeutic agent that dental hygienists can recommend to patients for home use.1
HISTORY OF DENTAL IMPLANTS
Evidence of dental implantology reaches back to ancient times. Egyptians created their own dental implants out of mulberry wood, tying them to adjacent teeth to hold them in place, while the Etruscans fashioned prosthetic teeth by strengthening cow's teeth with the addition of gold.3 Contemporary implantology began with Norman Goldberg, DDS, who, during World War II, investigated materials that were used for replacing other parts of the body.4 When Goldberg returned from the war to his private dental practice in Rhode Island, he collaborated with Aaron Gershkoff, DDS, to produce the first successful subperiosteal implant in 1948.4 Per-Ingvar Brånemark, MD, PhD, a Swedish orthopedic surgeon, pioneered the use of titanium as the material of choice for dental implants.5 He discovered that bone consistently adhered to the titanium structure without rejection.5 Brånemark published several studies regarding the efficacy of dental implants between 1978 and 1981, culminating with the United States Food and Drug Administration approving dental implants as a restorative methodology in 1982.6

The advent of this treatment modality has not been without issue, as implant failure can impede treatment success.6 The concepts of peri-implant mucositis—the reversible infection of the tissues without bone loss that surround the implant—and peri-implantitis—the irreversible condition where infection of surrounding tissues is combined with bone loss—can be mitigated by the dental team with nonsurgical dental treatment.7 Dental hygienists serve as the first line of defense to treat both reversible and irreversible conditions, as they are expressly trained to handle gingivitis and periodontal diseases chairside. They also assist patients in developing sound self-care practices that have a significant effect on treatment outcomes.
TYPES OF MOUTHRINSES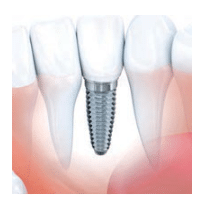 While several types of mouthrinses exist, chlorhexidine remains the most frequently used prior to and post-implant surgery. Chlorhexidine mouthrinses work through the disassociation of chlorhexidine salts and the release of the positively charged chlorhexidine cation.8 At low concentrations, there is a bacteriostatic effect; and, at high concentrations, membrane disruption results in cell death.9 Chlor­hexidine, with a concentration of 0.12%, has great substantivity, or the ability to adhere to tissues and deliver the agent over time.10 Chlorhexidine does exert some negative side effects—the most common being tooth staining and taste alteration, neither of which is permanent.10 With a 90% bacterial inhibition over a 5-hour period once swished for 30 seconds, the benefits outweigh the side effects in the treatment of peri-implantitis.10
Studies show that hexetidine, a broad-spectrum antiseptic rinse with similar antimicrobial action as chlorhexidine, has been shown to reduce oral bacteria by as much as 98%.10 Hexetidine has fewer side effects than chlorhexidine but demonstrates low substantivity.11
A double-blind, randomized study demonstrated the efficacy of another mouthrinse composed of four essential oils, or phenolic compounds.12 When used as an adjunct to clinical dental care and self-care practices, phenolic compounds have shown to reduce plaque between 14% and 34% and gingivitis between 22% and 36%.12
DENTAL HYGIENIST'S ROLE IN IMPLANT PREPARATION AND MAINTENANCE
Ideally, the relationship between the dental hygienist and the dental implant patient is based on trust. In addition to this solid rapport, infection control is paramount to successful peri-implant treatment.
To begin, the patient should have a complete dental work-up—including a full-mouth series of radiographs and other diagnostic images, as needed. Comprehensive periodontal charting and debridement (scaling and root planing or prohylaxis) should be performed. Specifically, the patient should have a prophylaxis within 1 month of surgery, and should perform a 30-second chlorhexidine 0.12% rinse immediately before the surgical procedure.13 When contemplating appropriate patient education, systemic diseases, such as diabetes, must be considered and treatment planned accordingly.
In addition to rinsing with 0.12% chlorhexidine, instructing dental implant patients to use a power toothbrush, and then dipping that brush into a 0.12% chlorhexidine solution has been shown to reduce certain bacteria by 54% to 97% over a 6-month period.10
Oral irrigators can be used as the delivery system for chemotherapeutic agents, as well. A study comparing the use of an oral irrigator with 0.6% chlorhexidine vs a 0.12% chlor­hexidine mouthrinse found that the group that used an oral irrigator experienced an 87% decrease in bleeding.14 Results also showed that the oral irrigator with chlorhexidine was three times more effective in reducing gingivitis than rinsing with chlor­hexidine alone.14 Utilizing chlorhexidine or an essential oils rinse in an oral irrigator with proper technique is imperative to avoid damaging the implant surface or surrounding tissue.10 Ultimately, in addition to creating an infection-free intraoral environment, dental hygienists must also preserve the permucosal seal of tissue to implant interface.15
CONCLUSION
Dental implants continue to be a valuable choice for patients and practitioners alike. Working as a team with the implant surgeon, dental hygienists must understand the complexity of the implant structure, and how the careful process of osseointegration and maintaining the integrity of the permucosal seal works. Dental hygienists can prepare patients for success via recommendations for self-care, including the use of mouthrinses. Ultimately, it is meticulous instrumentation and patient motivation that protect this investment and attain positive outcomes.
REFERENCES
Pedrazzi V, Escobar EC, Cortelli JR, et al. Antimicrobial mouthrinse use as an adjunct method in peri-implant biofilm control. Braz Oral Res. 2014;28(Spec Iss 1):1–9.
American Association of Oral and Maxillofacial Surgeons. Dental Implant Surgery. Available at:?myoms.org/procedures/dental-implant-surgery. Accessed October 27, 2014.
Gonzalez J. The evolution of dental materials for hybrid prosthesis. Open Dent J. 2014;8:85–94.
American Academy of Implant Dentistry. History. Available at:?aaid.com/about/History. html. Accessed October 27, 2014.
Dental Health Advice. Find Out Who Was Responsible for Starting Dental Implant History. Available at: dental-health-advice.com/dental-implant-history.html. Accessed October 27, 2014.
Gaviria L, Salcido JP, Guda T, Ong JL. Current trends in dental implants. J Korean Assoc Oral Maxillofac Surg. 2014;40:50–60.
Heitz-Mayfield LJ, Mombelli A. The therapy of peri-implantitis: a systematic review. Int J Oral Maxillofac Implants. 2014;29(Suppl):325–345.
DeSiena F, Francetti L, Corbella S, Taschieri S, Del Fabbro M. Topical application of 1% chlorhexidine gel versus 0.2% mouthwash in the treatment of peri-implant mucositis: an observational study. Int J Dent Hyg. 2013;11:41–47.
Leiken JB, Paloucek FP. Poisoning and Toxicology Handbook. 4th ed. New York: Informa Healthcare; 2001:183.
Kracher CM, Smith WS. Oral Health Maintenance of Dental Implants. Available at: dentalcare.com/en-US/dental-education/continuing-education/ce339/ce339.aspx?review=true. Accessed October 27, 2014.
Afennich FF, Slot DE, Hossainian NN, Van der Weijden GA. The effect of hexetidine mouthwash on the prevention of plaque and gingival inflammation: a systematic review. Int J Dent Hyg. 2011;9:182–190.
Ciancio SG, Lauciello F, Shibly O, Vitello M, Mather M. The effect of an antiseptic mouthrinse on implant maintenance: plaque and peri-implant gingival tissues. J Periodontol. 1995;66:962–965.
Moldovan S. Dental Implants: A Comprehensive Review. Available at: dentalcare. com/media/enUS/education/ce420/ce420.pdf. Accessed October 27, 2014.
Felo A, Shibly O, Ciancio SG, et al. Effects of subgingival chlorhexidine irrigation on peri-implant maintenance. Am J Dent. 1997;10:107–110.
Yukna R. Optimizing clinical success with implants: maintenance and care. Compend Contin Educ Dent. 1993;15:554–561.
From Dimensions of Dental Hygiene. November 2014;12(11):24,26,28.