BeautiSealant Pit and Fissure Sealant by Shofu Dental Corp
Fluoride releasing sealant speeds treatment time.
When filling pits and fissures during sealant application, harsh acid-etchants can demineralize healthy enamel. BeautiSealant—a tooth-colored, fluoride-recharging pit and fissure sealant—uses a self-etching primer that speeds treatment time by eliminating the need for phosphoric acid etching.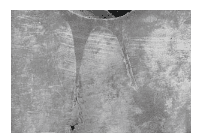 BeautiSealant's HEMA-free primer maintains superior bond strength—seeping deeply into pits and fissures and bonding equally to enamel or dentin. Providing flawless handling characteristics, both the viscosity and the syringe design contribute to a smooth, bubble-free consistency, and reduce the common problem of overfilling. BeautiSealant is also highly radiopaque, offering clear visibility at follow-up.
Unique Filler Particles
BeautiSealant contains Shofu's proprietary Surface Pre-Reacted Glass (S-PRG) filler particles, making it part of Shofu's Giomer family of products. S-PRG releases six ions with bioactive properties: fluoride, sodium, strontium, aluminum, silicate, and borate. When exposed to concentrations of lactic acid, these ions contribute to an acid neutralization effect. Self-care dental hygiene products, such as fluoride toothpaste, allow BeautiSealant to provide sustained fluoride recharge benefits over the life of the sealant. S-PRG uniquely inhibits plaque formation and neutralizes acid on contact.
Key Benefits of S-PRG Filler Material
No phosphoric etch-and-rinse required
Provides superior bond strength in 30 seconds
Smooth, bubble-free flow allows strong marginal adaptation
High fluoride release/recharge
Creates an antiplaque effect

Contact
Shofu Dental Corp
(800) 827-4638
shofu.com
From Dimensions of Dental Hygiene. November 2014;12(11):75.