November 2014 Marketplace
A listing of featured products.
PASTE-FREE PROPHYLAXIS CUPS
Sunstar Americas Inc, Chicago, has debuted its new Butler Prophyciency™ Prophy Angle with ButlerBloom Contouring Cup. This prophy angle incorporates both polishing and stain-removing agents right in the cup—eliminating the need for prophy paste. The patent-pending technology features a flexible, flower-shaped cup that adjusts to all tooth surfaces for a superior clean. Removal of prophy paste from prophylaxis improves operator visibility and virtually eliminates spatter. In addition, Prophyciency Prophy Angles decrease the need for patients to rinse, which quickens clean-up time and reduces mess. They are available in two models—Clean & Polish and Polish. (800) 528-8537; prophyciency.com.
AIR-WATER SYRINGE TIPS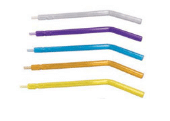 Crosstex International, Hauppauge, New York, introduces its Sparkle® Disposable Air Water Syringe Tips—the latest addition to the company's Patient's Choice® treatment accessories line. These disposable air-water syringe tips provide the following benefits: a four-part Quad Core air channel that keeps water and air flow separate; the ability to connect directly to any handpiece without the need for an adapter; and dual beveled edges to improve patient comfort and prevent O-ring instrument damage. The single-use plastic tips are durable and can be recycled. Free samples are available. (888) 276-7783; crosstex.com.
ANTIMICROBIAL-INFUSED PUMICE PASTE

Whip Mix Corp, Louisville, Kentucky, has launched its new Preppies Plus® pumice paste. This unit-dose product is specially formulated with chlorhexidine gluconate. Preppies Plus is indicated for prepping the tooth surface prior to restorative procedures, such as restoration cementation, acid etching, sealant placement, or composite restorations. Free of fluoride, oils, flavorings, and gluten, the paste does not inhibit bond strength and supports the desired end result. Complimentary samples are available. (800) 626-5651; whipmix.com.
INTRAORAL CAMERA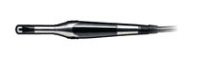 Digital Doc, El Dorado Hills, California, offers the IRIS HD USB 3.0 Intraoral Camera, designed to bring small details to life with its fullscreen, high-resolution focus. A combination of precision optical lens array, 8-point LED lighting, and Sony advanced high-definition (HD) sensor enable this compact device to deliver high-quality images that retain their value in HD. Dual-capture buttons and one-touch focus deliver operator control, while a smart-sensor turns the device off when set down. (800) 518-1102; digi-doc.com.
PIEZOELECTRIC SCALER
Ultradent Products Inc, South Jordan, Utah, presents its new Ultrawave and Ultrawave XS piezoelectric ultrasonic devices. These power scalers feature Ultradent's intuitive Reflex™ technology, which provides optimized performance and improves patient comfort. Featuring an auto-tuning system, push-pull system, and feedback effect, the Ultrawave and Ultrawave XS provide complete scaling with minimal effort and maximum consistency. (800) 552-5512; ultradent.com.
From Dimensions of Dental Hygiene. November 2014;12(11):78.