February 2015 Marketplace
A listing of featured products.
NEW PROPHY ANGLE
Water Pik, Fort Collins, Colorado, debuts its Gel-Grip Prophy Angle, which features soft grips to enhance comfort and control while reducing fatigue and clinician discomfort. The disposable angle is engineered to provide easy access to posterior areas, plus tactile response for precise control. The soft natural rubber cup features a webbed and ribbed design to enhance stain removal and reduce spatter, while facilitating contour cleaning and maximizing patient comfort. A tapered-brush design is also available. (800) 525-2020; professional.waterpik.com.
HANDS-ON DENTAL HYGIENE TRAINING KIT
Paradigm Dental Models, San Diego, has unveiled its Dental Hygiene Training Kit—a hands-on tool for educating both patients and students on proper calculus removal techniques. The kit features models with calculus on each tooth. Additionally, the soft tissue model can be used to practice periodontal probing. Each kit contains three models, a screwdriver, and replacement liquid calculus to reapply on the model teeth. (877) 770-3920; paradigmmodels.com.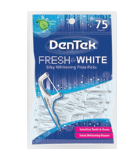 WHITENING FLOSS PICKS
DenTek, Maryville, Tennessee, now offers DenTek Fresh & White Silky Whitening Floss Picks that include silica to help remove stains between teeth. The floss glides easily between tight teeth and will not shred during use. The silica polishes away food, debris, and plaque, while the floss's mint flavor leaves behind a refreshing, clean feeling. The pick is textured for double-cleaning power and stimulates the gums through massage. (800) 433-6835; dentek.com.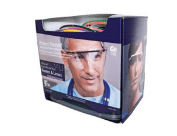 DISPOSABLE PROTECTION FOR THE EYES AND FACE
TIDI Products, Neehah, Wisconsin, recently announced its TIDIShield™ Assemble 'n Go™ line of disposable eye shields and face shields. This line offers clinicians a host of new options in protective eyewear designed to reduce the risk of cross-contamination in the operatory. Lightweight and economical, the shields are available in wraparound, eyeglass-style designs with autoclavable, reusable frames and optical-grade replacement lenses, or as full shields. Designed for maximum airflow to prevent fogging, the disposable, anti-static, optical-grade face shields provide over-the-top, front, and side eye protection, and come with a snap-in nosepiece for additional support. (920) 751-4300; tidiproducts.com.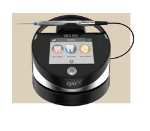 DIVERSE DIODE LASER
BIOLASE Inc, Irvine, California, has introduced the EPIC™ X diode laser. Considered an upgrade of the BIOLASE EPIC 10, the laser features three treatment modes—surgery, whitening, and pain relief. Pre-initiated tips, which deliver consistent, predictable results, are included. The company also is offering a reliability assurance plan, which ensures users are never without the EPIC X diode laser for more than 24 hours. (888) 424-6527; biolase.com.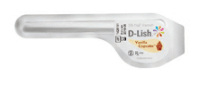 FUN-FLAVORED FLUORIDE VARNISH
Young Dental, Earth City, Missouri, debuts its D-Lish 5% Sodium Fluoride Varnish in four flavors, including: Vanilla Cupcake™, Orchard Cherry™, Spearmint Surprise™, and Fresh Melon™. This translucent 5% sodium fluoride formula is naturally sweetened with xylitol, provides sensitivity relief, and delivers fast fluoride release. The no-mix formula comes in a single-dose package with brush applicator that is specially designed for smooth, clump-free application. Free samples are available upon request. (800) 325-1881; youngdental.com.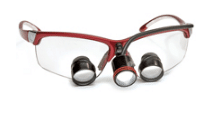 LIGHTWEIGHT LOUPES AND HEADLIGHTS
DenMat, Lompoc, California, now offers PeriOptix® loupes and headlights. The loupes feature a unique modular frame system and portable LED light
source that are both lightweight. A proprietary locking mechanism simplifies the adjustment of flip-up style loupes. PeriOptix loupes and headlights are available in a full suite of high-quality magnification and illumination, and each product can be customized or purchased ready-made. (800) 4DENMAT; denmat.com/perioptix.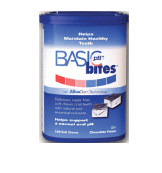 SOFT CHEWS SUPPORT ORAL PH
Ortek Therapeutics Inc, Roslyn Heights, New York, offers BasicBites™ chocolate-flavored soft chews. BasicBites contain a patented blend of vital nutrients that promote salivary function, coat and protect enamel, and nourish beneficial alkali-generating bacteria. The soft chews also contain AlkaGen Technology™, which provides arginine bicarbonate and calcium carbonate to coat and support tooth structure. Patients, especially those with xerostomia or who consume a high-sugar diet, are encouraged to consume two BasicBites per day. (516) 484-4500; basicbites.com.
ALCOHOL-BASED SANITIZING WIPES
PDI, Orangeburg, New York, manufactures Sani-Hands® Instant Hand Sanitizing Wipes, which are both efficacious and convenient in the health care setting. Sani-Hands Instant Hand Sanitizing Wipes contain 70% alcohol, and are currently the only alcohol-based sanitizing wipe approved by the United States Food and Drug Administration. Designed to kill 99.99% of bacteria, the aloe-containing wipes also soothe dry skin. pdihc.com.
PORTABLE HANDHELD X-RAY SYSTEM
Aribex, Orem, Utah, a Kavo Kerr Group brand, makes the NOMAD™ handheld X-ray system. This intraoral device is lightweight and battery-operated, enabling enhanced clinician workflow and improved flexibility. NOMAD requires no walls or installation, saving limited operatory space with its small footprint. (801) 226-5522; aribex.com.
---
From Dimensions of Dental Hygiene. February 2015;13(2):73–74.