Innovation in Hand Instruments
Incorporating innovative instruments into your armamentarium provides benefits for patient care, as well as body mechanics.

Many clinicians are unaware that new and innovative instruments are introduced every year by many different instrument companies. If you are still using the same instruments that you started with during dental hygiene school, consider expanding your horizons with some new and, in many instances, improved hand instruments. Like the rest of the modern world, the technology of instrument development changes rapidly. Metals have been vastly improved, handles are much more ergonomic than previous versions, and old standards have been tapered, modified, or miniaturized. Following are some innovations that you may want to consider adopting into your own instrument armamentarium.
CURETS

American Eagle Instruments offers the unique Scandette all purpose double Gracey curet made with the gold-colored XP™ Technology metal that never needs sharpening (Figure 1). This innovative modification of the Gracey design has very sharp blades that are beveled in two directions. One bevel on each blade is honed like a Gracey 13/14 for distal surfaces and the other bevel on the same blade is angled like a Gracey 11/12 or 15/16 for mesial surfaces. The paired offset bevels on these curets make them truly universal. The new Scandettes can be obtained with standard or mini blades and are designed for fine scaling and root planing with light pressure after you have removed any heavy calculus with larger ultrasonic inserts/tips or larger hand instruments.G. Hartzell & Son just introduced a more rigid, heavier version of the Columbia 4R/4L universal curet, called the Columbia 4R/4L H, which is ideal for heavy calculus patients with looser tissue (Figure 2). If you like the Columbia 4R/4L but wish it was more substantial in the shank to better remove tenacious or burnished calculus on the distals of molars, the Hartzell Columbia 4R/4L H may be a wise addition to your armamentarium.
Hu-Friedy Mfg Co Ltd recently released the USC Barnhart 1/2 and USC Barnhart 5/6 universal curets (Figure 3). Introduced in 2011, the USC Barnhart curets are named for the University of Southern California (USC) because they were developed in close collaboration with the USC dental hygiene faculty. The USC Barnhart 1/2 curet is designed with a thin, sharp cutting edge that will slip easily under tight tissue and access all areas of the mouth. It is ideal for patients with light calculus but is also strong enough for use on teeth with moderate calculus. The USC Barnhart 5/6 is similar to a Columbia 13/14 universal curet, but the blade is longer and more substantial in order to be more effective on the proximal surfaces of the molars.
Paradise Dental Technologies (PDT) has introduced the R144 Queen of Hearts™ periodontal curet, which features longer cutting edges and a close-faced blade for fine finishing with minimal tissue distension (Figure 4). This curet is designed to improve access to root concavities, deep pockets, and furcations, with better adaptation.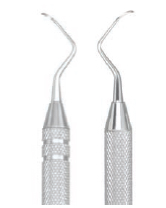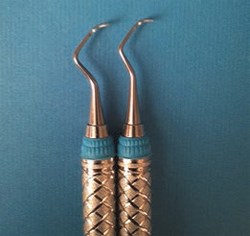 SCALERS
In March, American Eagle Instruments Inc released the BlackJack Universal Sickle Scaler, designed for anterior and posterior adaptation (Figure 5).Featuring a contra angle and thin blade, the BlackJack is also made with XP Technology, to ensure the blade maintains its shape over the life of the instrument.
G. Hartzell & Son makes the 204SD posterior sickle scaler, a modification of the traditional 204S posterior sickle (Figure 6). This sickle scaler is strong and sharp and adapts beautifully for subgingival removal of moderate to heavy ledges of calculus. The Hartzell 204SD has a more open shank angulation than the 204S, which allows it to adapt well to posterior proximal surfaces. It is designed for scaling of residual interproximal calculus on both posterior and anterior teeth.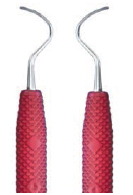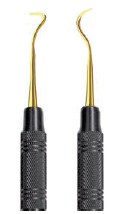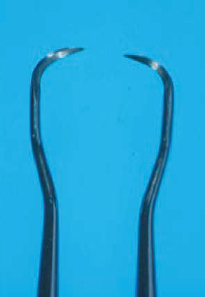 The Nevi 3 and Nevi 4 sickle scalers (Hu-Friedy Mfg Co Ltd) are new double-ended posterior sickles with curved, thin, mirror image ends (Figure 7 and Figure 8). Both are made with very sharp, strong EverEdge metal that provides the strength necessary for the removal of moderate to heavy calculus either before or after ultrasonic scaling.
The smaller bladed Nevi 3 is actually patterned very closely after the Wyland carver, a restorative instrument originally designed for finishing of interproximal amalgam margins. The Nevi 4 is a larger bladed, all purpose sickle scaler with sharp, sturdy, and tapered blades designed to remove moderate to heavy calculus ledges. Although both are classified as posterior sickles, they are useful for adaptation on anterior proximal surfaces as well.
PDT's Montana Jack® sickle scaler is a popular instrument (Figure 9). Clinicians remain impressed by the utility of this instrument especially for use on children and adult maintenance patients with tight tissue or tight contacts. This all purpose sickle is thin enough for the tightest anterior contacts and still strong enough to remove moderate interproximal ledges of calculus on posterior teeth. A rigid version is also available.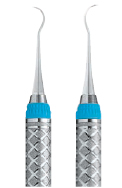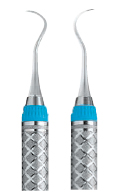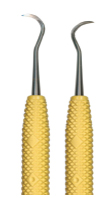 IMPLANT INSTRUMENTS
American Eagle Instruments Inc has created a new line of instruments that will not damage or scratch titanium implants (Figure 10). The line is made out of medical grade titanium and features the lightweight EagleLite handle to reduce hand fatigue. Nordent Manufacturing Inc also makes instruments for use on implants—the ImplaMate Titanium Implant Instruments (Figure 11). Although there are six different design choices, the universal Barnhart 5/6 curet in this pure titanium set is the smallest and most versatile. It is thin enough to insert easily under tight tissue and small enough to adapt to the contours of most implant restorations.
The Wingrove™ Titanium Implant Instruments (PDT) were designed by Susan Wingrove, RDH, an Iowa dental hygienist with many years of periodontal practice experience (Figure 12). These uniquely processed titanium instruments are made from USA medical grade titanium so they will not scratch implants, and they also have thin, durable blades that can be sharpened.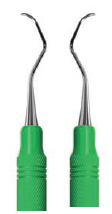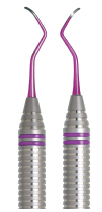 INSTRUMENT PROCESS
Premier Dental Products Co has engineered a new instrument manufacturing process, SmartSharp™ Technology, that helps instruments maintain their sharp, well-defined edges (Figure 13). The technology is designed to create instruments that require less pressure by the clinician to reduce operator fatigue, while achieving the same level of biofilm removal. The proprietary technology is the result of engineering and metallurgical innovation and is available in all Premier scalers and curets.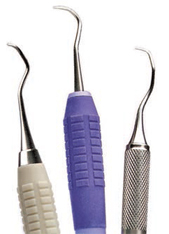 Dental instrument manufacturers continue to create new and improved instruments to improve efficiency, efficacy, and ease of use. It is our responsibility as dental hygienists to make sure we are using the most up-to-date instruments to provide our patients with the best care possible.
From Dimensions of Dental Hygiene. May 2012; 10(5): 44, 46, 49.